Some Residents Critical Of Boston's Snow Removal Effort
03:54
Play
This article is more than 8 years old.
After being shut down for several days due to impassable city streets, schools reopened in Boston Wednesday following the weekend's snowstorm.
Across the city Tuesday, residents were out with their own plows, removing snow to make it easier to walk and to park. Boston Mayor Thomas Menino said that while all city streets had been plowed, he's frustrated with the city's response and thanked residents for their patience.
"It's taken too long and I want to make sure that the next time we have a snowstorm in the city of Boston it doesn't take that long," he said. "I'm a very critical person when it comes to snow removal and I've made my departments hear about it. I expect more out of them."
The city deployed an armada of snow plows and dump trucks to clear streets. Private contractors were hired and extra equipment was brought in from MEMA and Massport. Snow was hauled away by the truckload to so-called snow farms — vacant lots transformed into mountains of snow. Still, days after the storm snow was piled high along streets and sidewalks, narrowing roadways and blocking sight lines for pedestrians and motorists.
"We're playing catch up. Some of it was done very well. There were some side streets and dead end streets that we could have done a better job on and we will do a better job in the next snowstorm," Menino said. "As of right now, every street in the city of Boston has been hit by our plows."
In Roxbury, where snow mounds lining streets were so high that MBTA buses were stopping in the middle street to pick up passengers, a group of residents, including Humboldt Avenue resident Gene Roberts, complained about a line of plows parked along Martin Luther King Boulevard Tuesday afternoon.
"I seen these guys out here since early this morning. They haven't did anything. There was two of them on this side just sitting here," Roberts said. "I seen the guys on the telephone, they're not doing anything. They figure they can kill some time, had a cup of coffee and everything else, right, and now they disappear. It's going on noon time."
When asked about the idle equipment, Menino cautioned against jumping to conclusions.
"Maybe they're just lining up there to go into a neighborhood and just clean it up all at one time," he said. "It's easy to criticize those snow plow drivers. They're working 12 to 16 hours."
Still, the mayor is asking for a complete review of the system going forward. The city will go over data from GPS devices to help determine whether plow operators carried out their contracts. He wants a better system put in place for better results in the future.
With the end of the snow emergency parking ban Tuesday night, it's back to school Wednesday for students like Kaleace Dunton, a first grader at the Greenwood School in Dorchester, who was out shopping with her father. She says the storm meant good news and bad news for her.
"The good news is that I can hang out with my dad," Kaleace said.
And the bad news is that she missed her teacher, so she's looking forward to getting back into the classroom Wednesday.
This program aired on February 13, 2013.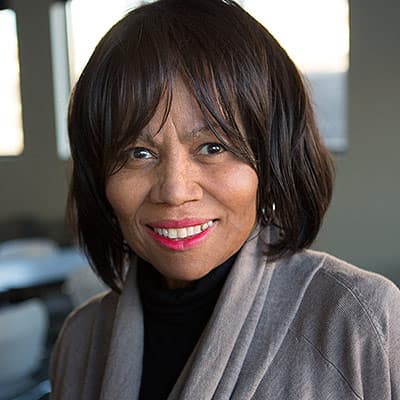 Delores Handy Reporter
Delores Handy was formerly a host and reporter at WBUR.