BSO Premieres Read Thomas' Complex Cello Concerto
This article is more than 8 years old.
Over the past 15 years the Boston Symphony Orchestra has commissioned 40 original works, but only six were composed by women. That number rises to seven this week with the premiere of a major cello concerto at Symphony Hall.
At a recent rehearsal, more than 80 BSO musicians took a break as composer Augusta Read Thomas huddled with her collaborators — virtuoso cellist Lynn Harrell and guest conductor Christoph Eschenbach.
"We were just talking really tiny details, like should this be mezzo forte or mezzo piano?" Read Thomas said. "Little tiny things because the piece is highly notated and highly nuanced already."
Eschenbach, the music director of the National Symphony Orchestra and the Kennedy Center for the Performing Arts in Washington, D.C., has performed several of Read Thomas' works; her new cello concerto will be the sixth.
He calls Read Thomas by the nickname "Augustie" and gives his friend's cello concerto a big thumbs up.
"It's a masterpiece, I think. As every piece I know of hers, she's just a great composer," Eschenbach said.
"I threw my entire soul into the composition of this piece," Read Thomas shared. "It's a significant 30-minute concerto with lots of different color and character and moods, tempos, sections."
Read Thomas is known for writing complex, uniquely structured philosophical works with celestial themes and sounds. She is one of the few female composers in a field dominated by men.
"I've been working at composition seriously since I was 15, and I'm now 48 — so 33 years of nothing but composition," Read Thomas explained. "And I never explicitly think of my gender. "
The composer's new cello concerto is called "Legend of the Phoenix," and she wrote it with soloist Harrell in mind.
"I guess the best way to describe it is I tailor-made the piece for him, as if you were making a suit that should fit the player."
Read Thomas started sizing Harrell up musically about a year ago, and struck out to learn as much as she could about a muse she only knew from a distance.
"I listened to Lynn Harrell's entire website, all the videos, all the audio. I bought all of his recordings. I listened to all of his audio interviews," she recounted. "And so I felt like I knew this man even though I had not met him."
Read Thomas attempted to infuse what she heard in Harrell's playing into her new concerto. The cellist said she nailed it, even more so after they met in person to talk to about the new work's direction.
"She listened better than any other composer I've worked with," Harrell said. He likened Read Thomas to Truman Capote, who is known for remembering conversations extremely well. "That's what she's like with what I've said and what I feel about the cello."
In the end, Read Thomas' composition forces Harrell to leap around his instrument. It's a demanding job, even for a veteran player like Harrell. Practicing gave him blisters. The notes alternate between the depths to the tippy top, a place Harrell calls "dangerously tenuous," where a note could screech at any moment.
"I think she wants that quality of nervousness within the sound of the note. It is weak and belies the chance of failure," he said.
The music may sound a little nightmarish, but both Harrell and conductor Eschenbach said Read Thomas and her music are anything but that.
"She always looks for the positive, you know? There's nothing depressive about her," Eschenbach said. "There is something which is really positive and human."
Read Thomas agreed.
"I want to write music that's optimistic, that's about renewal, about the sun rising, about these kinds of transformations into things that are positive. I don't want to write dark, ugly, muddy music," she said.
The BSO will perform Augusta Read Thomas' "Cello Concert No. 3"  Friday, March 14 through Sunday, March 16.
This program aired on March 15, 2013. The audio for this program is not available.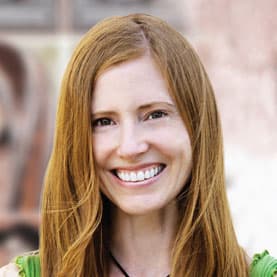 Andrea Shea Senior Arts Reporter
Andrea Shea is WBUR's arts reporter.