Watertown Man's Boat Ruined In Manhunt; Internet Organizes To Buy Him New One
This article is more than 7 years old.
David Henneberry, the Watertown man who contacted police after discovering Boston Marathon bombing suspect Dzhokar Tsarnaev hiding in his boat, is being offered a hero's reward for his role in ending last week's massive manhunt.
Moments after Henneberry's phone call, police swarmed his house. A final standoff ensued, which eventually led to the injured Tsarnaev's capture. Henneberry's boat became badly damaged in the process.
"That boat's his baby," Henneberry's neighbor, George Pizzuto, said in an interview with ABC News. "He takes care of it like you wouldn't believe. He's going to be heartbroken."
One person who anticipated Henneberry's heartbreak was Jeff Griffeth, an ex-Marine from North Carolina who, within hours of Tsarnaev's capture, created a Facebook group to help organize an effort to replace Henneberry's boat.
"I just think he deserves some type of reward for what he did," Griffeth says. "I mean, he ended a lot of people's misery and concern in that whole Boston area."
Griffeth says he tried to start a GoFundMe page to raise money for Henneberry, but "it just wasn't taking off." That's when Griffeth was alerted to another fundraising effort started by a man named Craig Dunlap that had raised over $1,100 on a platform called Crowdtilt. So Griffeth abandoned his own fundraising page, and focused the attention of his Facebook group members to Dunlap's page.
Dunlap preferred all press inquiries be handled by Ajay Mehta, an employee at Crowdtilt who has played an active role in helping maintain the campaign as it grows larger.
"I was just kind of touched by the story of a man who found himself at the center of a national story in a big tragedy," Mehta says of the decision to help out. "And [the campaign] has kind of begun a life of its own that we hadn't intended, which is kind of cool."
As of the publish of this post, the campaign has officially reached the $50,000 goal with still nearly five days to go.
Of course, what Henneberry does with the $50,000+ is up to him.
In an interview with WCVB-TV, Henneberry said that he feels wonderful people are gathering to help him out, but his boat isn't what matters to him right now.
"It's a boat, and there's people that have lost lives and have lost limbs," Hennebery said. "I'd rather the money goes there — in the Boston One Fund."
Mehta says if Henneberry decides giving the money to charity is the best thing to do, they will help accommodate those wishes.
This program aired on April 25, 2013. The audio for this program is not available.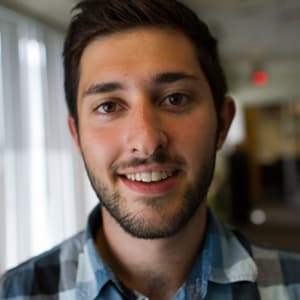 Nate Goldman Social Media Producer
Nate Goldman was formerly a social media producer at WBUR.