Could Talking With Virtual 'Gabby' Help Prep You For Pregnancy?
This article is more than 8 years old.
It is my fond dream that someday, some less annoying pregnancy bible will displace "What To Expect When You're Expecting" on the list of perennial bestsellers. (More on that here: What To Hate About 'What To Expect When You're Expecting.') I always thought it would be replaced by a new and friendlier book, but now I'm wondering whether it might not be replaced by a new and friendlier avatar.
Meet Gabby, above, a "virtual patient advocate" aimed at helping young women even before they get pregnant, to minimize risks if and when they do. A pilot study just out in the American Journal of Health Promotion suggests that interacting with Gabby appears to hold the potential for healthier pregnancies for African-American women. Gabby is a joint project of the Boston University School of Medicine, Boston Medical Center and Northeastern University, and is based on previous reseach that found patient preferences for an advocate who shares their gender, race and youth. From the press release:
Women between the ages of 15 and 25 interact and engage with Gabby online by answering her questions about current health habits and conditions. Through this interactive dialogue, where participants can pick from answers or write in their own, Gabby screens for PCC [pre-conception care] risks, educates the participants about their risks and assesses whether they are ready to make lifestyle changes to decrease their risks. Based on participant's responses, Gabby helps create a custom "My Health To-Do List," which users can review and share with their providers.

Participants reported an average of 23 preconception risks. In the two-month pilot study, 83 percent of the risks added to the "My Health To-Do List" were either addressed or resolved by the users by the end of the pilot. For example, if a woman identified that she was not taking folic acid at the beginning of the pilot but had bought a folic acid supplement, she had addressed the risk. If she started taking it by the end of the pilot, she had resolved the risk. Therefore, Gabby was effective in helping those who were contemplating behavior change to move forward and take action.

The participants indicated that the Gabby system is a valuable addition to their health care routine and could be used either to prepare for an appointment with a provider or to reinforce information discussed during an appointment. They found Gabby trustworthy and reliable and found that she provided helpful information in an appropriate amount of time. The results also show that Gabby addressed some barriers to translating PCC best practices to clinical care, such as ease of delivery and patient acceptability.

"These results suggest that using Gabby as a PCC tool could be effective in helping deliver PCC to African-American women," said Jack.
The release notes the importance of better pre-conception care for African-American women: "The fetal mortality rate for non-Hispanic African-American women in 2005 was 2.3 times the rate for non-Hispanic white women." Gabby's creators are now working on a broader study to test whether Gabby works well over a six-month period; they'll be enrolling 100 young African-American women around the nation.
If Gabby does well, is it too much to hope that she and future members of her species (which already includes a virtual exercise coach and a virtual hospital discharge nurse) might indeed replace "What To Expect"? At the very least, wouldn't it be nice to be able to talk back to a screen instead of throwing a book across the room??
This program aired on May 1, 2013. The audio for this program is not available.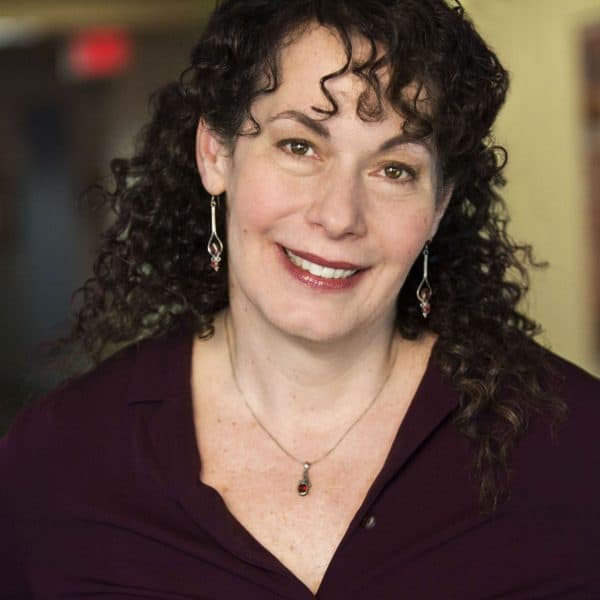 Carey Goldberg Editor, CommonHealth
Carey Goldberg is the editor of WBUR's CommonHealth section.