Conspiracy Suspect's Dad Says Son Is Innocent
06:19
Play
This article is more than 7 years old.
Two teenagers from Kazakhstan remain in the Essex County jail after being arrested last week on charges of conspiring to obstruct justice in the investigation of the Boston Marathon bombings. They are scheduled to appear in court on Tuesday.
Federal prosecutors say the young men — who attended UMass Dartmouth — tried to destroy evidence they found in the dorm room of their friend, bombing suspect Dzhokhar Tsarnaev.
Amir Ismagulov, the father of one of those suspects — 19-year-old Azamat Tazhayakov — came to the U.S. more than a week ago, after hearing his son had been arrested.
"It was a shock for our family that our son was arrested and connected with terrorists," Ismagulov said through a translator. He explained that he's a wealthy businessman in Astana, the capital of Kazakhstan. His company explores, drills and exports oil. He's also a prominent politician.
"I am a deputy of the city council and I am the head of a party and I am always making speeches against these jihadists," he said. "And now my son has been arrested in connection with this."
Ismagulov's son is the oldest of four children in the family. In the Kazakh tradition, the eldest son takes his paternal grandfather's first name as his last.
Ismagulov describes his son as a very intelligent, calm and kind boy — a great soccer player. He fondly recalls his son's reaction two years ago when he heard he had been accepted to UMass Dartmouth. "He was incredibly happy, incredibly."
At UMass Dartmouth, Tazhayakov became friends with fellow Kazakh student Dias Kadyrbayev. They got an apartment in New Bedford together and bought a used BMW. Ismagulav says it was through Kadyrbayev that about six months ago his son met another student who spoke Russian — Tsarnaev. But Ismagulav says he spoke to his son every day by Skype and never heard him mention Tsarnaev before.
Yet according to the FBI, on April 17, two days after the bombings, Tsarnaev gave Tazhayakov a ride back to his New Bedford apartment and the next day, after photos of the bombing suspects were made public, Tazhayakov, Kadyrbayev and another friend — Robel Phillipos — went to Tsarnaev's dorm at UMass Dartmouth, watched a movie and spotted a backpack.
"My son, when he went into this room he saw this backpack and near it were several other bags that were full of the clothes of Tsarnaev. And he says, 'After that I didn't see that backpack. I saw it the evening of the 18th, and after that I didn't see it.'"
The FBI alleges the backpack contained evidence in the bombings and that Tazhayakov and his roommate threw it into a dumpster near their apartment.
On April 19, bombing suspect Tamerlan Tsarnaev was killed in a shootout in Watertown. His younger brother, Dzhokhar, was under arrest. The FBI came looking for his friends from Kazakhstan, tracking them down through another Russian speaking friend, Vlodia. Ismagulav says his son cooperated.
"Azamat said, 'Vlodia, give the phone to the FBI agent so that we can tell him that we're home,' " Ismagulav said.
The FBI came in like gangbusters, Ismagulav says, and his son has been in jail ever since.
Ismagulav says he has only been able to see his son once since he got to the United States.
"I go around, and I explain to people; I meet with the people of Boston and I say, 'My son didn't mean you any harm. He's not involved in this. He's a good boy.' "
Tazhayakov faces a potential five-year prison sentence if convicted, but Ismagulav says he will be in the U.S. "until they let my son out."
This program aired on May 10, 2013.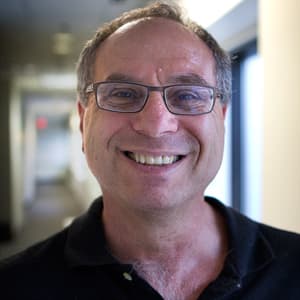 Bruce Gellerman Senior Reporter
Bruce Gellerman is an award-winning journalist and senior correspondent, frequently covering science, business, technology and the environment.