Israel Trauma Coalition Lends A Helping Hand To Watertown Schools
03:50
Play
This article is more than 7 years old.
A group of Israelis is in the Boston area this week helping people cope in the aftermath of the Boston Marathon bombings. The Israel Trauma Coalition has been working with first responders, spiritual leaders, physicians, psychologists and teachers. But they're spending the bulk of their time at Watertown Public Schools.
The Friday after the bombings, Watertown was locked down. Tanks and heavily armed police crowded the residential streets.
"Many of my staff were evacuated from their homes, had their homes searched," said Watertown Superintendent Jean Fitzgerald.
Eventually, one suspect was dead, the other captured, but that wasn't the end of the stress for this community.
"Children, when they were playing outside and during that first week back, there was a lot of helicopters and/or sirens going by, and you would actually see kids tense and want to know if the bad men were back again," said Anne Hardiman, principal at Hosmer, the elementary school closest to the crime scene.
So the school district accepted outside help from the Israel Trauma Coalition. The Combined Jewish Philanthropies offered to bring the ITC to Massachusetts and pick up the tab.
'Post-Traumatic Growth'
Vivian Reutlinger and Shiri Daniels are both ITC trainers. This week, they led a three-day workshop with school counselors and psychologists in Watertown. The trainers say it's crucial for caregivers to take care of themselves.
"How do we help ourselves so that we grow through our work and we don't burn out?" Reutlinger asked the group.
Reutlinger's question struck a chord with Elaine Antonellis, a behavioral specialist at Cunniff Elementary School in Watertown.
"It's been very hard to deal with our own feelings of, 'Are we safe?' But convey a message to the children that, 'Yes, we are,' " Antonellis said.
Reutlinger said most people do not develop post-traumatic stress disorder after trauma.
"When something really bad happens to me, then I can only either go backwards or move forwards, I don't stay in the same place," Reutlinger explained. "So post-traumatic growth talks about, when something bad happens to me, how do I move forward, how do I take from that?"
Therapy In Play-Doh
The lesson on this day involves playing with Play-Doh. As the trainers poured a box of Play-Doh onto a table, they explained the rules of the exercise.
"We want you to make a symbol of the event that was most meaningful to you in the last month from everything that happened," Reutlinger told them.
Around the room, the sculpturing began — a house, a boat, a police badge, a dismembered body. Antonellis made a ribbon.
"The blue and yellow represent Boston and the marathon, and the red and black is actually Watertown colors. So that's the symbol of Boston Strong, Watertown Strong," she explained.
Then the Israeli trainers changed the rules. Everyone had to refashion their artwork without using any additional colors or dough.
Antonellis mushed her green, yellow, red and black Play-Doh into a muddy mix.
"It's kind of not a very pretty color anymore," she said. "But it kind of symbolizes two things: how that we were Watertown, we were Boston, and now we're all in it. Everybody is in it together. But, at the same time the future isn't as clear and it's kind of murky and we're not sure. So it's kind of a symbol of hope, but it's also like, boy, have things changed."
The counselors and psychologists all agree that life has definitely changed, but they also said this group therapy has helped them psychologically so they can better help their students in the future.
This program aired on May 10, 2013.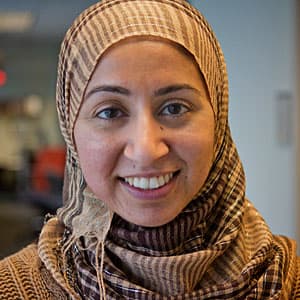 Asma Khalid Reporter
Asma Khalid formerly led WBUR's BostonomiX, a biz/tech team covering the innovation economy.