With A Dream On Hold, Bombing Victim Remains Optimistic
06:47
Play
Mery Daniel's dream of becoming a doctor in the U.S. is on hold. The young mother from Haiti was one of the last Boston Marathon bombing victims to be released from the hospital. Her life now is all about mastering the basics, such as learning to walk again.
Daniel isn't a runner, but she had such a fun time watching last year's marathon that she decided to see it from the finish line this year.
"It was a beautiful day, everybody was just so happy and I wanted to be part of that energy," Daniel said. "Enjoying the day with everybody else."
The 31-year-old had moved closer to the music and other celebrations when she heard a loud noise.
"And I was on the floor and I still didn't understand what was happening," she recalled. "When I looked next to me there was a woman, with the arms were gone. And that's when I understood something very tragic had just happened."
Mery lost her left leg and much of the back of her right leg was blown away. Unconscious, she was rushed to Massachusetts General Hospital. It was two days before she woke and discovered the extent of her injuries.
"I had a lot of operations done in my stomach and below my breast because I had lost so much blood," Daniel said. "They had to find out whether or not I had some internal bleeding. And also apparently my heart stopped about two times so they had to do interventions just to keep the blood flowing."
Almost a month later, Daniel is out of MGH. She has been at Spaulding Rehabilitation Hospital in Charlestown just over a week.
"I'm surviving," she said. "I can say I'm OK. Slowly but surely I think I'm getting better every day."
And she can measure that progress in a very real way.
"I'm learning how to walk right now. I was so excited because I just started walking a couple of days ago. I'm like a little child, just with the first step and I'm looking forward to every single session of therapy."
As part of her recovery, Daniel works with occupational therapist Becky Buttiglieri.
"Occupation therapy means the little occupations that make up your day — getting to the toilet safely, getting in the bathtub safely, adaptive strategies to get dressed when you can't quite reach your feet because of pain or other limitations," Buttiglieri explained. "We teach people how to do their daily living tasks. Get back to their daily routine.
"How we all came together that day .. that's what was important to me. Not the evil part of it, but the best of us."

Mery Daniel
"She's wonderful, she's extremely motivated," Buttiglieri added. "She always has this huge smile on her face."
There's no bitterness in Mery Daniel, but there is a reluctance to talk about her future. Before the bombings she'd been studying for the boards to become certified as a doctor here.
"I'm still in the state of whether or not I want to pursue medicine. I think it's a time for me to do some soul searching and realize what is it I really want to do, because there's so much happening right now," she said. "I'm like in a state of confusion as far as moving forward, career wise. So, right now I would say I don't know."
Daniel emigrated from Haiti to Massachusetts when she was 17. She studied pre-med at UMass Amherst, spent some time back in Haiti and in Europe before returning to Boston where, six years ago, she got married. Her daughter is 5 years old and very much affected by what has happened. Daniel says she doesn't want to talk about that.
Daniel says she is most looking forward to getting back to her life.
"When the doctors came in they were explaining all the damages and everything else that had happened. The only thing I could think of was I'm glad I'm still alive and that's what I'm looking forward to — life, living life to the fullest."
Daniel's optimistic outlook is clear as she talks about whether she wants answers from the surviving bombing suspect.
"This was an act of evil and I don't think I really want to dwell trying to understand why this was happening. All I can hope for is what's the best way we can eliminate this sort of thing from happening, if we can prevent them from happening," Daniel said. "And how we all came together that day and that what was important to me. Not the evil part of it, but the best of us."
"Boston Strong" is her motto. She wouldn't allow us to take a picture of her unless she was wearing that T-shirt.
"I love Boston. And even the marathon itself, it's like the fabric of this town and to have something like that happen during the marathon it's like it's trying to break all the mesh work of the people of this town," she said. "And 'Boston Strong' just reminds you this is not going to happen. We are strong, we are here and we are going to fight this. We're going to stand together, we're going to help each other as much as we can."
Daniel has a couple more weeks at Spaulding. After that, outpatient therapy. Then, a lifetime of adjustments.
This program aired on May 14, 2013.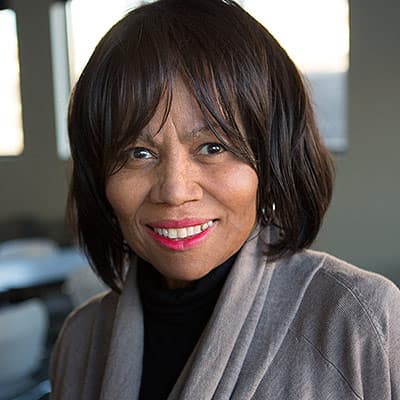 Delores Handy Reporter
Delores Handy was formerly a host and reporter at WBUR.