A BB In His Heart, Last MGH Bombing Patient Heads To Rehab
This article is more than 8 years old.
Near the finish line of the Boston Marathon, a firefighter worked feverishly to stop blood pumping out of Marc Fucarile's right leg. By the time he finished a tourniquet and called for help, all available ambulances had left Boylston Street, full of marathon bombing patients. A police officer volunteered the spare seats of his wagon, typically used to transport prisoners. The two men raced Fucarile, his skin still smoldering, to Massachusetts General Hospital.
"Yeah," Fucarile said with a laugh, "with a police officer screaming out the window, 'Get out of the way!' I think I might have been on a bench part of the seat and the firefighter was trying to hold me on there. I was slamming my head a lot."
Surgeons told Fucarile if he'd arrived two or three minutes later than he did he would have lost too much blood and died.
Now, 45 days later, Fucarile is checking out of Mass General, a hospital he says rivals 10 star hotels. He has a BB lodged in his heart that doctors say is better to leave for now. His right leg was amputated twice — above the knee after an infection invaded the first wound. And he may still lose the lower part of his left leg. But Fucarile is ready for Spaulding Rehabilitation Hospital. (Just one marathon bombing patient has not moved on to rehab: Ericka Brannock is expected to leave Beth Israel Deaconess Medical Center Friday.)
While Fucarile, who's from Stoneham, celebrates the next step in his recovery, his future, as with many marathon bombing patients, is uncertain.
"It's still wide open, it hasn't been healed or shut yet," Fucarile said describing the wound. "It has sharp pains and the meds can't do nothing about it."
Fucarile's remaining leg, in a knee-length cast, is red, scared and still riddled with scrap metal.
"The left leg is improving," he explained. "It's questionable how functional it's going to be. Potentially I could be a double amputee. But the doctors have a strong hope for it."
Fucarile also has head injuries from shrapnel. He isn't sure if they will leave permanent damage. His uncertain medical condition makes applying for financial assistance from the One Fund difficult. Survivors with permanent brain injuries or those who lost both legs will receive more of the nearly $38 million than single amputees and other patients. The application, based on injuries to date, is due June 15. Fucarile is grateful for the fund, but realizes his share won't come close to covering his costs.
"I mean, the One Fund's a great thing, I can't believe how many people have stepped up. The good that's out there in this world is just phenomenal, phenomenal," Fucarile said, shaking his head. "And you know we're all hurting. I don't know what my outcome's going to be when I get out of here and what kind of bills I'm going to have. And that's starting to stress me out."
Fucarile has health insurance through his employer, Marshall Roofing, but he's not sure if it will pay all his medical bills. His sister, Stephanie Baron, set up a fund in Fucarile's name that has raised almost $150,000 so far. But a state-of-the-art prosthetic limb costs more than $100,000, and they wear out every three years or so.
Fucarile's 89-year-old grandmother is one of seven family members who packed into his room at MGH for the send-off. Everyone was wearing Boston Strong T-shirts. Doctors and nurses stopped by, too. Some of them remember Fucarile arriving a charred, mangled man, barely holding onto life. Nurse anesthetist Amanda Heidbreder recalls Fucarile as "Distress Patient C."
"I felt determined that I was going to find out what his name was, who he was, what he was all about, and now I know," Heidbreder said. "He's an inspiration to a lot of people. The evil that happened is not going to beat him, he's going to beat it."
There were lots of tears of relief and gratitude.
"Every day's been a step forward and then four steps back and finally we have a solid step forward," said Jen Regan, Fucarile's fiancee, wiping her eyes. Regan and Fucarile have a son, 5-year-old Gavin, who Regan says cries a lot at night, asking for his dad.
"I'm just excited. I'm excited for Gavin to see [Fucarile] in a new place," Regan said, breaking into a smile. "It's just a good day, a good day."
Fucarile hopes to be home after a month or two in rehab. The family will have to move out of their second-floor apartment to something that's wheelchair accessible for the time being. Fucarile and Regan still plan to be married, but Regan's told Fucarile that it won't happen until he's ready to dance.
"I don't have a choice," Fucarile said with a laugh as he headed for the ambulance that took him to Spaulding. "She's going to make me. And like I said, with one prosthetic or two, I'm still going to do it."
Few who know Fucarile doubt that promise.
This program aired on May 30, 2013. The audio for this program is not available.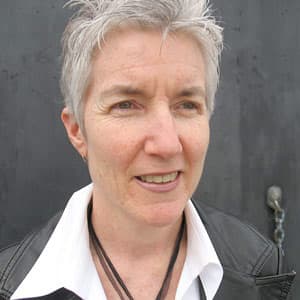 Martha Bebinger Reporter
Martha Bebinger covers health care and other general assignments for WBUR.