Dupont On Bruins: 'Against Adversity, They Do Typically Pull Themselves Together'
05:44
Play
This article is more than 7 years old.
If the Bruins are going to win another Stanley Cup this year, then they must win the next two games against the Chicago Blackhawks.
In Game 5 Saturday night, the Blackhawks defeated the Bruins 3-1 to take a 3-2 advantage in the NHL Eastern Conference Finals.
Kevin Paul Dupont, hockey writer for The Boston Globe, joined Weekend Edition to talk about the Bruins' performance and their chances in the final games of the series.
---
Sharon Brody: We had a plan. The Bruins were going to win on the road Saturday night and then capture the Stanley Cup at home Monday night. So what went wrong?
Kevin Paul Dupont: Well, a number of things went wrong. Overall, they didn't play well. I don't think they had enough energy, which has frankly been a problem from the start of the series. Their starts have been poor. They've had worse starts than Saturday night. But I think it's cumulative. I think there's some fatigue in them. And then, of course, Patrice Bergeron got hurt in the second period, so that didn't help them at all. But, by and large, as often is the case, talent wins out. And I thought Chicago played better and faster.
You mentioned Bergeron — he was taken to the hospital after being hurt in the second period. Do you have any more information on his injury?
When we left there Saturday night, there was mixed opinions of what it was. So it's somewhat of the medical guessing game. Of course, he's had his concussion history. What we do know is that he and an X-ray prior to leaving the building by hospital, which would speak not to concussion. That would speak more to some sort of — well, obviously, fracture would be suspicion, but it's a tough game. So if he's going for observation, which is what they announced, and he's first had an X-ray, you would think more along the lines of a rib with a possible lunch issue or maybe a spleen, something like that. But it's a guessing game. The word we're hearing this morning, unconfirmed, is that he is going to be in the plane that flies back with the team Sunday; so that would be a positive sign.
That would be a positive sign but let's just go negative for a second. What would it mean for the team's chances if Bergeron cannot play? A case can be made he's the Bruins most important all-around player.
Well, they can win, of course. It's two games; they have to win both. But, you're right, he is their glue guy, important in so many ways — even strength, shorthanded face-offs. Their predicament would not be good if he's on the sideline here. And he was such a critical part when he came back from this similar deficit two years ago and beat Vancouver.
Speaking of injuries, though, Chicago has a major one, right? Jonathan Toews was hurt Saturday night. Do you have a sense of how significant that injury is and whether an he might be playing Monday?
You had to suspect that he didn't get off the bench there in the third period and, again — adding the evidence here — he got that big hit from Johnny Boychuk to the head. It struck me as a classic case of a player who's dealing with some sort of a head issue and doesn't want to leave the bench because, if he admits the head issue — this is a dangerous game, of course — if he admits the head issue, then he's really got to sit out for the rest of the series. So it looked like — by my eye from doing this a very long time — classic player who just doesn't want to admit it because he knows admitting it means pulling out. He's hoping he's going to wake up the next day and feel better.
Hasn't the mentality around head injuries and concussions et cetera changed in recent years? Isn't there any hope that players have wised up?
Thankfully, yes it has. Yeah, yeah. And that's taken a major cultural shift in this sport — and all sports, frankly, but especially hockey. I hope that's not the case. I don't hope anybody gets hurt, but I hope in this case it's a shoulder something or a collar bone something rather than the head thing. But, boy, to watch it and add it up. And he looked groggy when he picked himself after Boychuk, which I didn't like the hit either. It's a dangerous game.
Since the NHL went to a best of seven format for the Stanley Cup, the winner of Game 5 in a tied series as gone on to win the title 15 times in 22 occasions. But, to counterbalance, there is 2011; the Bruins won the Cup after winning Games 6 and 7. So what's your take on all this?
I did see that number and frankly I was surprised it was that frequent. These series are such a grind that I think when a team takes a 3-2 lead in it, it's such a psychological edge. But you're right; two years ago that's exactly what happened. The Bruins lost Game 5, 1-0, and then came back and had two very impressive games. They went back to the Garden to beat Vancouver by 5-2 ... and then they went to Vancouver and really rolled over them 4-0. It felt like 12-0 by the end of it.
Maybe this is just sort of standard Bruins modus operandi — they're making it exciting and they'll put out their best game right now.
Yeah, they've done that all year. Against adversity, they do typically pull themselves together. It's a little disappointing for a Bruins fan's perspective, I know, that they often have to put themselves in the worst predicament to get their best effort.
This program aired on June 23, 2013.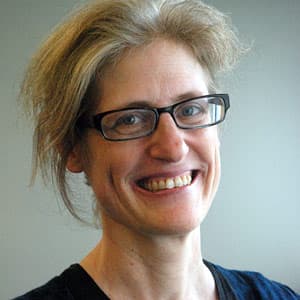 Sharon Brody News Anchor
Sharon Brody is the voice of WBUR's weekend mornings. On Saturdays and Sundays, she anchors the news for Weekend Edition and other popular programs.