Mass. Helped Pave Way For Gay Marriage Rulings
05:19
Play
This article is more than 7 years old.
Massachusetts companies, courts and human rights organizations played a pivotal role in Wednesday's Supreme Court rulings on same-sex marriage.
In 1936, the ACLU of Massachusetts took up the first gay rights case in the state. It sued after Lillian Hellman's play, "The Children's Hour," was banned in Boston because of its lesbian content. The ACLU lost that case but never gave up. Half a century later, it challenged regulations preventing same-sex couples from being foster parents. And in 2003, the ACLU joined in an effort spearheaded by the Boston-based organization Gay and Lesbian Advocates and Defenders — or GLAD — and successfully sued the state, making marriage equality the law of the land in Massachusetts.
"This is certainly a historic day," said Gary Buseck, the current legal director for GLAD. "It comes almost exactly 10 years after GLAD won the case of Goodridge vs. Department of Health, through which our commonwealth became the first state in the nation to allow same-sex couples to marry. And that milestone became the basis upon which a challenge to the federal Defense of Marriage Act became possible for the first time."
The first day same-sex marriages were permitted in Massachusetts was May 17, 2004. And on that day, one of the first gay couples to tie the knot was Brent Sverdloff and Craig St. Clair, of Brookline.
But ironically, not long after the two men were married in Massachusetts, the couple moved to San Francisco, where except for a brief period when it was permitted, same-sex marriage was banned by constitutional amendment.
"We were in a state of limbo when we got here. Nobody could really clarify our status," Sverdloff said. "It was confusing."
Sverdloff and his husband registered as domestic partners in California, but it wasn't the equality they enjoyed in Massachusetts.
"It's a poor substitution," Sverdloff said. "It doesn't give you the same status. It's like saying 'boyfriend' instead of 'husband.' It's not as strong, it's not as tight."
Wednesday's Supreme Court ruling that the supporters of California's Proposition 8 constitutional ban on same-sex marriage did not have standing to bring the case — leaving in place a lower court's ruling invalidating the ban and paving the way for same-sex marriage in that state — along with the end of the Defense of Marriage Act means that soon, perhaps within a month, Brent Sverdloff, Craig St. Clair and millions of other gay couples will enjoy the same federal benefits and protections as straight partners.
No longer will companies have to keep separate tax and benefit accounts for gay and straight employees.
"We will be able to at least dismantle the software that we had to put in place for this," said Richard Holbrook, chairman and CEO of Eastern Bank in Massachusetts.
Eastern Bank is one of many companies and organizations in the state that filed a friend-of-the-court brief with the Supreme Court charging that it was unconstitutional to require employers to treat married workers who were gay differently than those who were straight. Holbrook says the bank tried to make up for the unequal treatment.
"In our case we actually provided an additional stipend to our same-sex married couples to at least partially offset some of the costs that they had to bear because they weren't allowed to deduct their health care benefits the same that way everyone else was," Holbrook said. "But this has never been a question of dollars and cents for us. It's always been a question of making certain all our employees were treated equally under the law."
The two Supreme Court decisions do not make same-sex marriage the law of the land — 31 states have laws banning it — but Sverdloff says it's just a matter of time.
"I look forward to the day when being gay is as different as being left handed or having green eyes, or something else that is distinctive but doesn't threaten people or cause confusion."
To celebrate the historic decisions, Sverdloff and his husband bought airline tickets to Buenos Aires. It's where they honeymooned after they were married in Massachusetts back in 2004.
This program aired on June 27, 2013.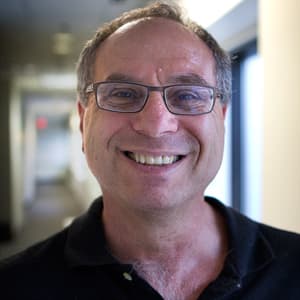 Bruce Gellerman Senior Reporter
Bruce Gellerman is an award-winning journalist and senior correspondent, frequently covering science, business, technology and the environment.