100 Days Later, Marathon Bombing Survivor Leaves Rehab
This article is more than 8 years old.
BOSTON — After 16 surgeries that included 49 procedures, Boston Marathon bombing survivor Marc Fucarile, of Stoneham, is going home.
Police rushed the 34-year-old to Massachusetts General Hospital 100 days ago. His skin still smoldered. Blood gushed out of both legs.
"His injuries include amputation of his right leg above his knee, multiple fractures of his left leg and foot, burn injuries to his legs, trunk, back and pelvis," said Dr. Jeffrey Schneider, one of Fucarile's physicians after he moved to Spaulding Rehabilitation Hospital. The list also includes a fractured spine, ruptured eardrums and multiple shrapnel wounds to Fucarile's extremities and torso.
"Wow, I forgot how much it really was," Fucarile said Wednesday, shaking his head.
When he arrived at Spaulding, Fucarile couldn't even sit up in bed for any length of time. On Wednesday, he hobbled on crutches into the hospital lobby. Spaulding staff and Fucarile's family members applauded. Fucarile smiled, but sobered as he recounted his ordeal.
"It's just been tough, real tough, especially when my son's home sick, Jen's not sleeping," he said. "At times I just want to check out."
Fucarile glanced at his 5-year-old son Gavin and his fiancée Jen Regan. Their support, he said — along with all the cards taped to his wall, donations and hand-knit blankets he's been sleeping under — have helped him through many nights of pain and motivated him to stretch new skin and shriveled muscles.
"I know that I have the rest of my life, thanks to the people who were there that day who helped me and saved me," he said. "I'd go through 100 more procedures as long as I can be there to go home with him."
Gavin smiled and giggled through most of Fucarile's press conference. Regan, Fucarile's longtime companion, joked that she's been getting the house ready for his return. "We got a frontload dryer and washer so he can do the laundry in his wheelchair."
Both Regan and Fucarile said they've found strength in visits from veterans and other traumatic injury survivors.
"People have lost limbs and it's those people who get you through the tough times because you know you're not the only one," Regan said.
Fucarile shifted uncomfortably on his left leg as he spoke. He says it still isn't clear if he'll be able to keep it. He'll continue outpatient physical therapy for at least several months. The stump of his right leg is not yet ready for a prosthetic limb. He's been promised a job at the roofing company where he was a driver. He knows there are many hurdles to come.
"Let's stay Boston strong forever, because we need everybody to remember," he said. "It will help us and motivate us to get through our tough times because we're all gonna still have tough times."
Fucarile got into his car outside the hospital by himself. He left with Gavin in the back seat, still grinning, and Regan at the wheel.
"Bend your leg, Marc-ey," a supporter called to him.
Friends and family members, wearing navy blue Boston Strong T-shirts, waved goodbye, then raced to Fucarile's home. They hoped to snap pictures of him getting out of the car and coming in for a party that's expected to go on until he's too tired to celebrate.
Listen to this story here:
Correction: An earlier version of this story incorrectly stated that Fucarile was from Stoughton, Mass. He is from Stoneham. 
This program aired on July 24, 2013. The audio for this program is not available.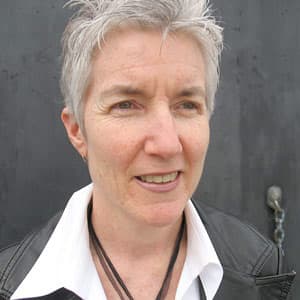 Martha Bebinger Reporter
Martha Bebinger covers health care and other general assignments for WBUR.