John McCauley Raises The Bar For Folk Music
This article is more than 8 years old.
NEWPORT, R.I. – John J. McCauley III: It's not a household name. Nor is the name of his band, Deer Tick. But for anyone who is familiar with New England's folk scene; for anyone who has visited the Newport Folk Festival in its recent years; for anyone who has ever even been near Newport in the last weekend of July: you may know his face, and you'll definitely know his voice.
It's Friday night. The rain has soaked Newport and its flush of 10,000 festival-goers raw. I'm standing in mud, singing at full capacity, and it's hard to tell if the wetness on my face is from a leak in the performance tent or a real, honest-to-God reaction to what I'm witnessing, what I'm hearing.
On a small stage, surrounded by a massive, ancient stone-and-mortar fort, John McCauley, a 28-year-old Providence-based songwriting savant who has been described as everything from alt-country to retro-punk, has a slim acoustic guitar over his knee, a microphone and two cheap wooden chairs — one for himself and one for his can of beer. He's fair-skinned with Irish summer pinkness in his cheeks and on his neck, likely from being on the road since he finished recording his latest album, "Negativity." A lot of groups at the folk fest take the "Little House On The Prairie" stage-look seriously — dressed in bonnets and britches and burlap vests. But McCauley is donning a simple white T-shirt, white Converse sneakers and black jeans. (Listen to McCauley's full set here.)
His most striking features are a solid gold tooth that shines in the stage light when he smiles, sleeves of tattoos boldly celebrating TV's California Raisins, and, above all, his voice — a voice unmatched in music today and possibly ever.
McCauley, not formally trained, has the range and dynamism of a professional tenor. It's controlled, unwavering and knowing, heavy or sweet when it needs to be. None of this, however, makes him that special. What is unmistakable and halting and the headline of every review is his voice's agonized wretchedness. A grated, froggish, Cobain-like rasp. It is the voice that any "American Idol" tryout would cast aside heartlessly with its shallow conception of "what's good." It's also the voice of a new kind of folk music that carries attitude behind stories of pain and triumph for someone living in the stuck — the aimless — generation. My aimless generation.
Friday's cool acoustic setup is a change for McCauley, who's more associated with blisteringly raucous full-bodied shows with his band Deer Tick. When he first came to Newport's Folk Fest in 2008, he was just a local kid with a tiny band, ready to play on a tiny stage by the harbor. No big expectations. But McCauley issued a statement: Screw whatever you thought was quiet and agreeable about this festival — about folk music in general. Deer Tick blew out the stage. Masses of folkies flooded the area, dancing, cheering and overtaking the stage to get closer to something so good and so different. The fire marshal was called in.
"Twice — no, three times," recalled Jay Sweet, Newport's festival organizer who booked Deer Tick in their first folk fest. "Finally the fire marshal said, literally, 'F--- it, there's too many people to control. We'd have a riot if I stopped this show.'" The music went on.
"And that was the legend of John," Sweet said, adding that McCauley had become a folk figurehead at the festival ever since (he even sits on NFF's advisory board per request of Sweet, and Deer Tick hosts the folk festival's famously wild after-parties).
The term "folk" is worth getting into here.
Folk today is a somewhat syrupy and nearly sterile descriptor. Critics who still use the word tend to rely on appending it — pegging artists as "folk-ish," "folk-y," and "folk-inspired," as a way of conjuring up imagined sounds of a guy or girl with an acoustic guitar, cowboy boots, rural themes and sepia-toned album art, without actually defining what it is that makes the artist so "folk-[insert suffix here]."
"Folk songs transcend immediate culture," Bob Dylan wrote in his 2004 memoir "Chronicles," adding, "[they are] the truth about life, and life is more or less a lie."
Dylan, the controversial former magnus rex of folk, believed what folk really is, is a soul — a message — that comes out of music. Folk Proper lives outside of past, present and future aesthetic boundaries. The exact opposite of the ephemeral Top 40, folk music is about humanity, living in nonlinear time, coping with its issues. It is not the aural bricolage of unplugged guitars, banjos and comfortable harmonies that most listeners associate with modern folk. Folk is a genre of spirit, not sound.
Dylan drove that point home 50 years ago when he came to the Newport Folk Festival for his first time. Like McCauley, 1963 Dylan was a scruffy-looking not-such-a-big-deal 22-year-old. He started the weekend playing for a crowd of 20 and ended with a mass of thousands before him, and folk's finest — Pete Seeger, Joan Baez, Peter Paul and Mary, etc. — behind him. Quietly, he'd put out his personal manifesto on folk music in the poem "For Dave Glover," which appeared in the festival's program. "Today's a complicated day," he wrote, "an' all I'm sayin' is 'at I gotta make my own statement."
Two years later, he would make his "own statement" pretty clear when he showed up on stage with an electric Fender Stratocaster in one hand and, in the other, a stake to drive through the heart of anyone with preconceived ideas of what folk should be. He was saying it doesn't matter how I play it, folk is folk because it has the spirit of folk.
John McCauley embodies that spirit. Like Dylan, with a ragged voice, sometimes speaking and often shouting, his performing accents his poetic epics on being 20-something with not a lot of direction; as he sings it, being "born at zero, dead at twenty-three." He's making his own statement with his eye on life run amok with credit card debt, jobs going nowhere, dead friends who never reached 30, and being the last townie on an empty Main Street.
He's also reaching back in time to traditional folkies and more. "These people came through the rock generation," the folk festival's 87-year-old co-founder George Wein told me as we sat in his trailer, yelling over loud music, "but they are going back for material [...] from the older folk era [and] the era they grew up in."
I should say McCauley is not held in such high-esteem by all reviewers. Often, his music is confused as low-art bro-anthems, confessing a love for getting hammered over anything else. Reviewing Deer Tick's 2011 album "Divine Providence," Pitchfork's Ian Cohen wrote, "within the first 10 minutes, John J. McCauley III has laid out in no uncertain terms that he's going to get super blotto tonight, called you a f--ing d--bag, belched loudly, and then capped it off by matter-of-factly stating, 'let's all get drunk.'"
That's taking the music at face value.
True, McCauley's poetry is flooded with references to cocaine, heroin, weed, broken families, broken lovers and lots and lots of cheap beer. What Cohen and others forget is that almost since its birth, American roots music has weighed heavily on stories of washing away all kinds of pain with too much whiskey. Rather, McCauley's music is the natural progression. If you're 20-something in 2013 and your life is falling apart, you are just as likely — maybe even more likely — to go out, party, and "miss one night from a stomped on bag of blow," as McCauley writes, than you are to lament over rye whiskey as Woody Guthrie sang in 1964. Today, for a lot of us, whiskey ain't strong enough. That is the sad truth of it all and you can't blame a guy for telling the truth.
McCauley is not the voice of a generation. Nobody is. But he is a metaphor for the lives many of us have to live today. In the last year alone, McCauley has witnessed broken engagement, a father sent to prison for tax fraud, friends wasting away on heroin and the personal high and horror of cocaine and alcohol abuse. And, while that's not the life of everyone, most of us certainly can relate to its fragments.
His music, however, comes from the afterward, in moments of self-reflection, self-doubt and struggling for understanding in a larger cultural context. That is what folk is all about.
"I should've been an angel," McCauley sings, "but I'm too dumb to speak." Well, maybe he's no angel, but he's certainly far from speechless.
As he closed his set, and Friday night's chill set in, McCauley led the whole crowd in singing Lead Belly's "Goodnight, Irene." The rain stopped, he walked off stage and we all knew what we just witnessed: a true artist, a dark prince, and the fallen angel of today's folk.
___
John McCauley's band Deer Tick will be performing at the Boston Calling Music Festival on Saturday, Sept. 7 and at The John Boyle O'Reilly Club in Springfield, Mass. on Sunday, Sept. 15. The latest album, "Negativity" comes out Sept. 24.
Dean Russell is a producer and assistant director for WBUR and NPR's On Point with Tom Ashbrook.
This program aired on July 31, 2013. The audio for this program is not available.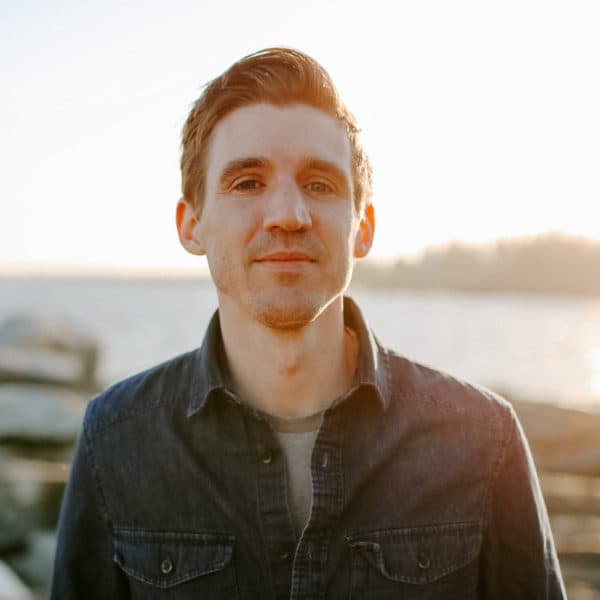 Dean Russell Freelance Associate Producer, Here & Now
Dean Russell is a freelance producer for Here & Now.