Boston Voices Remember The March On Washington
07:45
Play
This article is more than 7 years old.
It was 50 years ago this week that more than 200,000 people gathered in front of the Lincoln Memorial on the National Mall in Washington, D.C. to demand jobs and equal rights for African Americans.
One of the largest contingents was the group from Boston. On the eve of the anniversary of the March on Washington, many find themselves looking back.
"This is a picture of the Boston contingent gathering after we got off the buses," said Melanie McNair as she showed me the yellowed photograph from a Boston newspaper 50 years ago. In the background is a long line of buses; in the foreground, a large group walking behind a Boston NAACP banner being carried by two teenagers, with other people walking behind them.
McNair was just 16 years old. She made the trip with other members of her family, including her grandmother, legendary Boston community and civil rights activist Melnea Cass.
"Some 4,000 Bay Staters made the trip, and local leaders," McNair said.
In 1963, Ken Guscott was president of the Boston branch of the NAACP, the group that arranged to get people from this area to Washington, D.C.
"Our phones were ringing off the hook," Guscott recalled. "People wanted to come from Vermont, from Maine and everywhere. And it just swelled up, and then we couldn't rent any more buses. We couldn't get any more buses, so some people went down on the train."
The group left from the South End after a rally attended by Gov. Endicott Peabody.
"We were charging people $26, and those who couldn't afford it, we took them anyway," Guscott continued. "The thing about it was the governor's wife got so excited; she jumped on the first bus with Mrs. Cass, my mother and them, and went to Washington with us. She jumped on the bus and went down there with us — that showed you what an integrated group we had."
The Boston group joined the long line of buses heading to Washington from all over the country.
Pam Cross, a longtime news anchor and reporter at WCVB-TV Channel 5, was 10 years old at the time.
"There was great discussion of how you presented yourself. The men were dressed in collared shirts. Some were wearing suits. The women were all dressed as if they were going to business or going to church," Cross recollected. "There was concern about whether there was going to be some violence, and so there was discussion before the trip, during the planning, about the whole method of non-violence and what that means."
Another well-known Boston area resident who made the trip is civil rights lawyer Harvey Silverglate. In 1963, he was a student at Princeton and a summer reporter for a New Jersey newspaper.
"I learned that there were about 80 people going from Ridgewood, N.J. They had chartered two buses," Silverglate said. "I said to my editor, 'This is a local story. They got 80 people from this area going down to Washington. I should go down with them and cover it.'
"I had this sense that the whole problem of race in this country was at a historic moment, a kind of boiling point. There were enough people who were totally disgusted with things," Silverglate continued. "There was someone in the White House: Kennedy. His character was such that one had the sense that with the proper push, he would be an ally of the integration movement. And it turned out to be right."
McNair was just one of the hundreds of thousands of people who came together in Washington that day.
"It was awesome. The hard work that pulled that together for us to come together peacefully for that 250,000 people to listen and hear what was being said and the vision for us and the belief that it would be accomplished. There was no doubt in any one's mind that this would come to be," she reflected.
"As a child it seemed like we walked a very, very long way," said Cross, who made the trip from Connecticut. 'There were people coming from everywhere. Masses of people were coming off of different buses, from different modes of transportation, all shuttling on to the same streets to follow the march. And I was struck by the diversity, even as a child. I was pleasantly surprised to see such a diverse audience of people."
In the masses, Cross somehow managed to find her older sister, who had made the trip on a bus from New York.
"It was miraculous — no cell phones, no texting. Somehow we met up, and none of us were ever quite sure how that worked out. And it was just something very powerful about having family members as well coming from other places to be supportive and to lift their voice and say, 'Yes, we want freedom. We want equality. And the time is now.'"
Guscott, the former NAACP president, proudly remembered what a successful display of non-violence the day was.
"President Kennedy at the time was afraid that we were going to have riots in Washington. They had soldiers on every corner. But they were mostly black soldiers. And the black soldiers were so happy to see us. It was one of the most happy days of my life on that march because everybody was so peaceful. And all we're doing is singing 'We Shall Overcome' as we marched down the street."
Now 50 years later, McNair looks back and says it's time to to take another stand.
"I would like to see them do it again today for Trayvon Martin, for the Voting Rights Act."

Melanie McNair, who attended the march when she was 16
"I would like to see them do it again today for Trayvon Martin, for the Voting Rights Act, which now is in a pitiful state because they're basically redistricting, making it so the Department of Justice doesn't have a say in those states that would keep us from voting. That's a little scary," McNair said.
Cross finds two ways of assessing what's been accomplished since the march.
"I am astonished and grateful and surprised at how far we've come in terms of so many things: employment, education, politics. The president is an African American," she said.
At the same time, Cross said there's still a long way to go.
"I'm dismayed by employment and the numbers of young people of color — African American, Latino — who are unemployed and by education, the fact that so many of our youngsters are just dropping out or just falling short of the mark. They're getting pushed out and still aren't able to handle a job or survive."
As the country commemorates the 50th anniversary of the march, these participants all say many of its goals remain unmet.
This program aired on August 27, 2013.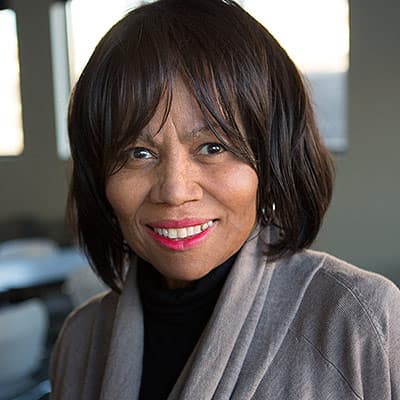 Delores Handy Reporter
Delores Handy was formerly a host and reporter at WBUR.