Emerson Invites Laughter — And Criticism — With 'Ron Burgundy Day'
05:38
Play
This article is more than 7 years old.
Actor Will Ferrell was in Boston Wednesday, or maybe we should say his character Ron Burgundy from "Anchorman" was here. And yes, the comedian was dressed for the part, fully clad in his signature crimson-colored polyester suit.
The well-coiffed, boldly mustached fictional broadcaster is promoting his latest foray into the wacky world of television news, "Anchorman 2," which opens Dec. 18. But Burgundy was also in town to be "honored" by Emerson College.
On Wednesday — and it was made crystal clear that it was a one-day-only event — Emerson named its School of Communication after Burgundy. Students and journalists were laughing at a highly orchestrated morning press conference celebrating the move, but not everyone found the Burgundy-Emerson partnership funny.
Ferrell's appearance at the school's Tufte Center attracted a mixed media circus. Print and social media were there, local TV and radio broadcasters, as well as students who work for EIV News, Emerson's campus TV channel. Charlie Greenwald, a 20-year-old journalism major, was pumped. He dressed up as his own Ron Burgundy-inspired fictional reporter — Chip Wingfield — for his news spot.
"I'm wearing a ridiculous green suit, I bought it at the Garment District for about $25," Greenwald described in the minutes before Burgundy arrived. "Green pants, a green tie, some fake glasses and a fake mustache. You know, I thought it would be much funnier and more interesting if I had a sense of humor about the whole thing."
But some of Greenwald's professors and Emerson alumni have had trouble finding the humor because they think it pokes fun at journalism. They also believe it smacks of a Hollywood publicity stunt. But Greenwald doesn't take offense.
"To have Will Ferrell come in character as Ron Burgundy, to do this for the school is just so fun and so cool," Greenwald said. "And there are a ton of kids out there who are going to apply to this college because of what they're seeing here happening right now, today."
While this journalism student sees Burgundy's visit as a selling point for Emerson, some of the professional broadcasters in the audience half-jokingly admitted to struggling over how to cover this event "with dignity." When asked if they would go on record they declined, saying they would prefer to keep their jobs for the holidays. But one radio producer and "sidekick," Braden Moriarty, was willing to share his thoughts. He works for WZLX in Boston and graduated from Emerson in 2003.
"I'm excited. It's a nice tie in. It shows the kids how PR stuff — and it is a bit of a stunt — actually gets you some pretty good coverage," Moriarty said. "That's the name of the game. Even colleges have to do it nowadays. But I don't see any harm in it."
At last Burgundy entered the room and he was greeted with warm applause and plenty of cheeky smiles. When presented with a fabulous plaque, the flamboyant film character thanked Emerson's president, Lee Pelton, while wiping back fake tears. He hugged Pelton and Phillip Glenn, interim dean of the School of Communication, who was relinquishing the name to Ferrell's character for the day.
"I told myself I would not get emotional," Burgundy told the room. "I'm literally in a glass case of emotion right now."
He went on to answer questions from the audience. Most were pretty funny. Students and working broadcasters gushed and asked for advice about vocal timbre and Burgundy's path to success. Ferrell was amazingly quick on his toes. But then I did the unthinkable: I asked a serious question.
"My name's Andrea Shea, I work at the public radio station WBUR," I said.
"OK,"  Ferrell replied, then laughed as he jokingly pshawed "public radio..." We all got a laugh thanks to Saturday Night Live's infamous ribbing.
I went on to ask how the school has been responding to the criticism over the its embracing of a fictional newscaster.
"That's below the belt," Burgundy said.
"That's a journalistic question," Glenn replied.
And its one Emmanuel Paraschos, professor of journalism at Emerson College, has been wrestling with — along with many of his peers who've questioned the school's decision to celebrate Ron Burgundy.
"I don't know that it's a good idea to make fun of our profession through a third party," Paraschos explained in his office after the Burgundy press conference.
At the same time he acknowledged Emerson's long-standing relationship with the entertainment industry and legacy of humor.
"I still think it's risky," Paraschos said. "I don't know what parents or future students — especially the good ones, the serious ones — may think of this. And we did hear from colleagues from around the country thinking, 'What were you people thinking?'"
Ferrell's publicity appearance as Burgundy on a small North Dakota television news broadcast last week hasn't helped matters. That video went viral and earned the ire of many hard-working broadcast professionals. Some believe it took the "Anchorman 2" publicity machine too far. And Will Ferrell also has a new book to promote.
"We're living in an era of buzz," Paraschos said. "And buzz is better than no buzz I hear," he added with a laugh.
Down the hall in Emerson's journalism department, assistant professor Tim Riley told me he's decidedly pro-Burgundy/Ferrell.
"The reason we're laughing is because he is speaking truth to power in a very effective way, and he's saying things that everybody wishes they could say out loud," Riley said. He watched the live stream of the press conference with his journalism students and said they found it all hilarious. Riley knows his colleagues worry that "Burgundy Day" at Emerson might tarnish the school's reputation, but he offered a pithy quote from Oscar Wilde in response.
"'I think journalism is way too important to take too seriously.' We need to laugh at ourselves," he said. "And I think there's a great teaching moment here."
Glenn agreed. He said there are some serious lessons to learn from Ferrell's hairspray-laden Burgundy.
"In character, he makes jokes about the way to be a journalist is to use the right rinse in your hair. There's a serious point there," Glenn explained, "which is that is not what journalism should be."
And Glenn reminded me that Burgundy's presence — even for a day — wasn't just for the school's budding journalists. Students here are interested in marketing, PR, film, acting and public speaking.
But for one day, Ron Burgundy was in charge of Emerson's School of Communication, where he said he would change the grading system to pass/fail — after he goes shopping on Newbury Street.
Check out a collection of tweets and Instagram posts from Emerson College's "Burgundy Day":
[storify url="http://storify.com/wbur/will-ferrell-visits-emerson-college"]
This program aired on December 5, 2013.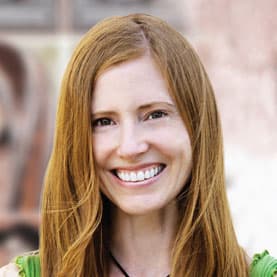 Andrea Shea Senior Arts Reporter
Andrea Shea is WBUR's arts reporter.