A Fanfare For The 'Working' Man And Woman At The Lyric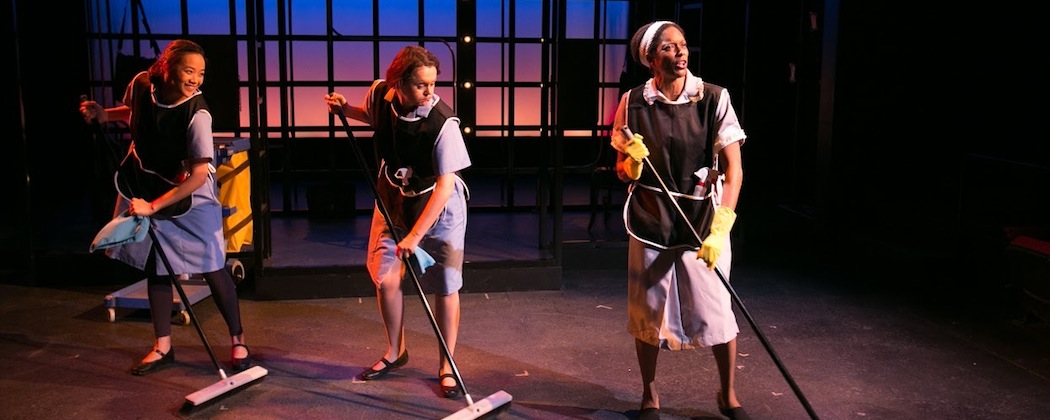 This article is more than 7 years old.
BOSTON — What, you wonder, would Studs Terkel have done if in the course of writing "Working: People Talk About What They Do All Day and How They Feel About What They Do" the mason or the hooker or the construction worker had burst into song? He probably would have smiled appreciatively, taken a drag on his cigar and said, "That's cute" and moved on to the next subject.
I didn't react with such equanimity to the musical of the play, though I did think the Lyric Stage Company of Boston production of it (through Feb. 1) was cute enough, particularly the work by the cast and the musicians. But is "cute" really what we want from the late lefty populist?
"Working, A Musical," adapted by Stephen Schwartz and Nina Faso, has its heart in the right place as far as honoring Terkel's populist vision of how one should be able to say "I did that" or "I helped build that" rather than be a cog on the assembly line.
But his work can be quiet and contemplative, letting the words of the workers speak for themselves. Once you dramatize these simple stories, with song and even a little bit of dance, you're making the experience a louder, more emotional/sentimental one and that's where "Working" seems manipulative and unconvincing. People who work with their hands, for example, are to be admired, people who work with money or numbers are to be derided.
It doesn't help that the songs aren't very good, most of them following along in Schwartz's ("Pippin," "Wicked") middle-of-the-road footsteps. They kind of roll without rocking. The melodies don't go to interesting places and the rhymes will rarely remind you of Sondheim.
Schwartz only wrote a few of them. James Taylor wrote two, which are evidence that his songwriting really needs his unique voice to make his work stand out. Micki Grant's are the best in show. Her "Cleanin' Women," for example, not only gets under the skin of the woman who doesn't want to see her daughter also become a cleaning woman, but the rhythm 'n' rhymes are smart and energetic.
Merle Perkins sells that song and the six-person cast makes its "Working" life onstage enjoyable, with strong work from established veterans like Christopher Chew to rising local stars like Tiffany Chen. Ilyse Robbins' direction is imaginative though the production could use the kind of jolt that's always present in her choreography.
The musical has been updated to reflect the rise of computers, outsourcing, and other mechanized forms of work that weren't in Terkel's book. It makes the work seem a bit more modern, but it doesn't help make it cohere. The people in the musical are all trying to understand what it is about work that defines and/or entraps them. "Working, a Musical" doesn't have to come up with answers, but it sure could pose the questions better.