'Once' Is A New Kind Of Song And Dance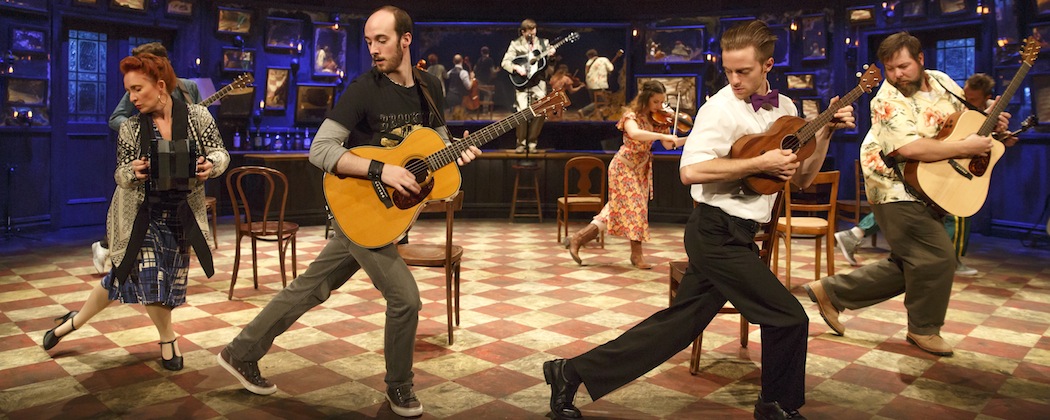 This article is more than 7 years old.
BOSTON — Talk about tearing down the fourth wall. If you get to the Opera House a half-hour before "Once" begins, and I recommend that you do, you might think you've walked into an Irish pub, at least in spirit.
You'll be invited onto the stage for a drink at the bar (cash bar) while you hobnob with the cast of jolly blokes and blokettes from the cast. This is all prelude to the prelude — a terrific jam session of songs like "Fare Thee Well" (popularized by "Inside Llewyn Davis") along with more traditional Irish ballads and bawdies. There are dueling violins by a couple of beautiful women, beards that make Mike Napoli's look like a goatee, and high spirits wherever you look.
This all leads to the entrance of "Guy," one of the two protagonists of the musical and the film that it's based on. It's as exciting a beginning to a musical I can recall and it doesn't get any less dramatic as Stuart Ward launches into "Leave," one of Glen Hansard's and Markéta Irglová's trademark songs rising slowly in intensity from a ballad to a yowl.
At this point I was all set to renounce my citizenship and set sail for Dublin, particularly since I liked the movie that the musical was based on, loved director John Tiffany's work on "The Glass Menagerie" at the American Repertory Theater (where "Once" began in a workshop production), and was pretty much totally pumped for another two hours of great musical theater.
But gradually, as if I were "Falling Slowly" I started to realize that the multiple-Tony winning "Once" (at the Opera House through Jan. 19) and I were only going to be good friends, not lovers. And I do mean friends. I enjoyed being in its company and would gladly see it again, more than I can say for most musicals.
Let's backtrack to the 2006 John Carney film that "Once" is based on. Hansard played an Irish folk singer whose girl had dumped him, leaving him ready to abandon his art and pretty much any other aspiration. Enter Irglová as a Czech émigré who restores his faith in himself, his music and his ability to love.
When Dani de Waal enters as "Girl" in the touring company version at the Opera House, you assume it will lead to the same spark. She has a similar understated mien, ironic delivery ("Of course, I'm serious, I'm Czech") and all-around personal attractiveness. But what's understated in the movie seems a bit listless onstage; there doesn't seem to be a whole lot of chemistry between her and Ward, who's as strong an actor as he is a singer.
Still, de Waal comes close enough. The worst aspect of the musical is playwright Enda Walsh's book. Walsh surrounds the two prospective lovers with a variety of cartoon characters — a Czech heavy metal drummer, a bar owner who's always threatening to do karate but throwing his back out, a nerdy banker who wants to be in the band. This padding — "Once" should have been a 90-minute one-act — all detracts from the low-key love story, adding a kind of '70s sitcom humor onto Carney's delicate story.
But when these men and women pick up their instruments and start singing and dancing, fueled by Steven Hoggett's power-move choreography (reminiscent of Bill T. Jones's work in "Spring Awakening"), all is right with the world of "Once." In addition to the two excellent performances of the signature song, "Falling Slowly," by Ward and de Waal, Martin Lowe has orchestrated a number of upbeat instrumental versions of the song that thread their way through the story.
Here's a taste:
As you might gather from the above, or if you saw "The Glass Menagerie," Tiffany is a master of stagecraft. He doesn't pull anyone out of sofas in "Once" but he does make set designer Bob Crowley's onstage bar come thrillingly alive. Even his shortcuts — a vacuum cleaner delivered to Girl in the middle of a barroom conversation about same — are fun.
One scene is exemplary. Ward is about to sing to a barroom of skeptics who are all seated in front of him, ready to razz. The song builds and, won over, they all pull instruments from under their seats and accompany him. Its simplicity is magical. There are many such Tiffany-esque moments in "Once," making you wish they had canned the silliness and had a little more trust in the audience.
I really wanted to love you "Once," but I'll settle for being friends.