At Peter Schumann's Visionary Play, You Walk Right Into The Action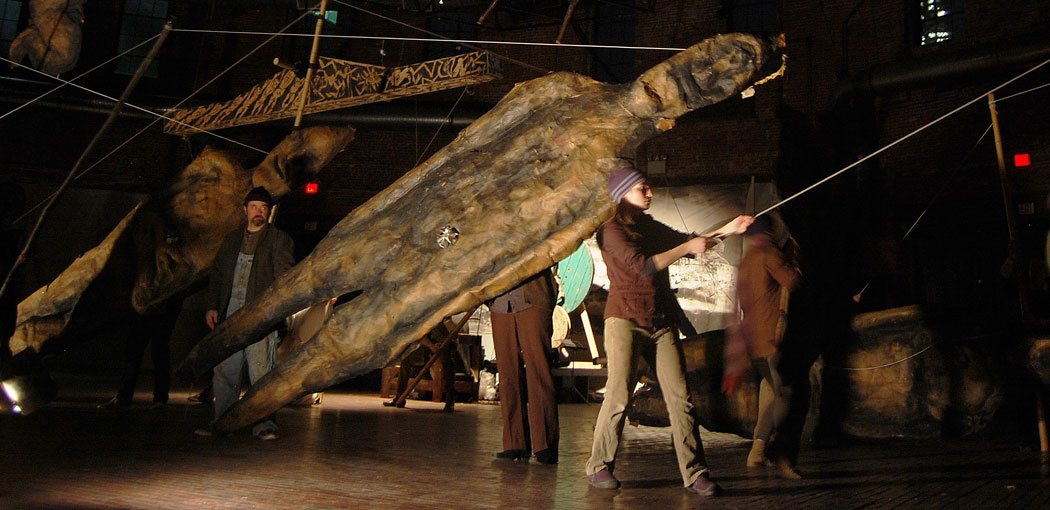 This article is more than 7 years old.
One of the first things you notice when you arrive to see Bread and Puppet Theater's terrific play "Shatterer of Worlds" at the Boston Center for the Arts is that the building's vast Cyclorama hall is empty of seats.
A couple little red curtained stages stand at either side, dwarfed by the scale of the big round room. Another little stage with some sort of mechanical contraption sits at the far end. Banners painted with black and white scenes of burning cities, giant crickets, black birds, and crowds of people drowning in apocalyptic seas hang from the perimeter walls and the lighting grid suspended from the ceiling. But no seats.
Instead Peter Schumann and a cast of about 30 invite you to literally walk into their visionary spectacle, performed all in dramatic near darkness. It's like being lead by twinkling faeries into a midnight world of demigods and war and magic.
The 79-year-old Schumann founded this experimental, political theater of giant papier-mâché masks and puppets in New York in 1963 and has lived and worked with his company in Glover, Vermont, since the 1970s. This is an old master's distillation of his life's art and themes into an astonishing, single, late, major work. Here Schumann's primary symbols are, again, the bomb and a diaspora—which echo back to his boyhood traumas in his native Germany running from advancing Soviet infantry and Western bombers in World War II.
Near the beginning of "Shatterer," as a man behind him cranks a wooden drum that produces a sound like wind, Schumann talks of Robert Oppenheimer, "the chief architect of the atom bomb," who recalled verses from the Hindu Bhagavad Gita when his team of nuclear scientists set off the first blast in 1945: "Life, the splendor of a thousand suns blazing all at once, resembling the exulted soul, is become death the shatterer of worlds."
"Shatterer," which runs through Feb. 2, is not so much a story or a didactic polemic (which are both in Schumann's repertoire), but a series of dreamlike tableaus picked out of the vast dark round hall by moving hand-held spotlights. A musician at an upright piano rolls across the room. Flat, mud brown papier-mâché puppets march. A banner painted with giant mud brown hands waves. A big white face floats toward a 15-foot-tall, large brown figure-idol.
Playing his fiddle, Schumann sings-preaches, "The Shatterer continues to plot the assassination of existence-as-it-is, while disguising his activities as benevolent maneuvers meant to cure the ailing relationship of the two ailing adversaries: the planet and humanity."
A woman, playing a clerk, shouts "Next" and rings an office bell. Performers line up to her left. "Full name in native alphabet," she demands. "Have you ever been refused admission at a port of entry? In what occupation do you intend to work?" The scene repeats later in the show and she asks, "Place of residence at time of deportation?"
Then a woman on stilts walks a tall brown puppet figure on a stick across the room to a line of the 15-foot idols and jabs at them, knocking the whole group down to the floor. A white figure appears from behind the red curtain of a small side stage holding an automatic rifle and shoots down the cast. A politician in a white mask and suit enters followed by people carrying a coffin. Papier-mâché babies die. The politician's head is chopped of by a large axe. A soldier with a bicycle wheel taking the place of a missing leg limps across the floor. Giant crickets emerge from a hole in the wall and swarm a city. A white-masked woman, stands, her hands seemingly tied by ropes to a triangular pediment suspended above her. She pulls it up and down. It makes thunder. Performers kneel in supplication before a row of the 15-foot-tall puppet people and wave their arms toward them. One by one, white flowers sprout from these idols' chests. Like hope. Like redemption. Then rays of white light waterfall down onto a pile of small papier-mâché people. The end.
In between performances in the past few years about Private Chelsea (Bradley) Manning and the American security state, Schumann seems to have been in a retrospective mood. It's as if, now nearly 80, he has been digging through his mental storehouse of experiences and images combining them in what might be attempts at summary statements. They've had many beautiful moments, but frequently not gelled as a whole. The theater has also performed a number of revivals of shows dating as far back as the '60s, again looking behind, but also seemingly trying to define the theater's canonical repertory as it begins to consider a Bread and Puppet after Schumann.
"Shatterer" has had an unusually long gestation period for Schumann these days, with public performances of earlier versions dating back to at least summer 2012. That time and focus has paid off here.
After several years of doing shows in the Cyclorama, Schumann has finally worked out how to use the vast space to his full advantage, much as he creates pageants that travel across the fields and forest of his Vermont headquarters. The movements for the audience are excellently choreographed. Even though you're not sure where you're being lead, you always find yourself just where you need to be. This immersion into the show breaks down our usual detached position in the audience. There's something about that participation, about just moving your body, that amplifies the show's resonance.
This reflects Schumann's roots in experimental theater and dance—including participating in John Cage-influenced dance workshops at Merce Cunningham's New York studio in the 1960s that spawned the avant-garde minimalist, "pedestrian" styles of the Judson Dance Theater.
But ultimately this show is ritual theater—right down to giant idols and choirs, deep darkness interrupted by flickering light. At times, bells ring—like the bells rung in Roman Catholic services to symbolize miraculous transformations of bread and wine into the body and blood of Jesus. These ancient techniques still powerfully hook our emotions.
In the end, the wondrous ritual spectacle of "Shatterer of Worlds" is an exorcism—aiming to magically rid us of bombs and salve our wounded, despairing psyches.
This article was originally published on January 31, 2014.