'Proud To Be Representing LGBT Community,' Says Openly Gay Delegate To Sochi Olympics
Play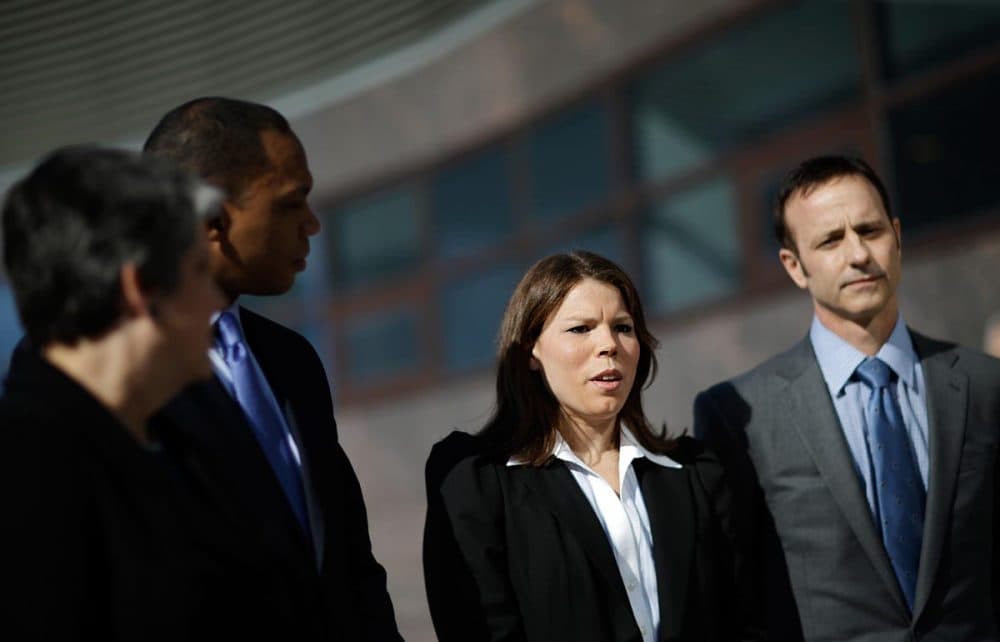 This article is more than 8 years old.
When the Winter Olympics officially began with opening ceremonies Friday, one former Olympian and current Boston College Law student was there to cheer on the athletes.
Caitlin Cahow, along with tennis star Billie Jean King and figure skater Brian Boitano, was chosen by President Obama to represent the U.S. as part of its official delegation. All three of them are openly gay. And although the White House hasn't said it explicitly, their selection is widely considered a rebuke of Russia's policy banning so-called homosexual propaganda to young people.
WBUR's All Things Considered host Sacha Pfeiffer spoke with Cahow — who won a silver medal in 2010 and a bronze in 2006 as a member of the U.S. Women's Ice Hockey Team — at BC's law library before she left for Sochi and asked her what it feels like to know she's intended to be a symbol.
---
Caitlin Cahow: I think I want to represent all Americans, you know? Not just one community. At the same time, I'm very proud to be representing the LGBT community. I think it's really just an honor in every possible way. But, more importantly, I really identify with what Brian Boitano has said about his life, you know? He's not just gay. He's never thought of himself that way. That's the same way that I am. I'm a daughter and a sister and a student and an athlete and an Olympian and an American. And it's just one more thing that makes up who I am.
Sacha Pfeiffer: While you're there at the Olympics, do you feel any desire or any obligation to be outspoken on gay rights issues, take part in protests of any kind?

I don't. I'm going to be in Russia representing my country, representing myself. And I think that my presence there is far more indicative than any words I could possibly say of how many great strides our nation has made in the last few years, just in my lifetime alone. I mean, I went to college the year that the Goodridge case was handed down in Massachusetts.
The one that legalized same-sex marriage here.
I went to Harvard University and remember the day. I never thought that I would see that. Even growing up on the east coast in a very supportive environment, I never thought that I would see gay marriage and just to see where we've come.
If you were to get a chance while you're in Russia to talk to President Vladimir Putin or some other high-level Russian government official, or make some kind of public statement, what would you want to say on the issue of gay equality?
That regardless of who you are or who you love, there's a common human dignity that flows between all of us. And I want to exhibit the best qualities of myself that I find I've learned in part through my status as an Olympian.
However, this is a government in Russia — or at least the head of the government, Putin — who seems not to share that view based on recent political moves he's made. So what would you want to say to him?
I think it's the same thing that I say to anyone who disagrees with me or with my life. You know, I'm not going to change everyone's mind. And far be it for me to cast stones. To me, the most effective form of protest stems from people like Martin Luther King, who had a peaceful and positive message. That's the same kind of protest that I wish to engage in. It's important to remember that while I am a presidential delegate, I'm not a politician and I'm not a diplomat. I don't speak for the United States of America. I speak for myself.

Is there anything frustrating about the attention you're getting? I mean, it's an enormous honor, a great opportunity. Yet now it's suddenly, "Caitlin Cahow, Openly Gay Athlete." It's the thing that comes after the comma after your name, every time you're identified.
It certainly has changed my Google hits. But it is what it is. I've gotten so much attention for my private life. And for the month since the announcement, on certain days it's really felt like I'm in a time warp. So yeah, in a lot of ways, one of my main goals for the rest of my life is going to be living in a world where these classifications no longer matter and you don't just live and die by a box that you have to check on a form.
And what is your official role supposed to be? Has the White House spelled out for you what it would like you to do while you're there?
My official role is to represent the United States and cheer on our amazing athletes and make sure that they know that they are 100 percent supported by our nation, because they are. And that's what I hope comes from this Olympics. There's a lot of lead-up, there's a lot of controversy. But when the games open, it's about the athletes, in my mind. So I want to make sure that they get their moment to shine.
Do you expect to wish you were out there playing?
It'll be difficult not to be on the ice. I've dedicated so much of my life to being an athlete. But it's a new opportunity for me to represent my country. And I'm excited to take it all in and not have to worry about, you know, getting sleep so that I can compete the next day. It's going to be an amazing opportunity to really witness and take in and experience the Olympics as a spectator. I'm very excited.
This segment aired on February 7, 2014.