Gov. Patrick Dismisses Call For DCF Head To Step Down
07:20
Play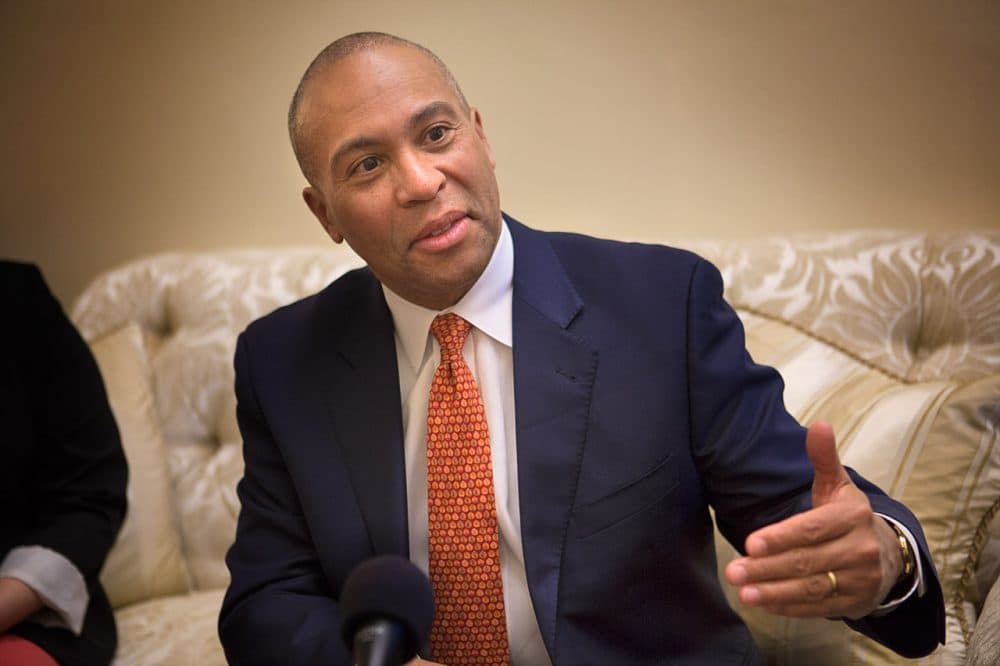 This article is more than 7 years old.
With 11 months left in office, Gov. Deval Patrick joined WBUR to discuss the lingering controversies besetting state government and his remaining policy priorities.
Here are some highlights from Wednesday's State House interview with host Bob Oakes.
---
On Republican gubernatorial candidate Charlie Baker's call that the head of the embattled Department of Children and Families, Olga Roche, should resign:
Well, first of all, it's a terrible tragedy that [Fitchburg 5-year-old] Jeremiah [Oliver] was lost ... and the people responsible for, frankly, lying about the fact that they had kept an eye on him have been fired.
I think the suggestion of the commissioner stepping aside on account of that is a political one and, frankly, a stupid one from a management point of view. I don't think you add to the destabilization of DCF by yanking out a commissioner who has spent her whole career on these issues.
...
I do [think the current leadership is keeping kids safe]. And more to the point I think the staff at DCF — whose, by the way, daily triumphs are never reported — [is]. That's a tough, tough job, and they do it supremely well with not all the resources they need.
On usability issues with the state's revamped Health Connector website and making sure people maintain insurance coverage:
Frankly, that is the nub of my concern. The central objective is to make sure that people are covered. And of course we already have the highest proportion of people covered in the country. And that has grown; we haven't lost ground since we've been dealing with the deadline. We are working on all kinds of workarounds. I've said to people, "If it requires folks sitting on somebody's stoop with a clipboard and signing them up for ACA-compliant policies, that's what we're going to do."
On dealing with state government issues in his final year in office:
In any large organization, in my experience, there are always going to be things that go wrong. I think what we have done and what we have shown is that we come at these issues soberly. There is so much pressure to panic, to, you know, hand scalps to the general public, to sensationalize issues. We gather facts. We put in responsive and responsible solutions.
On early education as his top priority before leaving office:
We have proposed, for the last couple of years ... increased funding for early education, really responding to the overwhelming body of research that shows the high impact of high-quality early education, particularly on poor children and their readiness for school.
We have long wait-lists, thousands and thousands of 3- and 4-year-olds on wait-lists for early education opportunities. We took a big chunk out of that last year with some additional funding from the Legislature, and I'm hoping we can take another chunk out of it in the coming year.
On believing legislators will vote to raise the state minimum wage, but mobility, not inequality, being his primary focus:
I don't think there is one solution to [fixing wage inequality] and, frankly, I'm not sure that the issue for me is as much about wage inequality as it is about how hard it is for people on the bottom to move into the middle and on from there. It's a mobility question. That's why this strategy of investing in education, in innovation and in infrastructure I believe is a winning strategy. The results show it's a winning strategy. And as we grow the economy and prepare people to take part in that growing economy, I think we begin to see the kind of mobility we want to see, and ought to see, as Americans.
This segment aired on February 13, 2014.