Benjamin Evans' Installations Are A Man's Man's Guide To (Failed) Romance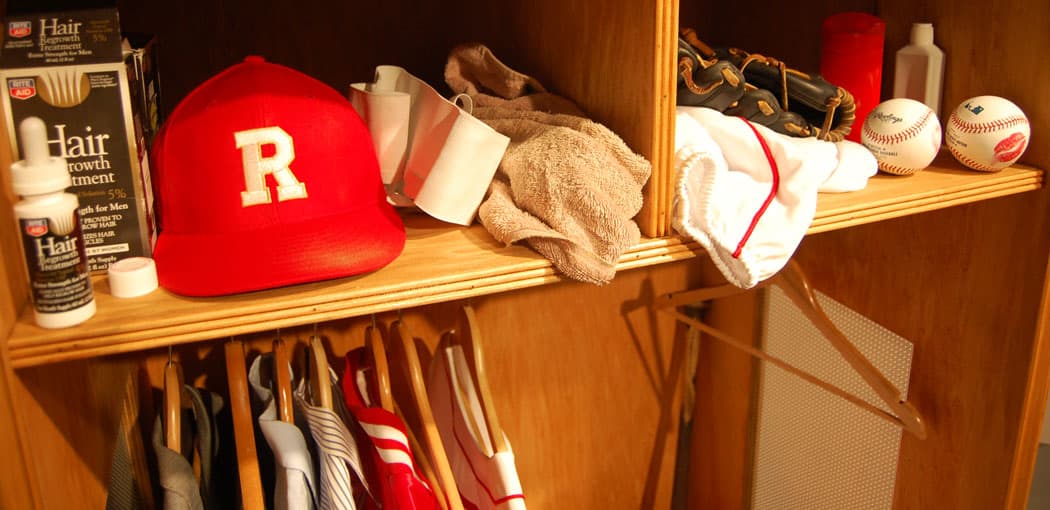 This article is more than 7 years old.
The locker of a big league pitcher and the bedroom of a boy who idolizes the pro ballplayer made up Benjamin Evans' recent installation "Full Count" at Gallery NAGA in Boston. With a wealth of props, the Somerville artist left a trail of clues and innuendos that pointed to a story of a boy dreaming of the man and that man struggling with what it means to be a guy today.
Running alongside these thoughts about masculinity were questions about love—anxieties in the bedroom, the vulnerability of romance. On the boy's bed stand, atop a copy of Sports Illustrated with a cover story about the (imaginary) ballplayer Benny Cobb (played by Evans himself), was a furtive note: "Chelsea, do you like me?" (Chelsea is the name of Evans's actual girlfriend, he says.) There were three boxes—"yes," "no," and (checked) "maybe."
With a series of installations over the past few years, Evans has shown himself to be an artist to watch. The 25-year-old's elaborate, narrative use of props, custom made or found at thrift stores, demonstrate his talent and ambition. He seems on the verge of a breakout exhibition—if given, say, the right museum room.
At 17 Cox gallery in Beverly in 2012, Evans created a walk-in man-cave set in the 1990s, where a lonely guy seemed to spend his time dreaming of unattainable women. An installation earlier that year at Gallery NAGA called "Coffee with Just Milk" allowed you to enter the bedroom of a married couple heading toward a breakup.
Evans is part of a wave of younger guy artists, raised with the lessons of civil rights and feminism and gay rights, contemplating all the macho trappings straight guys surround themselves with as bulwarks against the shifting status of men in the world, as bulwarks against guys' ever more apparent weaknesses. "I'm just really curious about ideas of masculinity," he says.
Growing up, Evans often studied a photo of Mickey Mantle on the wall of his childhood home in Franklin and dreamed of being like the Yankee star. "I was raised as a ballplayer," he tells me. "I literally had a room in my house that was right out of Cooperstown." He says he was a star pitcher through high school and recruited to play baseball in college, but he gave it up "because of anxiety and pressure issues."
"When you're out there on the mound and start having these inner struggles," he says. "It's this sort of mind trip."
Instead, he graduated from New England School of Art and Design at Suffolk University in 2011 and began making immersive installations. "For me, interior spaces, these domestic spaces sort of tell the story more than anything," Evans says.
For "Full Count" at Gallery NAGA in January, he carpeted the gallery with artificial grass and offered a boy's bedroom as a shrine to baseball, "basically my room as a kid," he says. A shelf above the bed was filled with baseball books and a ball autographed by his idol, Benny Cobb, pitcher for the New Berry (a pun on Boston's Newbury Street gallery district) Roosters. Nearby were a life-sized cut out poster of Cobb and a framed, autographed jockstrap. A math textbook sat open atop the baseball-themed bedspread. A hamper overflowed with dirty laundry.
A television on the dresser played a loop of commercials—for diamonds, John Wayne movies, a telephone chat line to talk with sexy women, a "SportsCenter" feature on Cobb, a product for balding men, jockstraps and athletic cups ("Do you like baseball? … Do you like to pitch? Well, now you can play like an all star with the all new Mason Pro Cup.").
But all was not well with Cobb. That fake Sports Illustrated—including a teaser for its swimsuit edition inside—profiled the baseball star, from his dazzling fastball to his lack of pitching control to his struggling love life ("He falls in love at the drop of a hat, literally").
Across the gallery stood Benny Cobb's locker, filled with uniforms, street clothes, baseballs (marked with red lipstick from kisses), "Hair Regrowth Treatment" and a big box of athletic cups.
If you stood on a dirt pitcher's mound at one side of the space, it activated a recording of macho bluster between Cobb and a coach or maybe a catcher about his struggles on the mound and in romance. "I heard about last night, but here you've got to get it up. … Hey, look at the size of those milk shakes." Benny replies, "She screws like I'm throwing right now, she was wide." The other voice says, "Stop thinking about naked men out here and pitch the f---ing ball."
Evans is still finding his voice. In "Full Count," a commercial playing on the television showed lady hands masturbating pine tar into a bat. Such over-the-top satire was too blunt and predictable for the complex stories he's aiming to tell.
Evans is probing our messy, embarrassing subconscious. He constructs these fantasies to delve into society's fantasies—what a sports hero is supposed to be, what success is, what manhood means today, what love is supposed to be.
"When do you start becoming the guy you want to be," Evans asks, "as opposed to the guy you're supposed to be?"
Greg Cook is a co-founder of WBUR's ARTery. Follow him on Twitter @AestheticResear.