'Witness Uganda' Doesn't Hit All The Right Notes At A.R.T.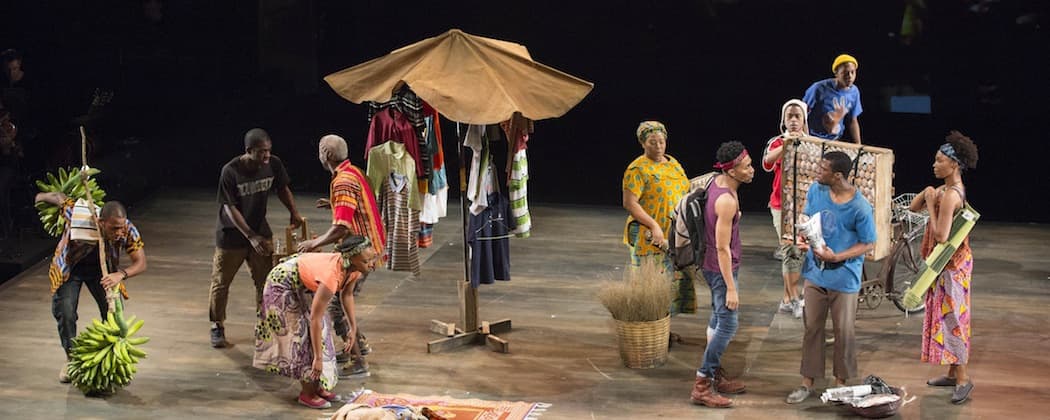 This article is more than 7 years old.
CAMBRIDGE, Mass. – If you've read anything about "Witness Uganda" you know that when co-creator Matt Gould said to his partner, Griffin Matthews, that they ought to do a musical about their experiences as aid workers in Africa, Matthews replied "That's the worst idea I ever heard."
Well, not quite that bad. For one thing it's obvious that these musicians' hearts are in the right place. For another there's a huge amount of talent onstage at the American Repertory Theater and several good musical numbers. As a whole, though, "Witness Uganda" never escapes from the sentimentality of its exposition.
It starts out as if this is going to be another in the string of successes for the A.R.T. and its head, Diane Paulus, who directed "Witness Uganda." As the singers and dancers burst onto the stage you're reminded what joyful music so often comes from depressed circumstances, particularly from Africa. Paulus and the excellent choreographer, Darrell Grand Moultrie, bring the same flair to the prologue that we're used to seeing from Paulus productions ("Hair," "Pippin").
That's not, though, what Paulus is after here. She mostly gets out of the way and lets the story unfold with minimal but effective craft. The stage rises, to suggest a hill. Bicycles, a tent and bananas make for a convincing Ugandan market, with a little help from a video.
As the story unfolds, Matthews playing a version of himself — "Griffin" — is a charmer. His wryness about gay discrimination is smartly written, particularly when it's paired with the equally ironic Emma Hunton as Ryan, a singer-songwriter who's somewhat reminiscent of Lena Dunham in "Girls."
His frustrations take him to Uganda and while the story and characters stay interesting, the musical itself begins to wear thin. Gould and Matthews incorporate African-inflected music into their repertoire convincingly, but their American songs of aspiration and sadness are dreary, poorly rhymed tunes that make you wish they had kept all the music African-based.
Here's a song, performed by Hunton in the show, that's pure treacle:
And when Griffin and Ryan get serious, all the air goes out of the Gould-Matthews creative balloon. It's not quite "hey kids, let's build a school" but it's close. Granted, the stakes are higher here than they were for Mickey Rooney and Judy Garland, and there is acknowledgment that African relief is not something you can merely throw money at. But even if the twist in the feel-good story is true, the melodrama doesn't work well as a plot device. It's an argument that you better think twice before donating to any aid-relief charity.
Fortunately, they got the money to continue their educational project in Africa. Their artistic vision — that's still in need of some work.