Kate Weare Company Dances About Desire, Complex Relationships, And — Oh, Yeah — Sex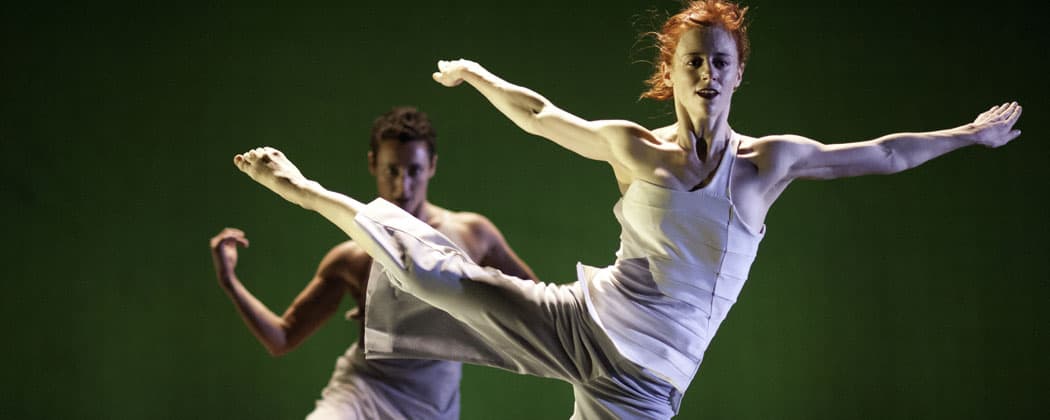 This article is more than 8 years old.
Let's get one thing straight: Interpretive dance performances "Garden" and "Dark Lark!" are not about bodies swaying in the wind like so many branches. No, they're about sex, plain and simple.
This type of dance may have gotten a bad rap, but don't be fooled. "Garden" and "Dark Lark!" are serious business. World Music/CRASHarts presents both at the Boston debut of the Kate Weare Company, performing Friday, Feb. 28 and Saturday, March 1 at the Institute of Contemporary Art. These are performances that demand, grab, coax, cajole and tickle your attention into submission.

OK, in truth, they're about more than just sex. "Garden," with its biblical and literary allusions, is an exploration of human relationships in all their ordinary profundity. There is gentle touching and caressing, slapping and stabbing movements, pairings and violent uncoupling, and more than enough Tai Chi-inspired kicking. There's also some head butting. Just don't look for a narrative. The quartet of dancers do not demonstrate the complexities of human interaction a la Charades. They dance those complexities out of hiding from their primal inner wellspring. "Garden" is their struggle. It is a strange — and strange, indeed — examination of every angle of desire.
There might be some playfulness in those interactions, but Kate Weare has a decidedly darker interpretation of the human heart. "Garden" is propelled forward by a score that moves from repetitive piano keystrokes to what sounds like a radio transmission lost to violent static, from electronica to Renaissance music, medieval tunes to Latin tango. While there is no apparent chronology, there is a fluidity in "Garden" that pairs men with women, women with women, men with men, and unfolds in an always shifting group dynamic of synchronized steps. But "Garden", and even more so, "Dark Lark!," have sinister undercurrents that would be hard to miss. Both seem to take a page from Nietzsche or Foucault in the sheer intensity of their power dynamics between individuals and groups.
Fusing ballet with African dance, and let's not forget the sultry Tango between two muscular male dancers, these performances are compelling, but nevertheless dystopic. They wander through desire to its unknown, dangerous outposts, where dominance and submission are the law of the land. "Dark Lark!" begins softly with one woman on stage dancing with a paper butterfly. It might have become cliché had its cloying tenderness continued, but her carefree fun comes to an abrupt end when she suddenly consumes her winged companion. She appears to die right then and there, a gentle partner covering her face in butterflies when a more rapacious man steals away her body (and it is questionable what he does with it, to put it mildly). All of these macabre interactions are accompanied by the expert live playing of a shrieking electric cello.
The set design is minimal: a tree stump, a sapling hanging from the ceiling, mountainous paper lanterns. Some props do not work. A closed fan as signifier for genitals? The only dancer in drag donning high heels and knee breeches? Well, that at least gives him the appearance of having hooves, calling to mind the symbolic satyr. Perhaps it doesn't matter? Neither "Garden" nor "Dark Lark!" is an external world, after all. They are both interiorized spaces of the psyche, performed in the most physical way.
It's the abstract expressionism of the human body, if you will. The Boston premiere of "Garden" and excerpts from "Dark Lark!," at the ICA this week, bring something fresh and altogether different to Boston's local arts scene. It may be the only instance where you'll gladly want to spend so much time wandering down the dark corridors of human desire and control (unless, of course, that's your thing).
More:
Robyn Day is a Boston-based photographer and contributing writer at Big Red & Shiny and Art New England. She manages the publicity and marketing initiatives at Lacoste Gallery.