New Mass. Commuter Rail Operator Faces Maryland Opposition Due To Holocaust Link
04:52
Play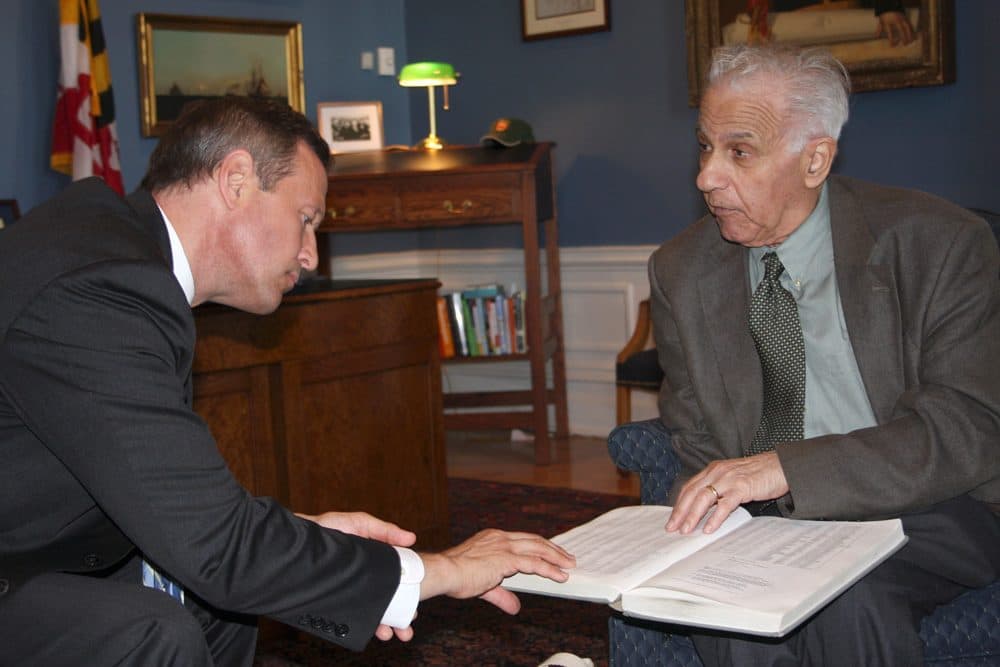 This article is more than 6 years old.
Fresh off winning a contract to run Massachusetts' commuter rail system, the French rail company Keolis is setting its sights on Maryland.
But lawmakers there are proposing new legislation that could ban the company from winning the contract because of its parent company's role in the Holocaust.
Seventy-two years ago, Maryland resident Leo Bretholz was forced onto a train run by the French National Railway, or SNCF, bound for the Auschwitz concentration camp in present-day Poland.
"They confiscated our belongings, they gave us a slip, and those belongings were enumerated," he said over the phone. "They told us, 'You will get it back when you get there.' But that never happened. They knew where we were going; we were going to be killed."
The 92-year-old is one of 76,000 Jews deported from France on trains operated by SNCF during the German occupation. He managed to escape the train, something that likely saved his life. Of the 76,000 deported, only about 2,000 survived. Bretholz lost 20 family members.
"They did everything that's necessary to help the German Nazis to send people to their death," he said. "They offered the trains. They organized it, directed it, they enforced it."
SNCF, Keolis' parent company, is bidding for a $6 billion light rail project in Maryland. That prompted Bretholz to start an online petition accusing SNCF of willingly collaborating with the Nazis and calling on the company to pay reparations to Holocaust victims.
"I have a simple sentence: I want justice to be done," he said. "To me justice means that they should openly declare that they did something wrong."
Some Maryland lawmakers are joining Bretholz's effort. A bill in the state legislature would require SNCF to compensate Holocaust victims before it can win a state contract. That comes three years after Maryland passed a law requiring SNCF to publicly acknowledge its actions during the German occupation.
The company complied, making 1.3 million documents from its World War II archives public.
"We were totally under German command," said Alain Leray, the president of SNCF America. "There was absolutely no margin for maneuver. And those who disagreed with the Germans within my organizations, within SNCF, paid very dearly. More than 2,100 French railroaders were murdered by the Germans."
Leray says he has two perspectives on the controversy over SNCF's role in the Holocaust.
"As a French railroader, I'm completely outraged at all the misrepresentation, mischaracterizations that are being spread around right now against the company," he said. "What's being said right now is actually an insult. As a French Jew I am appalled because you're taking away responsibility from the Nazis, and that's the beginning of denial."
The debate in Maryland did not surface in Massachusetts when Keolis was bidding for the MBTA commuter rail contract — the largest operating contract ever awarded in state history.
But that does not mean the MBTA or that local Jewish organizations were not aware of it.
"The reality is that there's no way to adequately compensate for survivors," said Jeremy Burton, executive director of the Jewish Community Relations Council of Greater Boston.
He said those responsible for the Holocaust need to be held accountable, but that SNCF's actions don't warrant legislative action.
"We felt that the appropriate approach here in Massachusetts was essentially that the MBTA should decide the contract based on what's best for commuters and residents of Massachusetts," Burton said.
Keolis is scheduled to take over commuter rail operations here on July 1.
Meanwhile, the French government, which owns SNCF, has paid reparations to some Jews who were deported. But there is no agreement in place for the country to compensate American victims.
That could soon change. Earlier this month, U.S. State Department officials held informal talks with the French government about restitution for Holocaust survivors here.
This segment aired on February 26, 2014.