In Boston, Message Of One Of The Little Rock Nine Resonates
04:58
Play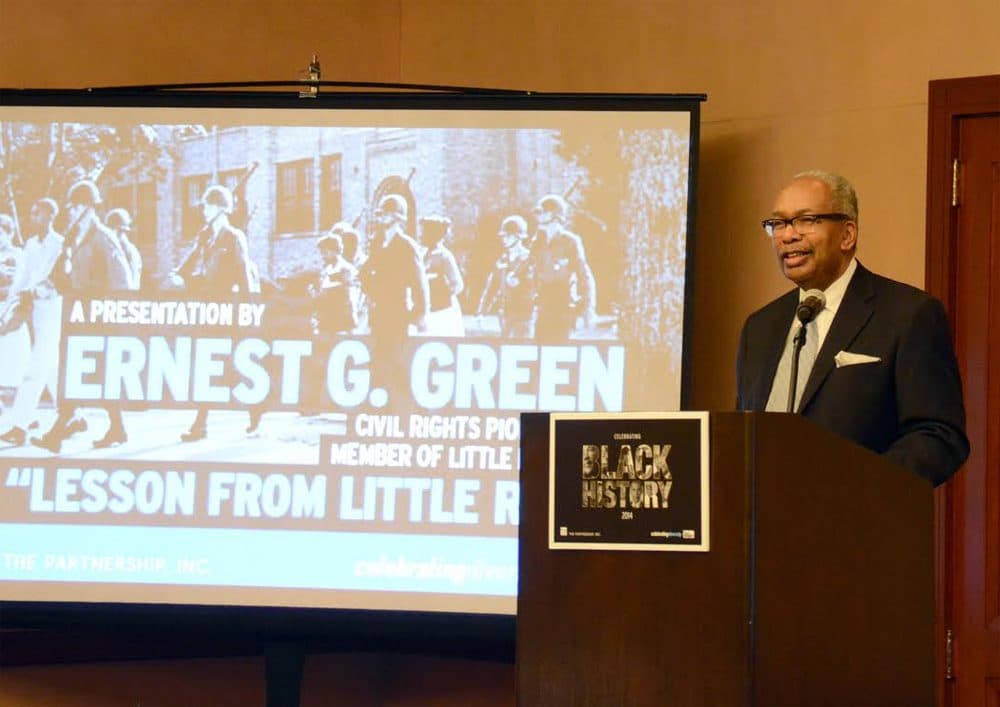 This article is more than 6 years old.
A long line stretched the length of the ballroom of the Hilton at Logan Airport. Several hundred people gathered to shake hands or share personal experiences. They had just heard from a man who was at the center of one of the most pivotal events in civil rights history.
Ernest Green is one of the Little Rock Nine who had to endure verbal and physical abuse when he became one of the first black students at Little Rock Central High School in 1957.
"It was obviously a very personal mission. I believed that I was on the right side of the issue," Green said. "It really began to dawn on me that this was more than my personal quest for education. This was something bigger."
Green was in Boston to help mark Black History Month in a program sponsored by Massport and The Partnership, a group founded 25 years ago to raise the profile of African-Americans in Greater Boston.
Green asked the audience: "When your Little Rock moment comes, are you prepared and can you take advantage of it?"
His key message — "translate fear into action" — resonated with the local audience.
"It's not enough for you vote for President Obama and walk away from it after that moment. You've got a whole series of things that you need to do to follow up. To quote a local politician here, Tip O'Neill, 'all politics is local,' " Green said. "You've got to stay involved — whether it's voting participation or involvement in working with young people in the community."
Green's message highlights shortcomings in Boston's recent mayoral race. Turnout in the city was less than half of what it was in the 2012 presidential election. And in communities of color here, just 13 percent turned out to vote for mayor.
"You can't have change with 13 percent of the community coming out for an election," Green said.
Boston political consultant and media strategist Joyce Ferriabough-Bolling was involved in the campaign of former state Rep. Charlotte Golar Richie, an African-American woman who came third in the mayoral primary.
"I hope that we're not getting comfortable around the fact that we've elected the first black president, so that was the goal and that's it," Ferriabough-Bolling said. "You've got to guard over your hard fought gains. It's sometimes hard for me to think that we haven't taken a step back, with only one African-American woman in the [Massachusetts] House of Representatives."
That one African-American woman is state Rep. Gloria Fox, of Roxbury.
"Then and now, the plight of African women is a struggle that we have to continue to work on," Fox said at a recent State House ceremony for Black History Month. The event honored Elizabeth Freeman, the woman whose slave name was Mum Bett. In 1781, to sue for her freedom, Mum Bett used arguments she'd heard spoken by the writers of the Massachusetts constitution.
Fox says there is an effort underway for a permanent memorial for Freeman at the State House.
"[Freeman] symbolizes what women are going through to this day. Being passed on from one family to the other. So it's important that we are constantly telling our story. It's history, and we have to tell her story as well," Fox said.
Fourteen-year-old Leah Herbin was among a group of students from Boston's Beacon Academy in the House chamber for the tribute.
"I didn't really know about Mum Bett. It was kind of cool, how so important she was to Boston. It was interesting," Herbin said. "It's really good to know important stuff from the past. Like the confidence she had to get up there and try to end slavery. It kind of inspires."
Herbin's classmate, Renaldo Payne, said black history is inseparable from American history.
"Because it's been here so long and how it changed society today," Payne said.
The students said they take great inspiration from the lessons of those who came before.
For Ernie Green, who is immortalized in history as one of the Little Rock Nine, that lesson is: "What message can you take away from recognizing black history? And it really is a question of, what can you do as an individual?"