Baryshnikov's The Man — In 'The Case' Or Outside Of It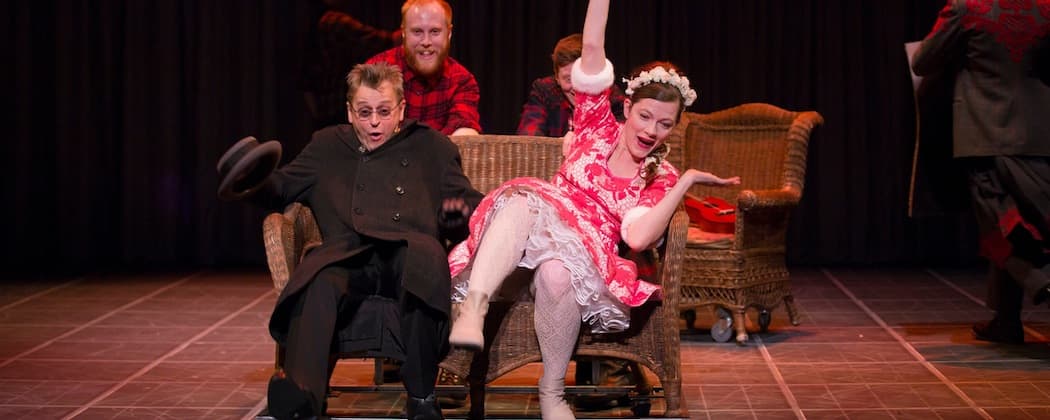 This article is more than 7 years old.
BOSTON — There may be some cosmic, cultural reason why three local companies are staging Anton Chekhov almost simultaneously. Or it may be total coincidence. It's not as if Rob Orchard and David Dower at ArtsEmerson ("Man in a Case") or Peter DuBois at the Huntington Theatre Company (the upcoming "Seagull") have never staged Chekhov before.
And while Chekhov is a first for Actors' Shakespeare Project, "The Cherry Orchard" fits right in with that company's ongoing desire to broaden beyond the Bard. We'll catch up to that well-received production and the Huntington's, but let's stick to "Man in a Case" for now.
This isn't a play, per se, but two short stories adapted for the stage by Baryshnikov Productions and featuring Mikhail, himself, at the Cutler Majestic. And when we say adapted we're not just talking about substituting "summer home" for "dacha." This is the full-bore pre-Diane Paulus A.R.T. adaptation of classics with the mixing of media and of time periods from Chekhov's time to our own — Russian covers of British rock music from the '60s, a disco ball, even a snippet from On Point with Tom Ashbrook.
And it's a delight. Chekhov productions tend to be way too sober. "Man in a Case" gets drunk on the stagecraft and humor that the story about an academic's academic, someone who is all head and no instinct. Baryshnikov has partnered with Paul Lazar's and Annie-B Parson's Big Dance Theater, with whom he worked as a dancer. Their mix of text, theater, video, dance and music makes for as lively a mash-up of artistic idioms as you're going to find – which isn't to say that the style is for everyone.
No one seems to be having a better time onstage than Baryshnikov, ironically playing the one person who's so shriveled into himself that he can't dance at all. He's outraged at any show of spontaneity or emotion, of which there is plenty from his Ukrainian love interest (Tymberly Canale). The Eisenstein-ish video, comical audio effects, eerie lighting all keep the seriocomic story of the professor intact without turning it into a cartoon.
Here's Baryshnikov talking about Chekhov, which some of you might have to settle for. The last we looked there were tickets for Friday night, but not Saturday night or Sunday afternoon:
At one point Baryshnikov is reading from the text — he's also the narrator and just as Chekhov is calling for quiet, there's a purposefully blown music cue. Baryshnikov complains about that, which I imagine is in the script, and throws in an F-bomb about the sirens on Tremont Street, which I imagine was an ad-lib, and quite a good one.
He also cuts a mean rug, as if not to disappoint the dance fans, toward the end of the first story. The movement in the second, about a thwarted love affair (again with Canale) is subtle but beautiful, as is the accompanying video.
Through the humor and the heartbreak, the production never loses sight of Chekhov's humanism. You can see why Annie Baker ("The Flick" at Company One) is such a fan (and why she adapted "Uncle Vanya"). In both their work there's the sense that no matter how depressing life gets or how meaningless it seems, there's something magical, and very funny, about our mortal coil.