Andris Nelsons Announces His First Season With The BSO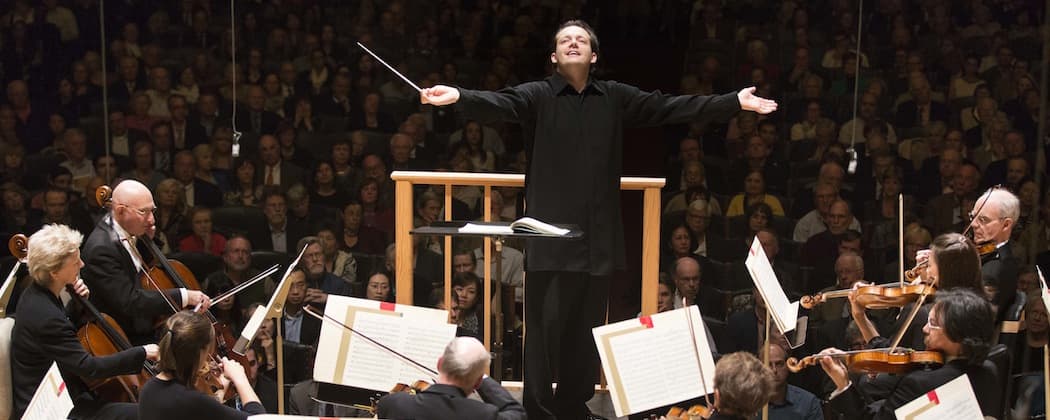 This article is more than 7 years old.
BOSTON — There was rapture throughout Symphony Hall today. In the concert hall heads were rolling, most notably John the Baptist's, as Richard Strauss's Salome was furious that John's ecstatic vision didn't have a place for her in it. Later, talking heads were extolling, notably the Boston Symphony Orchestra brass, hopeful that their savior had arrived in the person of Andris Nelsons.
Nelsons was fresh from conducting a rehearsal of "Salome" (the concert performance is Thursday night) as he greeted the press with an announcement of the 2014-'15 season, his first as artistic director. He was both nervous and playful — he's a bit challenged when it comes to American idioms ("This will be a great show night for the orchestra.")
More important will be how he handles American musical idioms as he'll be conducting the works of three local composers — John Harbison, Guther Schuller and Michael Gandolfi (world premiere) — who were all present.
The other two strands he announced were the two that shaped him — the Germanic tradition and the Slavic-Scandinavian body of music. Nelsons won't be on the podium for the first concert — that will be Marcelo Lehninger Sept. 18-20. Nelsons will conduct the gala Sept 27 and his first subscription concert Oct. 1-3 (Beethoven 8, Bartok's "Miraculous Mandarin" and Tchaikovsky 6.)
He then returns in November for several interesting-looking concerts that will include Sofia Gubaidulina's "Offertorium," the American premiere of Brett Dean's "Dramatis Personae," Harbison's "Koussevitzky Said," a world premiere by Ēriks Ešenvalds, Stravinsky's "Rite of Spring" and Prokofiev's "Symphony-Concerto for Orchestra" with Yo-Yo Ma.
Three of the orchestra's mainstays in between artistic directors will be back this season with two-week residencies — Christoph von Dohnanyi, Bernard Haitink and Charles Dutoit. Vladimir Jurowski will be back to perform the US premiere of Harrison Birtwistle's piano concerto with Pierre-Laurent Aimard.
For a full list of concerts, click here.