John Kuntz And A 'Whale' Of A Performance At SpeakEasy
BOSTON – "The Whale" has almost everything going for it. First and foremost, it has local treasure John Kuntz in a fat suit, dressed as a 600-pound man. He seems to be dying as his body can't sustain his heart anymore and he refuses to go to the hospital to try to get his condition under control.
Kuntz is surrounded by talent — local stalwarts Georgia Lyman and Maureen Keiller as well as Emerson student Josephine Elwood. An excellent design team including Cristina Todesco (set) and David Remedios (sound) are at the top of their estimable games. SpeakEasy Stage Company (through April 12), in short, brings all the intelligence and craftsmanship to "The Whale" as it does to all its productions the last few years.
It's lacking just one thing — a script to justify the extremity of the situation. I had the same reaction to "The Whale" (at the Boston Center for the Arts, through April 5) that Norman Mailer had to Bret Easton Ellis's "American Psycho." If you're going to raise the stakes as high as playwright Samuel D. Hunter does here, you better deliver something potent. Hunter delivers a play that tickles the curiosity, but doesn't get much further, despite the Lucille Lortel and other awards.
Kuntz's Charlie is a recluse, locked in his house as well as his body, though he teaches an online course in American literature to students who don't care all that much about "The Great Gatsby" or "Moby-Dick." The only person in his life is a nurse (Lyman), who seems to be taking care of him somewhat unofficially. When she tells him he's dying he reaches out to his daughter (Elwood), but is visited first by a Mormon on a mission (Ryan O'Connor).
Everything's in place, then, for a great 2 ½ hours of theater. Kuntz, whether stuck on his sagging couch (surrounded by a mess of fast food and drink containers), slurping his Double Gulp or trying to make his way to the bathroom with a walker, is, well, immense. As much as he has let himself go, he captures sympathy with his every move, his every word.
I didn't see the New York production, but judging from the YouTube videos, Boston's (first one) looks even better:
One of the issues here is the limits of tolerance. Can the irredeemable be redeemed? There is a certain revulsion toward everyone onstage except Lyman's nurse, Liz, and even she can be cruel to Charlie on occasion. She's got nothing, though, on Elwood's Ellie, who once she arrives at Charlie's door, reveals herself to be a girl who could give the Bad Seed a run for her money. And the Mormon spouting self-righteous gobbledygook isn't about to win hearts and minds, either.
Hunter seems to be testing our tolerance to people in extremis. But to what end? Edward Albee did much the same thing in "The Goat," in which a man tells his middle-class family that he's fallen in love with the title character. Albee, though, has everything in balance — seriousness and humor, realism and absurdism, wit and wisdom.
Here's Hunter talking about his play:
"The Whale," though, plays more like an acting exercise, so the extremism of the characters' situations doesn't yield many rewards other than an appreciation of Kuntz's acting abilities. The Mormon and the daughter are stick figures whose emotional immobility is either boring or clichéd, sometimes both.
Elwood can at least dine out on her repulsiveness. Hunter gives O'Connor nothing to work with. Considering all the stormin' Mormons in popular culture ("Book of Mormon," "Big Love"); theater ("Angels in America," Neil LaBute's work); and politics (Mitt Romney) it's problematic to have such a dreary, drivel-spouting character as the young Elder Thomas.
Hunter's attempts to find analogies in "Moby-Dick" and the Biblical story of Jonah and the whale are also clumsy, particularly when applied to the death of Charlie's boyfriend. In fairness, there is an essay that Charlie reads expressing sympathy to Moby Dick that's touching for all kinds of reasons.
Despite the sympathy that Kuntz wins for Charlie, and the abilities of the rest of the cast, I just don't buy the characters. Would his boyfriend really give up on life for the reasons given here? Would circumstances for any of the characters result in such depressing lifestyles and such uninteresting points of view?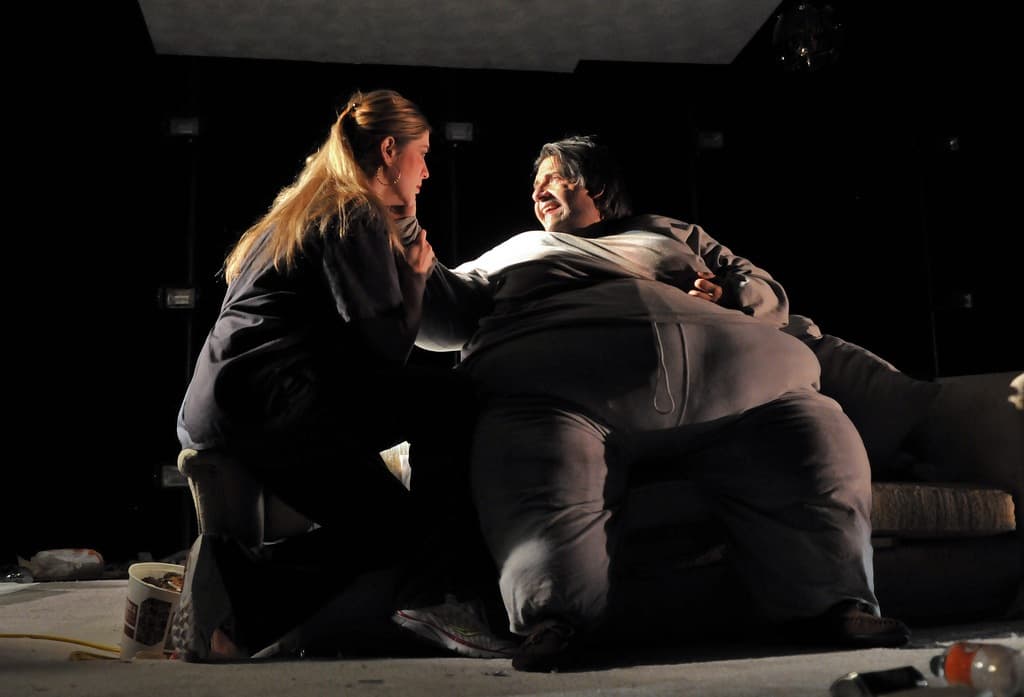 This is the corner that Hunter paints himself and his characters into. Watching them try to work their way out of the corner certainly has its rewards. But not enough for such a whale of a concept.