How To Launch A New Video Game? Tips From MassDiGI Game Challenge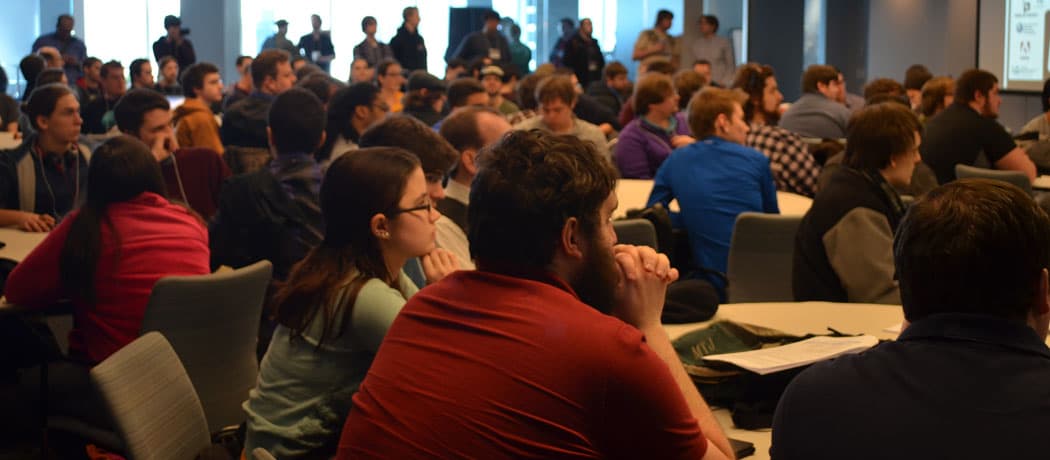 This article is more than 7 years old.
A preponderance of colleges and universities around a tech-savvy city like ours translates into a healthy selection of video game design or related degree programs. Game design programs necessarily focus on coding and design and similar disciplines. Historically the next step after graduation was to find an entry-level position at an established game development studio.
As the traditional way of developing video games at large studios for tremendous expense continues to fall apart, game design students may find it increasingly attractive to found their own entrepreneurial ventures and "go indie" after graduation, either working alone or in small teams to develop their games. That might be a particularly attractive option in a city like Boston, which hosts one of the largest, most organized, and business-centric indie game communities in the world.
To bridge Boston's game design students and the mainstream and indie game studios in the Boston area the Massachusetts Digital Games Institute was founded in 2011. It is hosted by Becker College in Worcester, MA, and its most visible enterprise is the Mass DiGI Game Challenge, which provides a day of panel and mentoring sessions from industry professionals, followed by a competition which simulates the experience of pitching a video game to investors or publishers.
The 2014 Mass DiGI Game Challenge was held last weekend at the Microsoft New England R&D Center in Cambridge. The NERD Center frequently lends out space to local game industry events, like the "Made in Mass" party held every year to coincide with the arrival of the Penny Arcade Expo East. When 70,000 people roll into town along with the attendant video game press to celebrate the game industry, that's not a bad time to shine a spotlight on Boston's game development industry.
This year's Game Challenge competitors were divided by categories into College or Indie, Prototypes or Concepts, and entertainment games or serious games (i.e. games meant primarily for educational purposes), with a unified category for high school teams. While the Game Challenge definitely is a competition, it also puts a face on the free exchange of ideas and feedback which is integral to the success of an independent game developer.
The mock pitches, judging, and award ceremony were held on Saturday, March 8, and the winners have been posted here on the Mass DiGI website, but I think the greatest value of the event lies in the panels delivered on Friday, March 7. Competition is good, but in the words of Eitan Glinert, President of Fire Hose Games in Cambridge, and in reference to the relationships between independent game developers, "We're not competing with each other, we're competing with obscurity.
Three of the panels delivered at the 2014 Mass DiGi Game Challenge, "Making it as an indie," "Getting the attention of press," and "Kickstarter: Lessons from the trenches," taken together provided a solid overview of the ways indie developers can win that most important competition.
"Don't be afraid to make money," said Jason Della Rocca, former executive director of the International Game Developers Association and co-founder of Execution Labs in Montreal, Canada, an incubator/accelerator program for indie developers creating mobile games. Della Rocca encouraged up-and-coming developers to make sure someone on their team is always "wearing the suit," or tackling the practical financial and marketing aspects of game production. These may seem like obvious points, but indie developers often pride themselves on the artistic value of their work, such that the point needs to be made that profits do not invalidate artistic intent.
"You need to share with people so they can tell you, 'Eh, it's not so great,'" Della Rocca said. "You need a hundred ideas for one of them to be good, so you have to figure out which of the 99 are the crap ones."
"Nothing we do [at Execution Labs] is secret," Della Rocca said. "Everybody talks about their ideas. Everybody shares their prototypes. We have other developers that come and hang out all the time, we have mentors that come every week and spend time doing feedback to the teams. We encourage [developers] to go out to local events and meets up and show their games, even when their games are very preliminary."
The value of the feedback this openness generates is immense, and theft is only a concern once the game has become a hit, Della Rocca said.
Generate buzz for your game via the press. "Everyone is accessible now. Everybody. You could pretty much get in touch with every editor-in-chief, every managing editor, every editor, they're all on Twitter, they're all on Facebook," said Alexander Sliwinski, news content director from the video game website Joystiq, "If you have any questions, most of them are even going to answer your questions."
Capturing game reporters' interest is a challenge, as they are bombarded with hundreds or thousands of emails on a regular basis, but there are ways to break through the noise. "A good piece of art. An interesting piece of music. Something that stands out," Sliwinski said. "A narrative. Did your game get cloned by a Chinese company, and it went all over the place? That's a great narrative. Did you create a game about illegal immigration and Apple told you, you needed to make it cute, fuzzy bunnies? That is a great story."
Sliwinski was actually referring to a real life example, there. Alex Schwartz, founder and president of Owlchemy Labs in Cambridge, made news for his studio with a game called "Smuggle Truck," in which players had to keep illegal immigrants in the back of a truck while it bounced up and down over hills and road hazards. George Lopez picked up on the game and presented it during one of his television shows, which got Owlchemy Labs on the radar. It also inspired them to take the game and adapt it into "Snuggle Truck," which replaced the illegal immigrants with cute, stuffed animals.
Kickstarter users want to feel like part of a movement, and that they're part of a winning team. The more support a potential donor sees for a game project, and the more engagement they see by donors with the project, using the site's forums for interaction with the project owners, the more potential donors are willing to chip in their money
"You walk by a restaurant where there's a huge line out the door, and you think 'Wow, I'm missing out on something I didn't know about. This must be popular for some reason, maybe I'll join the back of the line and figure it out from there," said Schwartz during a talk about lessons learned from his studio's successful Kickstarter campaign for their new game, "Dyscourse."
Kickstarter campaigns are "all about first impressions," said Schwartz. "It's about whether the Kickstarter tells a story that [the potential donors] can relate to. It's about the feel of the video, the color, the presentation, whether it evokes nostalgia and it has a human appeal and has memorability. And all these things combine and play to a snap judgment that you make about a project and the people making it, as to whether they're worthy or not of your money."
Dennis Scimeca is a Boston-based freelance writer. He is usually on the video game beat, and has been published on Salon, Polygon, Ars Technica, and Kotaku. Follow him on Twitter @DennisScimeca.
This article was originally published on March 15, 2014.