Project Louise: Advice From A Witch, And A Big New Challenge
This article is more than 7 years old.
"You're being too hard on yourself," one of the Witches said the other day.
The Witches are my two oldest friends in Boston; we worked together for years, and the nickname comes from an old joke from that time that would make even less sense if I explained it. We're not actually witches, unless you really make us mad.
Anyway, this particular Witch is not known for going easy on me, so I was surprised when she said I should lighten up.
"Going to the gym five times a week? Lifting weights? Swimming? You're trying to force yourself into a lifestyle that just isn't you," she said. I didn't know where she got the five-times-a-week idea, but I kept listening.
"Go for a walk," she said. "It's not that complicated. Just get outside and go for a walk."
Ha, I thought, that sounds too easy. So I didn't do it.
Which is when I realized she might be on to something.
I have a certain weakness for all-or-nothing thinking, which may be another word for perfectionism. Aim high, go big or go home, anything worth doing is worth doing well – my brain is littered with motivational phrases that, while they're sometimes motivating, can also make me feel like a failure if I decide that I've somehow failed to live up to them.
This is what I've been trying to short-circuit by my keep-it-simple approach to food. Don't try to follow some "perfect" diet; just eat more vegetables and less junk, figure out some easy routines and tricks, and do what you can. It's not that complicated.
So I've been trying to think what the exercise equivalent of "eat more vegetables" might look like. "Take more steps" comes to mind. Aha! The other Witch gave me a pocket pedometer a while ago – time to dig that out of the drawer and start using it.
What about making it easier to follow a routine? Getting myself out the door to the gym seems to be the hardest part – once I get there, I'm happy to do the work. So what if I don't have to get out the door?
I've now bought a pair of 10-pound dumbbells, and I already had a stability ball and some exercise bands. So now I can exercise in my bedroom. In my pajamas, even. If I don't do that, there is truly no excuse.
I talked with my trainer, Rick DiScipio, about this approach. He liked it – I think, honestly, he'll be happy with anything that gets me moving consistently ­­-- and he gave me a simple set of exercises that I can do at home with what I've got.
But I realize that I do also, genuinely, enjoy a challenge, and that deadlines do truly motivate me. All that is what got me into Project Louise, after all. And, as it happens, there's a challenge with a deadline right at hand: WBUR is a media sponsor of the Best Buddies Challenge, an annual Boston-to-Hyannis bike ride that raises money for the Best Buddies program for developmentally disabled children.
It's May 31 this year, and I asked Rick if he thought I should sign up. You can ride all 100 miles, or do a 50- or 20-mile section of the route, or do a 5K walk near the end. Part of me feels as if I should go for all 100, but I've never ridden that far in my life.
"How about 50?" Rick said. "You can definitely be ready for that."
And I've ridden 50 miles in a day, many times. Granted, most of those times were in my teens and 20s, but still – knowing that I've done it before makes it feel easier to imagine doing it again.
So that's my plan. By May 31, I'll be ready to ride 50 miles. Rick is writing up a workout routine, and I'll be using the bikes at the gym until the snow melts and I can start doing training rides outside. If you want to come along, I'd love the company. Just send me an email, and I'll send you details.
But first, I'd better go for a walk.
Readers, what are your tips and tricks for developing an exercise routine? And is Louise being too hard on herself, or not hard enough? Where's the line between pushing yourself and beating up on yourself?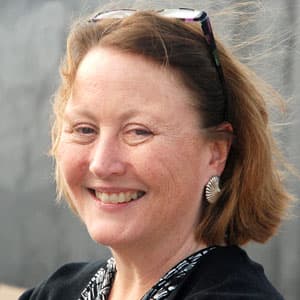 Louise Kennedy Contributor
Louise Kennedy previously worked with The ARTery and as editor of Edify.