With Help From MIT Engineer, Marathon Bombing Survivor Dances Again
Play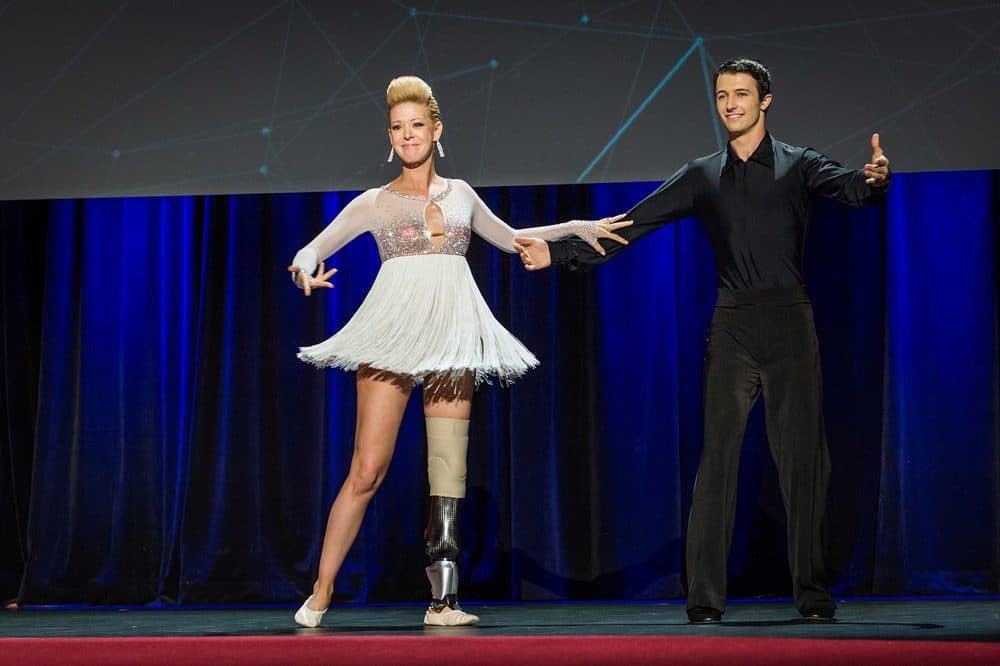 This article is more than 8 years old.
Update at 6 p.m.: Here's Adrianne Haslet-Davis, dancing on her bionic leg:

And here's what she said, in part, in a statement:
I'm thrilled to have danced again. It was invigorating to dance publicly with my new leg, but also to realize that my return to dance may have the power to inspire other people to reach for their goals and be proactive in their lives. I was always determined to dance again, and I knew that I had to, that I would, and here I am. My first dance happening to be so near the anniversary of the marathon bombing stands as a reminder that I'm a survivor, not a victim.
Earlier feature:
Sitting perfectly poised with her legs crossed, 33-year-old Adrianne Haslet-Davis played with the gold rings on her fingers while recalling the physical and mental challenges she's been dealing with since losing her lower left leg while watching the Boston Marathon almost a year ago.
"When something is that big a part of your life — like dancing is — it's the only thing you want to do to make yourself feel better," Haslet-Davis explained. "And it's the only thing I couldn't do."

In the months after the bombing near the finish line of the Boston Marathon, Haslet-Davis says she couldn't even listen to music. "All I would do ... is choreograph and imagine myself dancing," she said. "And it was just complete torture."
But on Wednesday, Haslet-Davis will take the stage at the 2014 TED conference in Vancouver wearing a prosthetic leg "fit for dancing." Hugh Herr, director of biomechatronics at MIT's Media Lab, designed it specifically for Haslet-Davis after they met at Spaulding Rehabilitation Hospital.
"After meeting her I was driving home and I thought, 'Well gosh, I'm an MIT professor, why not build her a bionic limb to allow her to dance?' So I put together MIT scientists with expertise in prosthetics, robotics, machine-learning, bio-mechanics, and off we went."
Herr himself has been a double amputee since a climbing accident in 1982. He went on to revolutionize prostheses at MIT. After the marathon bombing, the engineer wrote an article in the Wall Street Journal assuring Haslet-Davis she would dance again.
Since Herr is unveiling the bionic leg Wednesday, he didn't want to give away too many details. But the goal was to design a natural, nuanced limb, responsive to Haslet-Davis's body movements.
"We brought in dancers with biological limbs that were a similar size and weight," the engineer explained. "And we studied, using all of our equipment, how they moved and the forces they applied on the dance floor and analyzed those data. It took many, many months, but here we are."
It'll be a huge moment for Haslet-Davis, especially, she said, because the anniversary of the bombing has been dominating her thoughts.
"And it's such mixed emotions, day by day, minute by minute even sometimes. But I don't want to say I didn't put a time frame on it. I hoped it would happen within a year," she admitted.
Haslet-Davis said she'll wear a very short dress on stage to show off her bionic leg. And even though she'll only dance for about 30 seconds, she admits she's nervous.
"I'm very nervous to dance on stage again, but I have said from the beginning that I don't like to be called a victim. I like to be called a survivor, because a victim is someone that still belongs to the crime, and I am not going to be defined by that," she said. "I want to be defined by how I live my life, and how I live my life is wanting to go out there and conquer fear. So I'll get out on that stage and hopefully nail it, and if not I'll be stronger next time."
The next time will likely be on "Dancing with the Stars." Haslet-Davis says she's working on dates for that show. For now, though, she'll be doing the rumba to Enrique Iglesias' "Ring My Bells."
Update 3/28: TED has released video of the Herr's talk and Haslet-Davis' performance. She takes the stage about 17 minutes in:
This article was originally published on March 19, 2014.
This segment aired on March 19, 2014.