Water Babies: Docs Challenge Growing Trend — Childbirth In A Tub
Earlier this month, Lumina Gershfield-Cordova gave birth to her healthy 8-pound daughter in a large tub of warm water.
And from that portable tub — set up in the bedroom of her Somerville, Mass., condo — came an atypical American birth story: Gershfield-Cordova describes the buoyancy of the water offering her delicious freedom to move, stretch, turn and, sometimes, relax in ways that are generally unavailable to a woman delivering a baby flat on her back in a hospital bed.
"It's so wonderful the way the water supports your whole body," she said. "You can assume positions you can't get into when gravity is pulling down on you — it's such a relief. You feel like a ballerina, or an athlete...I was able to work with my baby and together we found the right way for her to come out — there were actual moments of pleasure during her descent. It was amazing."
Gershfield-Cordova, 35, is one data point in a growing trend. Actress Ricki Lake famously gave birth in a bathtub as part of her pro-natural childbirth documentary, "The Business of Being Born;" the movie created a kind of "Lake Effect" with more buzz around home birth in general, and water birth as well. One report recently quoted supermodel Gisele Bundchen saying her own child's birth in the water was inspired by Lake's film.
"It's so wonderful the way the water supports your whole body...You can assume positions you can't get into when gravity is pulling down on you -- it's such a relief."
But it's one thing to labor in the water, and quite another to actually give birth underwater, according to two prominent physician groups.
In a just-released joint opinion, the American College of Obstetricians and Gynecologists and the American Academy of Pediatrics have come out squarely against childbirth in the water.
Their conclusion: laboring in water could be helpful for women as a way to reduce pain (and pain medication) and spend less time in labor, but giving birth underwater is too risky, with no peer-reviewed, randomized controlled trials showing benefits.
Despite such caveats from medical authorities, both water labor and water birth are becoming more popular around the world.
Consider: One percent of all births in the United Kingdom include some kind of immersion in water (one expert put the number closer to 5 percent); and in the U.S., according to a leading water birth advocate, most birthing centers and nearly 10 percent of the nation's approximately 3,100 hospitals are now offering birthing tubs that allow women to either labor or deliver their babies in water.
Last year, in one private midwifery practice affiliated with a major medical center in Morristown, N.J., 50 percent of the 170 births were in water, says Lisa Lederer, president of the practice, Midwives of New Jersey. "The benefit is the ability to give birth naturally, without medication... it's true pain relief without the side effects of epidurals or narcotics," said Lederer, whose practice has been involved in about 1,000 water births since 2000. "Women will labor in the tub, and I ask them to get out to move around, to pee, or just for a change and they'll beg to get back in and practically dive head first back in the water. This is not just nice or pretty — it actually helps them."
Noting that water birth, along with home birth, is a growing trend in the U.S., Dr. George Macones, an obstetrician-gynecologist at Washington University in St. Louis, and chair of the committee that prepared the latest ACOG/AAP opinion, said: "I think there's an important distinction between laboring in a tub and delivering in a tub. Most of us feel that laboring in a tub is fine, as long as the baby is doing well and mom is doing well. Delivering underwater is where there's a bit more of a struggle — there isn't a lot of data on this but there are a number of case reports of really bad things happening." Mostly, he said, there are "concerns about the baby aspirating water." Others cite infection as a potential problem.
Still, Macones said, at his hospital, where planning has begun for a new labor and delivery ward, "one of the hot topics is how many rooms will have tubs."
The new ACOG/AAP opinion (which follows a 2005 AAP commentary on the risks of underwater delivery and 2012 ACOG guidelines on perinatal care) concludes that water birth should be considered an "experimental procedure " and only performed as part of a clinical trial with informed consent — something that's unlikely to happen in the U.S., according to Macones.
For comparison, here's what the U.K. Royal College of Obstetricians and Gynaecologists and the Royal College of Midwives stated back in 2006: "All healthy women with uncomplicated pregnancies at term should have the option of water birth available to them and should be able to proceed to a water birth if they wish." The groups also also urged hospitals to support women in this pursuit: "...to achieve best practice with water birth it is necessary for organisations to provide systems and structures to support this service."
Here's more of the joint ACOG/AAP opinion, published online in the journal Pediatrics, and summarized in a news release:
Undergoing the early stages of labor in a birthing pool may offer some advantages to pregnant women. However, underwater delivery has no proven benefit to women or babies and may even pose a risk of serious health problems for the newborn...

"Many labor and delivery units are equipped with tubs to be used by laboring women, and immersion in water for relaxation and pain relief is appealing to some," said Jeffrey L. Ecker, MD, chair of the College's Committee on Obstetric Practice that developed the Committee Opinion. "But it is important to recognize that laboring in water is not the same as delivering underwater. Laboring in water may offer some potential benefits, but delivering underwater does not seem to have clear advantages, and the risk of rare, but serious, consequences to a delivering baby's health is something women and providers should all be aware of."

"The members of the committees conducted a thorough review of the literature, and came to the conclusion that there is no evidence to support delivering babies in water has benefits to the baby," says Tonse Raju, MD, chief, Pregnancy and Perinatology Branch, the National Institute of Child Health and Human Development (NICHD), who served as the NICHD liaison to the AAP Committee on Fetus and Newborn.

The new recommendation acknowledges that there may be some positive effects of water immersion to pregnant women during the early stages of labor, such as decreased pain or use of anesthesia and shorter labors. However, there is no evidence that giving birth underwater improves newborn outcomes...

Potential risks of underwater delivery include a higher risk of maternal and neonatal infections; difficulty in the regulation of the baby's body temperature; increased chance of umbilical cord damage; respiratory distress resulting from the baby inhaling tub water; and potential for seizures or asphyxiation of baby following birth.

The College and AAP say that underwater delivery should only be performed within the context of an appropriately designed clinical trial with informed consent.
Barbara Harper, an RN who founded the company Waterbirth International in the late 1980s after her two sons were born in water, has been called "the Billy Graham of water birth." She says she's personally attended around 600 water births and trained more than 7,000 physicians, nurses, medical students and others around the world — in Mexico, India, Israel, Malaysia, all over Europe, the U.K and U.S — on how to safely and effectively manage childbirth in the water. Based in Fort Lauderdale, Fla., Harper is currently in China conducting water birth training in medical schools and hospitals.
Harper refutes the ACOG assertion that water births are more risky than land births and cites a number of published studies and analyses that support her position, among them a 1999 British report that concluded: "perinatal mortality is not substantially higher among babies delivered in water than among those born to low risk women who delivered conventionally."
Among water birth's benefits, Harper says, are that it can speed up labor, give the mother more of a feeling of control, provide pain relief and reduce the need for drugs and inteventions such as epidurals, episiotomies and even cesarean sections. However, Harper says she has very strict criteria regarding who is eligible to give birth in a tub: "Anyone can labor in the water," she says. "But if your labor goes into the pathology area and wanders out of normal physiology," water birth should not be an option. She says, for instance, that women with preeclampsia, high blood pressure, abnormal bleeding or untreated infection or fever should not deliver babies in the water.
(A Cochrane Collaborative review in 2009 concluded: "Evidence suggests that water immersion during the first stage of labour reduces the use of epidural/spinal analgesia and duration of the first stage of labour. There is limited information for other outcomes related to water use during the first and second stages of labour, due to intervention and outcome variability. There is no evidence of increased adverse effects to the fetus/neonate or woman from labouring in water or waterbirth. However, the studies are very variable and considerable heterogeneity was detected for some outcomes. Further research is needed.")
The new ACOG/AAP recommendations are unlikely to quell the dueling views on water birth. But no one disputes that consumers' interest is rising. Said Harper: "I've had more requests from doctors for training on water birth in the past two years than in my previous 30," including inquiries from the U.S. Defense Department and military hospitals. "There's just more patient demand."
Birthing tub sales are up too, according to Marla Althouse, owner of Waterbirth Solutions, based outside Port Townsend, Wash., and one of the biggest U.S. sellers of birthing tubs for hospitals and birthing centers. Sales have increased 10-15 percent each year for the past five years, she says. Althouse, who delivered her son in the water, estimates that overall about 1,600 birthing pools were sold in the U.S. last year. The tubs, generally about five or six feet long and about 24 inches deep, come in various shapes and materials — round, oval, rectangle or corner versions, some hot-tub-like, others more like jacuzzis; Althouse says the cost for inflatable pools is $125-350 and acrylic tubs run between $2,500 and $16,000.
ACOG says that hospitals offering water immersion in early labor should establish strict safety protocols, including:
• Developing rigorous protocols for candidate selection;
• Maintaining and cleaning tubs and immersion pools;
• Following infection control procedures;
• Monitoring pregnant women at appropriate intervals while immersed; and
• Moving women out of the tubs if maternal or fetal concerns develop.
Lederer, the New Jersey midwife, says her approach to underwater birth is extremely cautious:
"We're really, really careful about water births," she says, noting that abnormal bleeding, any concern about the fetal heartbeat or even anticipating a tough delivery might trigger a decision to get mom out of the tub. "Water birth itself is not inherently dangerous...Poor provider judgment or poor sanitary conditions might cause an undesirable outcome but that is true of any obstetrical intervention."
"I've always thought water births for humans made as much sense as delivering a fish in a labor bed."

Dr. Adam Wolfberg
Boston obstetrician Adam Wolfberg, an associate at Boston Maternal-Fetal Medicine, disagrees. He says that laboring in a tub is safe and reasonable but he's not comfortable with actual birth underwater. "I've always thought water births for humans made as much sense as delivering a fish in a labor bed," he said. "Because the first thing babies do when they are born is to take a breath."
Kathryn Rowan, a midwife with Cambridge Health Alliance, recently gave birth to her first child, Nora, in a pool of water, at the Cambridge Birth Center.
"I knew I wanted to have an unmedicated birth and labor if possible but I didn't have a set plan on giving birth in water," she said. But when Rowan arrived at the birthing center already 9 centimeters dilated and with a full tub ready, she "just got in."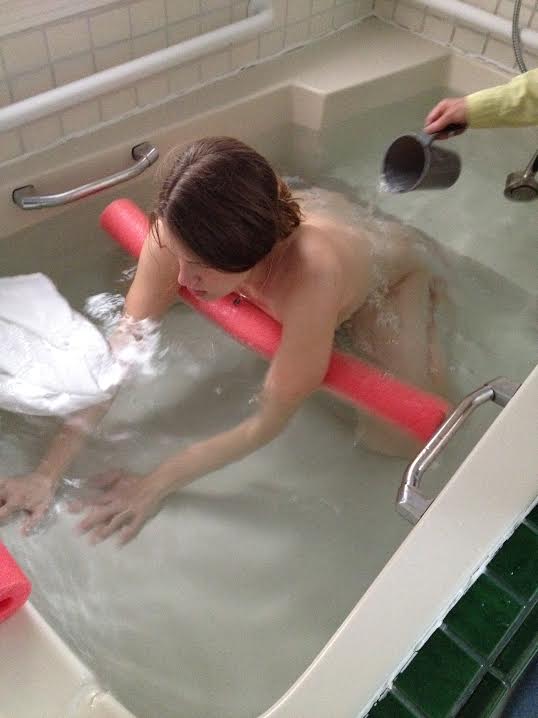 "It felt great compared to being on land," she said. "I had a ton of pain in my hips during labor and the water alleviated that pain and made contractions more manageable. When I was asked by my midwife if I wanted to stay in the tub or get out to give birth, at that time it was unimaginable to get out — I was afraid of the pain increasing."
Rowan gave birth to the baby underwater — the child's umbilical cord was wrapped around her own neck but the midwife just pulled it over the baby's head with no apparent complications. Immediately, Rowan brought the child onto her chest, her body still in the warm water and her head out in the world.
Would she do it again?
"I think next time," Rowan says. "I'd get in the water earlier."