Springtime Music In Boston: 15 Artists To See Live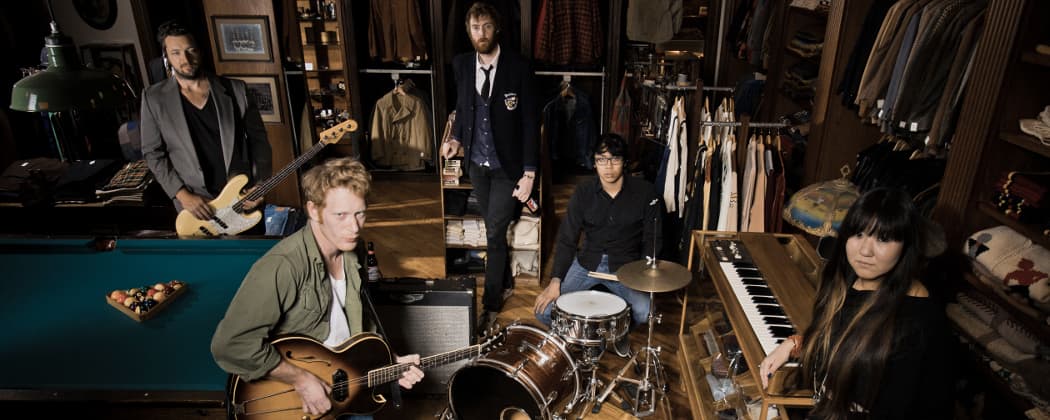 This article is more than 7 years old.
Spring is a season of abundance, of drenching rains and blooming flora. It's no different for music. Over the next few months, Boston will play host to a glut of talented acts, a mere 15 of which are featured below. Have suggestions of your own? Post them in the comments section.
Tinariwen: March 25 at Paradise Rock Club, Boston
The Malian collective Tinariwen was born in the 1980s during a period of exile for its members, nomadic Tuareg from the Sahara Desert. The band, throughout its wanderings, has developed an expansive and affecting style that combines the ancient music of its homeland with guitar-driven blues and rock 'n' roll.
The Young Adults: April 2 at The Middle East Upstairs, Cambridge
The music of garage-punk trio The Young Adults evokes the beer-sticky Allston basements where the band got its start: loud, propulsive, dissonant and deliciously disaffected. They open for Chinese rock band Carsick Cars.
The Underachievers: April 2 at The Middle East Downstairs, Cambridge
Warning: This video contains adult language.
The Underachievers are rappers AK and Issa Gold out of Flatbush, Brooklyn. They spit blistering rhymes over druggy beats, extolling the wonders of psychotropics with vehement, tightly-coiled lyricism.
PHOX: April 7 at the Sinclair, Cambridge
The six members of PHOX met in high school in a small town in Wisconsin and now make stealthily elaborate music that is by turns sweet and psychedelic, whimsical and anthemic. Lead vocalist Monica Martin possesses an effortless croon that skates along the edges of folk and soul. They open for British singer Laura Mvula, whose concert was rescheduled from November.
Buika: April 12 at the Berklee Performance Center, Boston
The Spanish Flamenco singer Concha Buika, known professionally as Buika, is a spellbinding performer, at once joyful and raw. She is famous worldwide for her raspy, powerful voice and the dexterity with which she weaves jazz and pop into the Flamenco idiom.
Black Milk with Nat Turner: April 18 at The Middle East Downstairs, Cambridge
Warning: This video contains adult language.
Veteran producer and emcee Black Milk has a penchant for oddity and an ear for the sublime. The Detroit rapper is touring with a live band, a rarity in hip-hop.
Perfect Pussy: April 24 at The Middle East Downstairs, Cambridge
The Syracuse noise-punk band has gained rapid traction in recent months, thanks to a violent, tempestuous sound that more than does justice to its name.
Baths: April 26 at the Sinclair, Cambridge
Baths is the stage name for Los Angeles-based singer/producer Will Wiesenfeld, who fashions sorrowful, yet transcendent, electro-pop with a vast, interior quality.
Together Festival: May 11 – 18, Cambridge and Boston
Now in its fifth year, Together Festival brings in droves of electronic music artists from all over the world. Though the event features big-time headliners like Mos Def and Chet Faker, the real attraction is the sheer number of DJs, producers, and parties--from the hyper-local to the international--that take over Cambridge for a week in May.
Television: May 12 at Paradise Rock Club, Boston
Since its heyday in the '70s, the seminal new wave group has only replaced one member, and its music displays similar integrity. Back on tour amid rumors of a long-awaited new album, Television, with its signature interlocking lead guitars and half-strangled vocals, is still unmistakably itself.
HAIM: May 13 at the House of Blues, Boston
The Los Angeles-based sister trio blew up this year with its breakthrough album "Days Are Gone." They play blissful, dancey guitar-pop with summery harmonies and a whiff of soft rock nostalgia.
Viva Viva: May 23 at The Middle East Downstairs, Cambridge
Homegrown up-and-comers Viva Viva (pictured above) play dirty, sweat-soaked blues-rock.
Sharon Jones and the Dap-Kings: May 31 at the House of Blues, Boston
After decades laboring in anonymity, funk/soul singer Sharon Jones got her big break when she was already well into middle age. A recent diagnosis of pancreatic cancer has done little to slow her down as she tours her critically-acclaimed album "Give the People What They Want."
First Aid Kit: June 8 at Paradise Rock Club, Boston
They might be Swedish, but the Söderberg sisters channel American folk with eerie authenticity.
Courtney Barnett: June 18 at the Sinclair, Cambridge
The Australian singer-songwriter tells vivid, witty stories with deadpan folk-rock delivery.
Amelia Mason is a writer, musician, and bartender living in Somerville. She is a regular contributor to The ARTery. You can follow her on Twitter @shmabelia and Tumblr.