String Quartet Plays Brahms Without The Printed Page
Play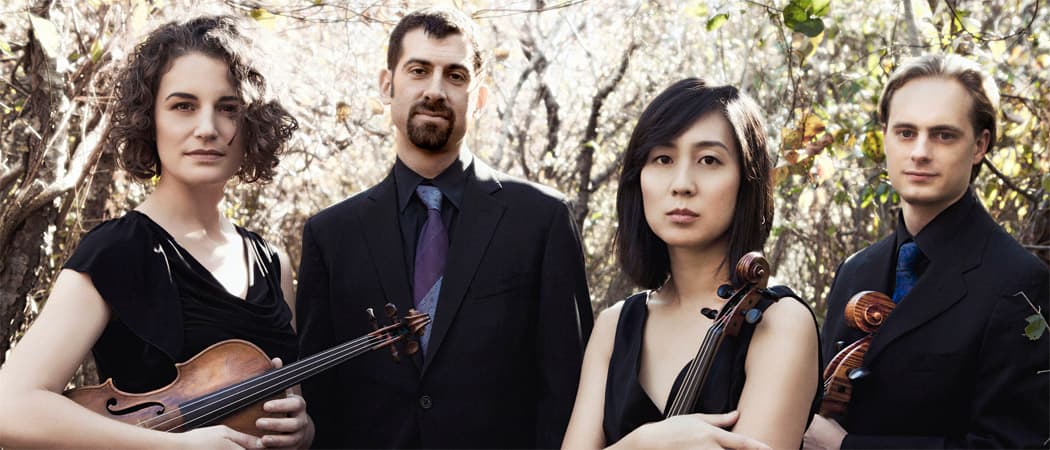 This article is more than 8 years old.
Aside from soloists, it's safe to say most classical musicians almost always have their sheet music close at hand. But the young players in the Chiara String Quartet have challenged themselves to perform and record iconic compositions from memory. Their new CD is called "Brahms By Heart," and they're gearing up for a concert at Harvard University.
It's not exactly like performing naked, but on stage without their music stands during a recent rehearsal, the four players did look a bit exposed.
Chiara [pronounced key-are-uh] violist Jonah Sirota admitted playing that way is daunting.
"The idea of it is scary, but then when we actually don't have the music it really changes and frees the feeling of playing," he said, "because that part of the brain that's just locked to the page, and trying to interpret what it sees, and then reach out — like that part of the brain is not on at all."
Second violin Hyeyung Yoon picked up that thought.
"When we rehearse by heart we have to know not just our individual parts, but memorize all of the parts," she said. "It's a really challenging process but we internalize the music so much more." She added with a laugh: "And it's fun, but yes, it's also very scary."
This experiment began a few years ago when the players recorded Brahms' string quartets. They say the album they made lacked emotional oomph. So they turned to memorization to make their new CD.
"We all have different techniques," first violin Rebecca Fischer said. "I do a certain amount of intense drilling, but I like to follow the score and try to see how my part lines up with other people's. I have a pretty good visual memory."
Yoon says playing from memory helps her get inside the mind of a composer.
"There was this one part in the Bartok where I just could not memorize because it was the weirdest pattern," she recalled. "And then I started looking at it and figuring, 'What was Bartok doing? What did he want with this?' And then I figured out, 'Oh, that's what he's doing!' And then after I realized that I was able to play it — and it was really cool."
Well, as it turns out, Bartok didn't want musicians to play his music from memory, according to violinist Nicholas Kitchen. Kitchen founded the Borromeo String Quartet in 1989, which is in residence at the New England Conservatory, where he also teaches.
Kitchen says the Chiara quartet's experiment reminds him of his mentor Eugene Lehner, who also went on stage without the printed page.
"He didn't remember a single concert where there wasn't a single disaster because of that challenge," Kitchen said.
Lehner was the violist with the Kolisch Quartet, an early-20th-century European group that also performed music by heart because composer Arnold Schoenberg encouraged them to do so.
But later in life at the NEC, Lehner told students his story about Bartok, who wrote his "String Quartet No. 6" for the Kolisch Quartet. When the musicians performed for the composer from memory, Kitchen says he was not happy and forbade them from doing it again.
"From what Mr. Lehner said — he didn't offer too much explanation — but I think he felt that the very tiny but potent details that a composer like Bartok leaves in the score, independently in all the parts, will become blown away by the process of memory, as valuable as the process of memory is," Kitchen said.
Kitchen says plenty of other composers, including Beethoven, hated when musicians played without their scores. But he added the Chiara quartet's investigation taps into this age-old debate. And a continuum.
"I think every group will learn something from experimenting with their memory," Kitchen said.

In May the Borromeo Quartet will actually perform the same Bartok pieces the Chiara group has been working on, but Kitchen says his group will definitely use sheet music. They always do. In fact, his players read original manuscripts that have been scanned, then displayed on laptops.
"So that's the other extreme," he said, "where we're extremely tied to the printed page and very inspired by the printed page."
The Chiara String Quartet musicians spend hours, weeks and months studying their printed pages, and violist Sirota says the act of ditching the music stands fits into the 14-year-old group's goal to forge deeper connections with its audiences, and he added: "They are kind of a physical barrier, you know?"
And cellist Gregory Beaver says they receive visual feedback by looking out at the audience rather than down at their sheet music.
"Which is nice," he said, "because we're pretty insular as a string quartet. We spend a lot of time in a small room learning music, and to hear that the things that make it better for us translates to the audience is really wonderful."
Violinist Fischer concurs: "As we get closer to the music, we're actually closer to the audience."
That said, sometimes they do use sheet music, like if someone isn't feeling 100 percent confident about a piece. The Chiara quartet will keep rehearsing Bartok for their upcoming concert, but the musicians feel this time they've nailed it by playing Brahms "by heart" on their new CD.
The Chiara String Quartet will wrap up a six-year residency at Harvard with a free farewell concert on April 11.