Screaming Females Melt Faces And Smash Mirrors, Punk-Rock-Style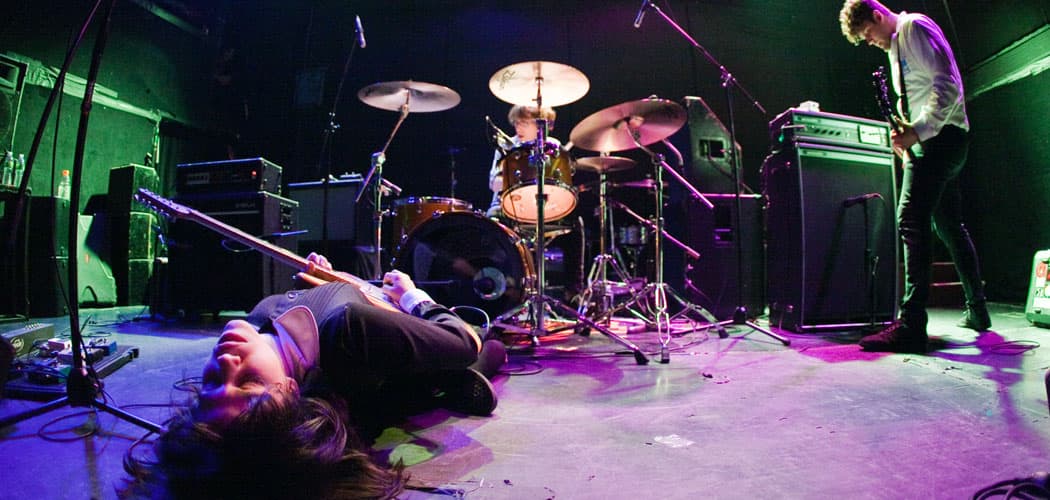 This article is more than 7 years old.
Throbbing feedback, a drum roll swell, and the ecstatic cries of an enraptured crowd. Not a huge crowd, but a vociferous one. "Marissa!!" they scream. The reverb fades, the drums kick in, guitar and bass enter with the force of a hurricane and Marissa begins to sing.
"I'm on a mission to smash the mirror/ Get myself off the scale." So goes the chorus to "It All Means Nothing," the ninth entry in "Live At The Hideout" by Screaming Females, out April 8. The New Jersey rock band will be touring in support of The Julie Ruin next month, stopping at the Sinclair in Cambridge on April 3.
For lead singer and guitarist Marissa Paternoster, the pairing with The Julie Ruin, which is fronted by former Riot Grrrl and Bikini Kill founder Kathleen Hanna, is apt. Though Screaming Females do not posit themselves as a feminist band in quite the same way as the Riot Grrrl groups before them, the movement's impact is apparent. Hanna and her ilk left a deep impression on the young Paternoster, who struggled with depression and shyness throughout high school and met her first girlfriend when she was still a teenager.
"I think when you grow up and you happen to be queer there's gonna come a moment in your life where you have to sit back and reflect on your identity, what it means to you, and how you wanna carry yourself through a world that may or may not treat you with enormous amounts of hostility," Paternoster remarked recently over the phone.
For someone who was once soft-spoken, she is remarkably self-assured and relaxed during the interview. "For me, a great source of refuge when I was feeling hostility—even if the hostility was coming from within, not understanding what was happening in my brain or my body, feeling worthless and stuff like that, which I'm sure every teenager goes through, but it is different if you happen to be queer—a great source of refuge for me were artists like Kathleen Hanna and Bikini Kill, Sleater-Kinney and all of that Riot Grrrl stuff because there wasn't anything else like it, and it was so relatable."
In "It All Means Nothing," which was also the opening track on the band's fifth and most recent studio album, "Ugly," Paternoster explores those old feelings of worthlessness with characteristic punk defiance. The song is a self-conscious rejection of culturally-imposed body ideals, and perhaps even a rebuttal to the gaze so intensely turned on the oft-spotlighted guitarist. Or maybe it is a demand to be truly seen, rather than looked through, or consumed voraciously. "You take what's mine, and face me like you're blind/ It all means nothing," Paternoster sings in her robust, androgynous drawl.
That Paternoster would be preoccupied by appearance and perception even in adulthood is not surprising. Much has been made of her petite build and its contrast with her outsized guitar skills. She was declared "Best Guitar-Shredder" by the Village Voice in 2009, and ranked the 77th Greatest Guitarist of All Time by Spin Magazine in 2012. In almost every print mention, however, her femininity is noted.
Paternoster plays with a deafening swagger that is reminiscent of the virtuosic six-string stylings of The Smashing Pumpkins' Billy Corgan, who she cites as an early influence. She plays up her gender and smallness onstage with high-necked dresses and black stockings, a gothic riff on little girl frilliness.
Equally powerful, though, is her voice. The studio albums accentuate her ability to access a vast tonal range, from nasal cartoonishness to vibrating aggression, but the live album displays the kind of raw catharsis that erupts from her mouth onstage. On "It All Means Nothing," her voice cracks. She shrieks, breathes, gasps.
The refrain—"It all means nothing"—may be a rejection of conventional beauty and identity, but it is also an existential cry into the abyss. What does anything mean?
That question seems particularly charged on "Live At The Hideout," which was recorded over two nights in Chicago by famed indie-rock engineer Steve Albini. Throughout most of 2013, Paternoster was unable to tour due to chronic mononucleosis. At one point, she was seeing seven different specialists, and was told by numerous doctors that the crippling pain and exhaustion was psychosomatic.
"It's weird to go to the doctor and say 'I hope you find something wrong with me, because if not, I'm gonna feel like I've lost my mind,'" Paternoster remarks wryly. "There was definitely a moment where I was like, 'I'm crazy.'"
In an effort to ward off the deepening fear that they might never tour again, Screaming Females recorded "Chalk Tape," a six-track EP that was released as a limited edition cassette in 2013. Paternoster describes how the trio self-consciously tried to break out of their writing habits: "Essentially what we did is deconstructed the way we usually write songs and tried different ways." For the opening number, "Sick Bed," Paternoster abandoned her guitar; the result is a sparse, eerie song that showcases Michael "King Mike" Abbate's elastic bass work and layers Paternoster's voice with creepy dissonance. Throughout the EP, drummer Jarrett Dougherty experiments with various percussion instruments, and at one point Paternoster even picks up an acoustic guitar.
"We've been focusing really heavily on melody and songwriting, and sitting down and discussing structure and composition and melody more than we ever have in the past," says Paternoster. Previously, she would typically start out with a guitar riff and the vocal part would come as an afterthought, but you can hear a more songwriterly bent begin to assert itself in "Ugly." For all its raucousness, "It All Means Nothing" is downright singable. The band's next studio album has been written, but not yet recorded.
None of the "Chalk Tape" material makes it onto "Live At The Hideout." While the EP was a low-pressure studio exercise designed to get the creative juices flowing, the live album feels like the second part in a vital recovery process for the band. They did, after all, cut their teeth on the road, and to date have played more than 900 shows. The Hideout is a very small room, and though Screaming Females could undoubtedly pack a bigger house, the intimacy feels right. They are a visceral, in-your-face trio, and it's in your face where they do their best work.
"The first couple times we did it, it was horrifying, and gradually got more and more awesome," remembers Paternoster of the band's early gigs while she was a student at Rutgers University. "Just the finest form of therapy I've ever been a part of, and I've been in therapy for over a decade."
"It All Means Nothing" concludes with a delightedly cacophonous coda. Dougherty locks in and the three almost imperceptibly speed up before Paternoster launches into a victorious solo. Paternoster, who has been playing with Abbate since they were in high school and with Screaming Females since 2005, says that she and her bandmates "understand each other on a nearly cellular level."
The song ends with satisfied decisiveness: no drawn-out cymbal crashes or screaming distortion, just a slight deceleration and a big, fat major chord. Paternoster lets the final note ring for a moment, high and sweet. Maybe even happy.
Amelia Mason is a writer, musician, and bartender living in Somerville. She is a regular contributor to The ARTery. You can follow her on Twitter @shmabelia and Tumblr.
This article was originally published on March 28, 2014.