Bruins Top Capitals 4-2, Clinch Atlantic Division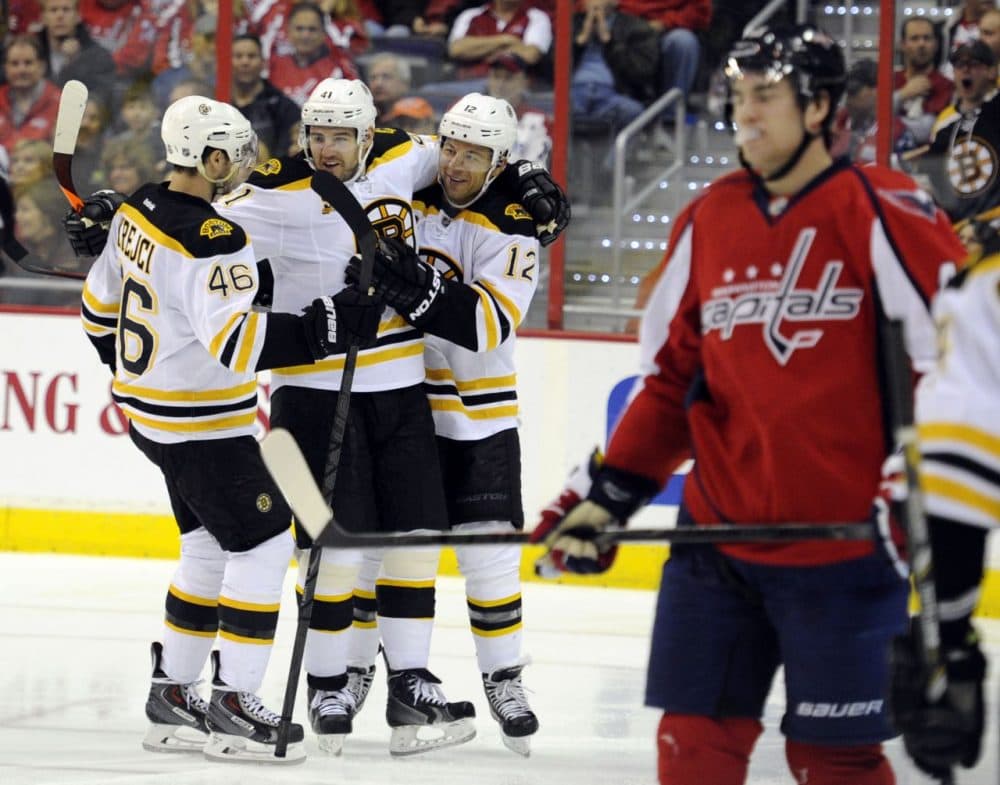 This article is more than 7 years old.
Carl Soderberg and Jarome Iginla scored 41 seconds apart in the second period to break open a close game, and the Boston Bruins clinched the Atlantic Division title Saturday with a 4-2 win over the Washington Capitals.
Iginla scored twice to reach the 30-goal mark, and Patrice Bergeron added a goal as the Bruins won for the 14th time in 15 games. Chad Johnson made 31 saves, and he and Tuukka Rask have combined to allow only 13 goals over 11 games.
Jason Chimera and Evgeny Kuznetsov scored, and Braden Holtby stopped 32 shots for the Capitals, who were down 3-0 before they could find any traction against the possession-heavy Bruins.
Washington began the day tied with Columbus, Detroit and Toronto in what has essentially become a four-way race for two playoff spots, but the Capitals, who haven't missed the postseason since 2007, would lose a tiebreaker against all three teams.
The Bruins gave the Capitals' top-rated power play only three chances, and they corralled Alex Ovechkin enough to keep the NHL's leading goal scorer in a 5-on-5 slump. Ovechkin has 48 goals this season, but hasn't scored at even-strength since Feb. 27.
The Capitals had no shots on goal in the first 6 minutes and only two after 14 minutes. The game was scoreless after the first period solely because of Holtby. When Soderberg made a dazzling right-to-left pass back to Chris Kelly near the crease, the Washington goalie was there to scrunch his chest and arms to stop Kelly's point-blank shot.
But Holtby could hold down the fort for only so long. A turnover by Washington's Karl Alzner at center ice allowed Soderberg to spring Iginla for an early breakaway that opened the scoring in the second period.
A few minutes later, Soderberg redirected an already deflected shot by Bergeron on a power play to make it 2-0, and Iginla made it a three-goal lead by stuffing the puck past Holtby less than a minute later.
When the Capitals finally turned up the intensity, it came from the third line that has led the team in recent weeks. Chimera put Washington on the board with 10 seconds remaining in the second period, and a dominant shift by Chimera's line drew a penalty on Andrej Meszaros in the third.
But the Capitals couldn't score during the man-advantage, and soon the Bruins had a power play of their own. With Ovechkin off for charging, Bergeron put in a rebound to extend his goal-scoring streak to a career-high six games.
Kuznetsov scored his second NHL goal in the final minute.