Clinton's Sam Alves Sings His Way To Stardom In Brazil
05:33
Play
This article is more than 7 years old.
Sam Alves, 24, calls Clinton, Mass., home. But these days, he's a singing sensation in Brazil. He's the reigning champion of "Voice Brasil," which is the Rio version of the popular NBC reality show "The Voice." Alves released his first album Tuesday.
A Prophetic Beginning
Alves' good luck began shortly after he was born in Fortaleza, Brazil.
"My biological parents put me in a box, and placed me on the doorstep of my now parents," Alves explained. His adoptive parents opened the door and found baby Sam wrapped in a blanket.
"What's more interesting is that because they couldn't actually have kids, they considered it a miracle," Alves said, adding that when he was 6 years old, his parents told him that he was like Moses.
The biblical references, this sense of destiny, is part of Sam Alves musical career. In fact, he got his start singing Christian music.
Alves immigrated to the U.S. with his family when he was 4. He started singing in Brazilian churches around Massachusetts when he was a teenager. But despite his passion for religious music, he also loved pop.
"The lyrics are easy to memorize, and it's basically what I grew up listening to, so pop music was what I identified as my style," Alves said, ringlets of dark brown curls framing his boyish face.
Alves' distinct sense of personal style and teenybopper sense of charm have brought him legions of young fans, many of them girls.
A Failed Audition
Alves took voice lessons when he was younger, but he never thought of music as more than a hobby until his music teacher stopped him in the middle of a lesson.
"She was just like, 'I think this is something that I'm feeling in my heart that you need to be doing music,' " Alves said.
At the time, Alves was a pre-med student at Worcester State University. But he decided to audition for "The Voice" on NBC.
The show is essentially a reality TV singing contest with music celebrities as the judges; if they like your voice, they'll turn their chair around.
Alves advanced through the first few rounds and made it up to the televised auditions. But at that stage, none of the judges turned their chairs around for him.
Alves was deeply disappointed, but he also believed everything in life happens for a reason. So when his mom suggested he audition for the Brazilian version of "The Voice," he said, why not?
A Brazilian Celebrity
"I sang 'When I Was Your Man' by Bruno Mars, and all four chairs turned around this time," Alves recalled. He couldn't believe his success, but he thought there was no way it would last once the contest opened up to public votes.
"I imagined in all honesty that once I got to the live rounds, where people started voting, I wouldn't get the votes because of the fact that I actually hadn't lived in Brazil all my life," Alves said. "I was probably gonna be seen as an outsider."
But, time and again, he won the votes of Brazilians.
In the finale, he sang "Hallelujah" in Portuguese and English. An estimated 29 million people voted, and Alves finished first.
"I know that Brazilians really, they love music. And it's a country very rich in styles and rhythms," Alves said. "And for them to actually acknowledge a Brazilian who lived outside of the country for so many years to come back into the country, sing international music to them — which is American pop music — and then still put me through and vote is really, really a blessing in my life."
These days, Alves is back in Brazil with newfound fame and a deal with Universal Music, but he said it feels strange.
"I still feel like an outsider," he said. "'Twenty years living outside Brazil and now you're living in Brazil. And you're also doing something extremely different, which is being a Brazilian singer, signed to a record label and recording English music."
Ultimately, Alves wants to be an international artist, sort of like Shakira, who coincidentally judged his blind audition in his original appearance on "The Voice" in America. Alves says he wants to be someone who sings around the globe in multiple languages.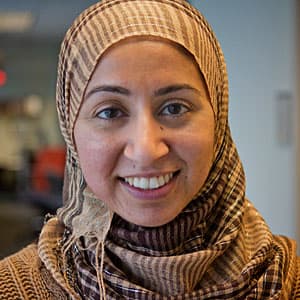 Asma Khalid Reporter
Asma Khalid formerly led WBUR's BostonomiX, a biz/tech team covering the innovation economy.