Boston Firefighter Walsh Remembered As A 'Gentle Giant'
04:27
Play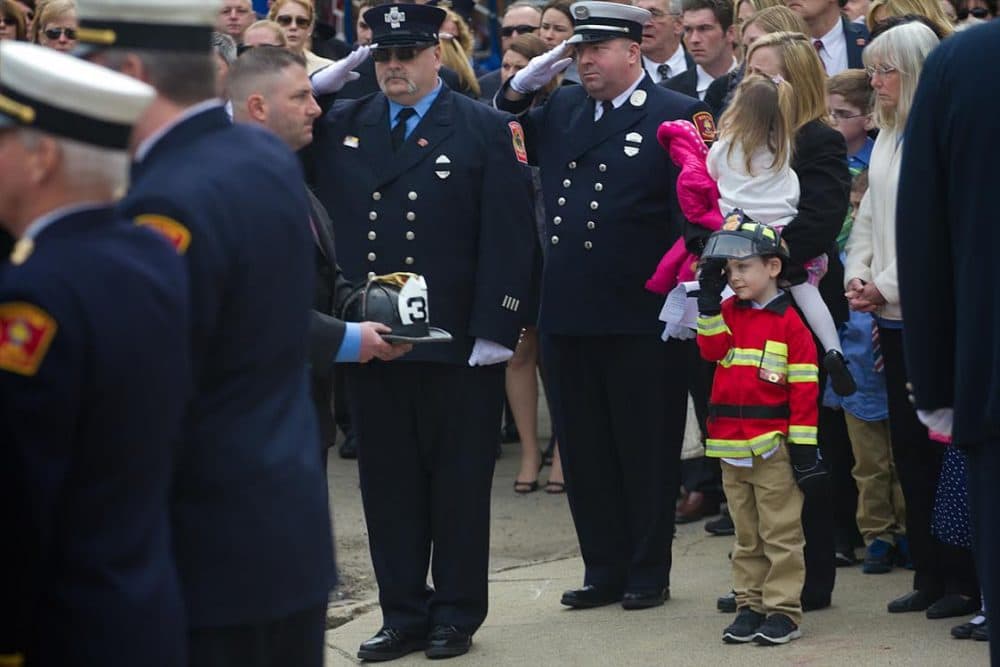 This article is more than 6 years old.
Thousands of firefighters dressed in deep blue gathered outside a Watertown church Wednesday as family, friends and colleagues attended a wrenching funeral inside for Lt. Edward Walsh.
Walsh, one of two Boston firefighters who died in a nine-alarm fire that tore through a Back Bay brownstone last week, was remembered as a stand-up guy — a man committed to family and community, a "gentle giant" who found time for everyone.
"If the timekeeper of life kept track, he may have noticed ... that this man has, in fact, lived a full life," said Kathy Malone, his sister, during the Mass. "Eddie lived more in 43 years than many of us will do in 80."
"As a brave and experienced firefighter, Ed Walsh was a rock supporting all of our lives, whether we knew it or not," Boston Mayor Marty Walsh said.
The funeral — which drew top elected officials, firefighters from thousands of miles away and old family friends from Watertown — was an exercise in somber pageantry.
Bagpipes played. More than 10,000 firefighters from around the country, many wearing white gloves, silently saluted Walsh's casket as it rolled toward St. Patrick's Church — perched atop a firetruck from Boston's Engine 33, where he was stationed.
Black bunting hung from the side of the truck. From the back: the fallen firefighter's coat, "Lt. E. Walsh" emblazoned in yellow. Walking in front: Walsh's brother, Michael, carrying an Engine 33 helmet.
"Sometimes, it's difficult to convey the dangers that firefighters face, the bonds that we share, to those that are not in our business," said Richard Paris, president of Boston Firefighters Local 718, at the funeral. "However, as I look around the church today, I realize that Eddie Walsh was surrounded by two families who knew all too well what it means to be a firefighter."
Harold Schaitberger, president of the Washington-based International Association of Firefighters, noted that — after tragedy — he often hears people saying they take for granted the work of firefighters.
"There's one thing everyone can do to honor Eddie," he said, "to ensure that his legacy lives on. It is that you stop taking these incredible warriors for granted while they are still living."
Last week's Beacon Street blaze also took firefighter Michael Kennedy, whose funeral will take place in West Roxbury Thursday.
The cause of the wind-whipped fire is still under investigation.
Walsh, 43, was the father of three young children: Dillon, 8, Morgan, 5, and Griffin, 2.
He came from a family of firefighters. His late father and uncle were both lieutenants with the Watertown Fire Department. His cousin Tom is a captain with the department.
Family have called Walsh's father, Edward Walsh Sr., a particularly strong influence. Both were tall men, both had a sense of humor, and both were eager to help a neighbor.
After graduating from Watertown High School in 1989, Walsh attended what is now known as Bridgewater State University and worked in finance for a time.
He was intent, though, on joining the family trade.
In 2003, he joined a batch of five white, would-be firefighters in suing the city of Boston for its affirmative action hiring processes. The city settled with the group and Walsh joined the department.
He began his career at a Back Bay firehouse and became deeply wedded to the place. In April 2012, he was promoted to lieutenant and, as is customary, worked in a series of assignments around the city.
But he wanted to return to his original Boylston Street station and he did, taking a post with Engine 33, the second-busiest in the city.
Walsh lived in West Roxbury, a neighborhood thick with firefighters and police officers. Neighbors knew him as someone who volunteered, coached youth sports teams, manned the barbecue, always said hello.
Malone, his sister, said his 6-foot-4 frame could be intimidating, "but Eddie was only intimidating in size. He had a terrific smile and a wonderful sense of humor."
The Rev. John Unni, the plain-spoken pastor of St. Cecilia Church near Walsh's fire station, delivered the homily. He spoke directly to Walsh's children. He told them their father was in heaven.
Unni suggested his own late father, a barber, might tend to Walsh's hair.
Unni also urged the firefighters in attendance to let go of any feelings of guilt, to go easy on themselves.
"Whatever the guilt is that anyone is carrying as to whether or not they could've done more, should've done more, should've been me — I'm gonna ask you to be as gentle as you can with yourselves," he said.
Boston Cardinal Sean O'Malley delivered the closing remarks. Irish tenor Ronan Tynan sang "Danny Boy." The family followed Walsh's casket out of the church — among them, his young nephew Robbie, dressed in a child's red "Fire Chief" costume, waving to the firefighters who lined the road.
Walsh's casket went atop Engine 33 again. His brother bore the helmet once more. On the side of the truck, the Boston Fire Department's seal was covered in a black band that read "Last Alarm," with the date and locale of Walsh's death.
It was off to the cemetery. The crowd was silent.
This segment aired on April 2, 2014.