Firehouse Memorial Grows After Back Bay Blaze
14:18
Play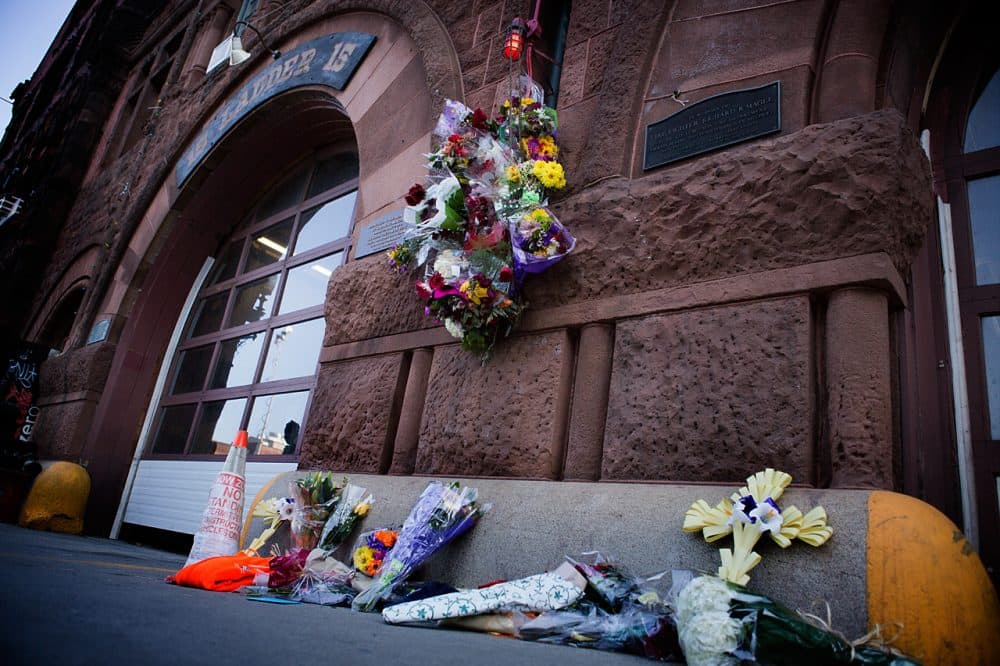 This article is more than 7 years old.
While investigators try to determine what caused the nine-alarm fire that ripped through a brownstone in the Back Bay Wednesday afternoon, Boston is mourning the loss of two firefighters killed in the blaze.
Michael Kennedy and Lt. Edward Walsh were both working out of the Engine 33 firehouse in downtown Boston. Since the blaze, that fire station has become a memorial to the two men.
On the wall of the Engine 33 firehouse, you might notice a plaque with an inscription dedicated to firefighter Richard Magee. He was killed June 17, 1972.
That's the day the Hotel Vendome caught fire — the worst firefighting tragedy in Boston history.
Now, the historic stone building has a new memorial for another two firefighters who died in action.
Neighbors and strangers on Thursday left flowers, sweatshirts, cards, hats and candles.
Michael Rose is training for the Boston Marathon. He rerouted his usual run to swing by the fire station Thursday. In his blue marathon jacket, he bowed his head and whispered a prayer.
"My mother sent me a picture this morning of finishing the marathon last year, and this fire station was in the background," he said. "I was just praying that they can rest in peace easy and have a job well done."
As Rose mentioned, the Engine 33 firehouse sits on Boylston Street, just down the road from the marathon finish line. It's in the heart of the city. And Boston Fire Department spokesman Steve MacDonald says it's the most high-profile fire station in the city.
"That is a firehouse that every day, day and night, you have tourists, you have people, be it the marathon, they're at the Hynes for a convention, be it they're walking to Fenway Park, but, you know, there's special firefighters who work in there, because they have to like the public," he said.
One of those "members of the public" firefighters often see is Erin Defuria. She passes the firehouse every day on her way to work.
"I dropped the flowers, two yellow roses, because every time I walk by here, they say hi," she said. "It's like my, it's my station."
The flag at the Engine 33 firehouse was flying at half staff Thursday.
And Thursday morning, firefighters draped a black bunting below the windows.
Even firefighters from neighboring towns stopped by to offer condolences.
"I've had a knot in my stomach since yesterday," said Matt Davis, who works for the North Andover Fire Department. "I mean, it's not going to be a tough day, it's going to be a tough months, years ahead for these guys. I feel terrible for these guys."
Davis said the deaths are "terrible," but "if anything, it makes you work harder and be safer." He paused, and then added, "but it's tough."
Guests
Fred Thys, WBUR reporter. He tweets at @fredthys.
Lieutenant Charles Popp, coordinator of the Boston Fire Department's critical incident stress management team.
This segment aired on March 27, 2014.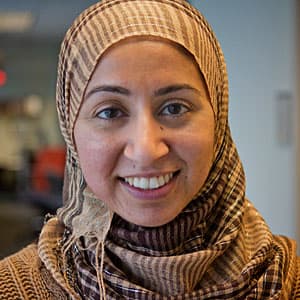 Asma Khalid Reporter
Asma Khalid formerly led WBUR's BostonomiX, a biz/tech team covering the innovation economy.