Marathon Sports, Long A Boston Landmark, Becomes An Ad Hoc Memorial
06:17
Play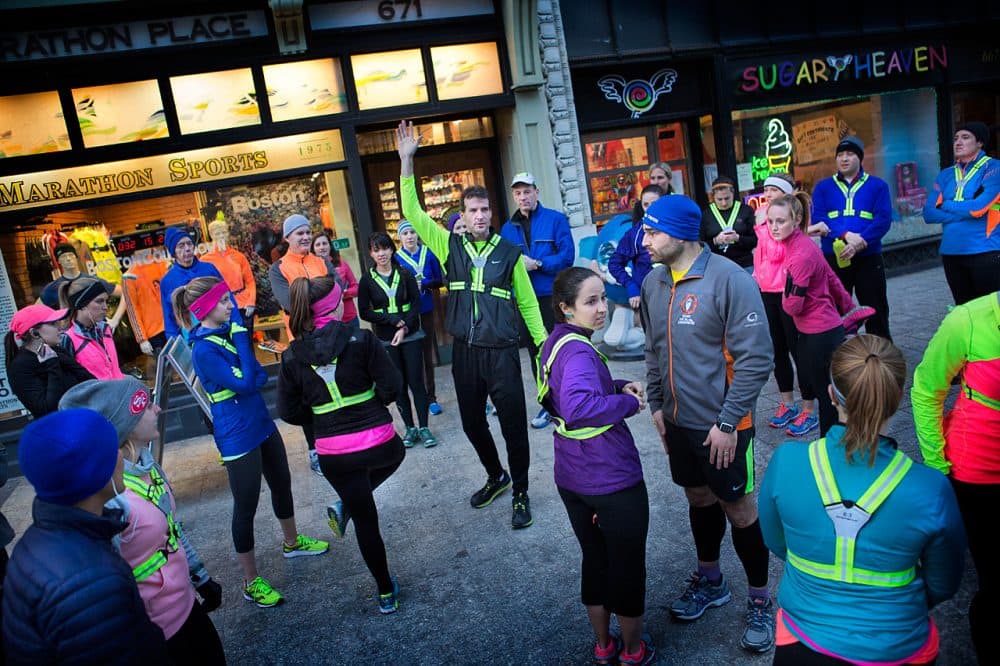 This article is more than 7 years old.
For his customers and colleagues, Marathon Sports manager Shane O'Hara has been part motivator, part coach and part running buddy for years — long before a bomb exploded just outside his Boylston Street storefront.
For most people, running is a solitary endeavor. But on the Wednesday two weeks after the blasts at the Boston Marathon finish line left three dead and more than 260 injured, Marathon Sports' weekly running group swelled to nearly 300. O'Hara became a leader for those who were there, and for those who couldn't be.
"Please, every step, every mile, remember why you are running. Never forget that, OK?" O'Hara said that night. "We are able to run where there's others that are not."
An Ad Hoc Memorial
For the last year, we've been checking in with O'Hara. His Wednesday night running group is now known throughout the city and beyond. And the store has transformed too. It's always been a bit of a runner's icon, as it sits right there at the Boston Marathon finish line, but it's become something of a magnet and a memorial.
"We've gotten to where the store is as busy as it's ever been," O'Hara said back in August. "We had three different people from Texas walk through and just the kindness in them ... where they shake your hands and they say, 'Jeez, you guys did wonderful things,' or [they] just had to come in here to almost, like, pay their respects — saying a little prayer for anyone that was lost or just the tragedy itself."
The first bomb blew through the storefront just as O'Hara and his coworkers were in the midst of one of their busiest days of the year.
When he spoke with us in August, O'Hara was still raw with emotion, recalling how the store, celebrating the Boston Marathon just a moment before, was instantly transformed into a triage unit, with O'Hara dazed but otherwise uninjured, ripping clothing off the racks to bandage those who were hurt.
"It looked like you were watching 'Saving Private Ryan.' It was kind of one of those things where [it looked like] a movie scene out here, but it was real life," O'Hara recalled. "And I had all this apparel in my hands and I had to walk over and say, you look hurt but your arms look attached, your legs look normal, we'll get to you later kind of thing. And I'm kind of thinking like, you know, really? I make that decision?"
Recreating That Chapter
On a recent morning before opening, O'Hara sat on the floor of the store while we talked, periodically stretching out a sore leg muscle. When the conversation turned to that day, we lost eye contact and he shifted his gaze to his right, out toward Boylston Street, as if he was watching it all unfold again.
"I think I would still play back the day to see was there anything different that I could have done? Is there something that you could've planned better for after the fact again? I think that's what goes through my head," he said.
Today, the store has new carpet. New floor tiles replace those blown out in the entrance, and rows upon rows of the latest running shoes are lined up on the display wall.
Runners come to ask advice on shoes, or to stock up on training odds and ends. Sometimes they just hang out. For O'Hara, the store — its memories and its scars — is an integral part of his healing.
"The good thing is I come in through the back alley door, but anytime you take a runner outside to watch them run you, you definitely know. And you just kind of think again, like, jeez, where was I at that particular time? And every day, every day it goes through my head, every time you take someone out for that run," O'Hara said.
There are photos of marathon winners and other memorabilia on the walls. But they now share space with reminders of that day — a custom Red Sox Jersey bearing the numbers 617, the Boston area code. And a Boston Strong banner that's now part of Boston's fabric, part of our history, and part of this community of runners.
"Those are the bonds that you have. You start talking to someone and all of a sudden that question turns around to say, 'You were down here that day, weren't you?' And I then have said to many, just that you want this to be a happy place again. I don't want them to be feared to come into the store or to come down to this area," O'Hara said. "And I try to make it that, this is their store as much as it is mine and the employees of Marathon Sports."
So O'Hara will run the Boston Marathon this year, not necessarily expecting a personal best time, but for a good time with thousands of his fellow runners, and for closure.
"My one goal is to get back here before, before the time that it happened," he explained. "So I can kind of feel like I can recreate the chapter. That's my goal."
This segment aired on April 2, 2014.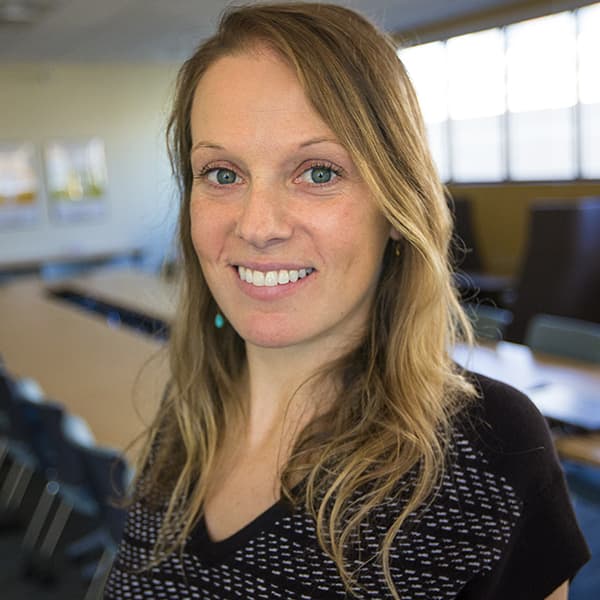 Shannon Dooling Investigative Reporter
Shannon Dooling is an investigative reporter at WBUR, focused on stories about immigration and criminal justice.