Go Poe! Fate Is Set For Statue Honoring Horror Writer's Boston Roots
This article is more than 9 years old.
The tale has been years in the making, but it appears the fate is set for a public sculpture in Boston of native son Edgar Allan Poe.
The horror master who conjured creepy classics such as "The Tell-Tale Heart" and "The Raven" criticized Boston writers during his time here in the 1800s. And they reciprocated in earnest.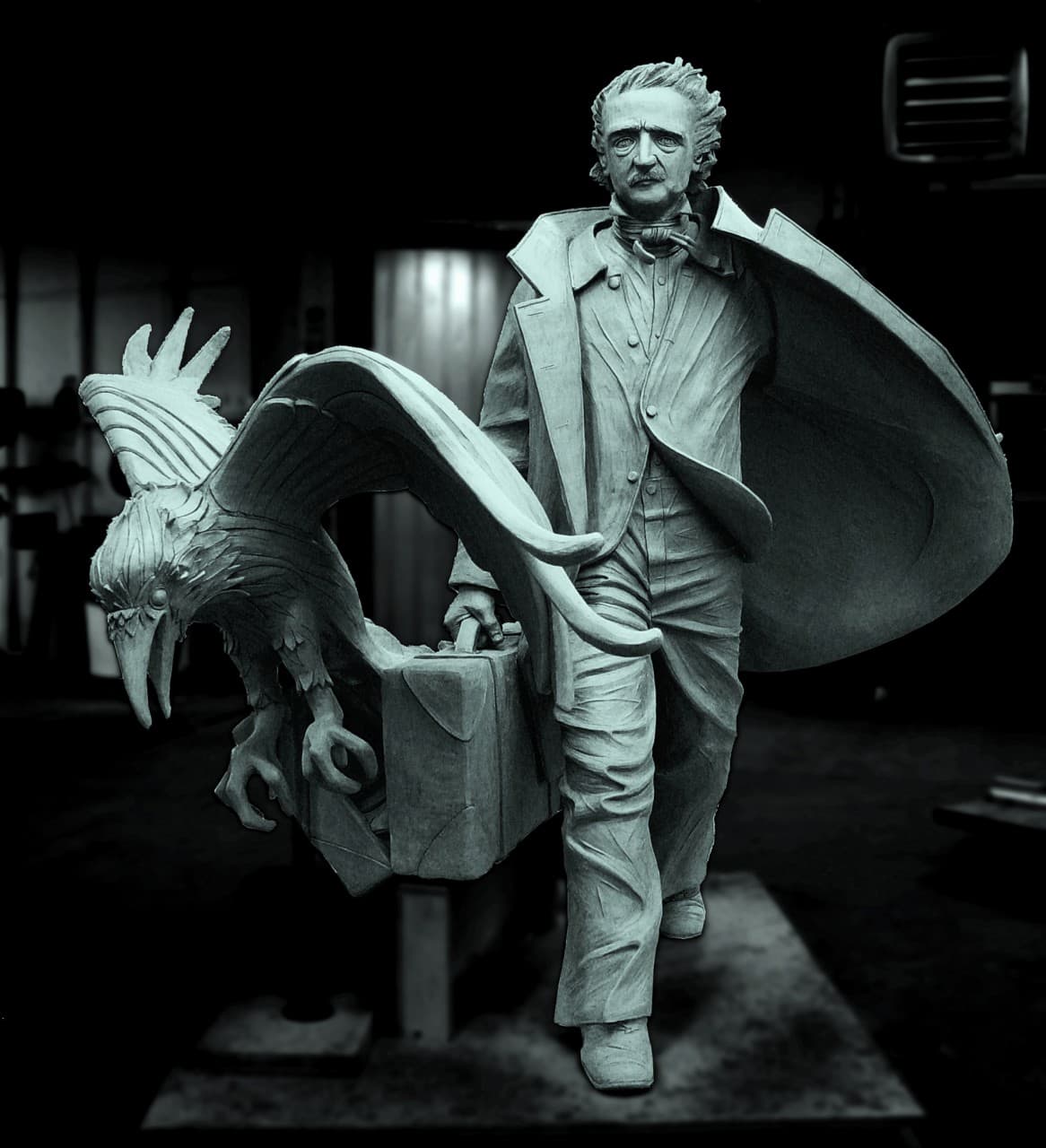 Even so, a lot of people, including Boston College literature professor Paul Lewis, have spent years ardently defending Poe's roots.
Lewis chairs the Poe Foundation of Boston, which has been orchestrating fundraising efforts for the $225,000 project. The campaign to memorialize the Victorian author's connections to Boston with a public artwork began in 2009. Now Lewis says it's great to have arrived at this point in the notoriously long process.
"The level of support we've received from the city, from donors large and small, demonstrates that Bostonians are ready — finally — to embrace Poe," Lewis remarked, making sure to point out Poe was born in Boston in 1809*.
A $10,000 grant from the Lynch Foundation cemented the project's destiny. It also received money from the city of Boston through the Edward Ingersoll Browne Trust Fund. Modern horror writer Stephen King and his wife Tabitha contributed to the project as well, along with local businesses and private citizens/fans of the macabre.

Artist Stefanie Rocknak's bronze sculpture, titled "Poe Returning to Boston," is being fabricated at New England Sculpture Services in Chelsea. Her design was chosen from a pool of 265 proposals.
"I hope that Boston will enjoy this tribute to Poe for years to come," Rocknak wrote in an email. She also added an update on the process. "The sculpture is now being cast (in pieces). After all these pieces are cast, the foundry will start to reassemble them--this should happen in a couple of months. After it is completely assembled, the patina will be applied."
Rocknak looks forward to the day her striding figure will be secured in its final resting place at the intersection of Charles and Boylston streets. The unveiling is set for Oct. 5, just two days before the 165th anniversary of the writer's death.
Corrections: An earlier version of this story used a quote that named the wrong year of Poe's birth. Poe was born in 1809. An earlier version also incorrectly stated that the amount of funds the Poe Foundation of Boston had raised for the project. The group raised $225,000. An earlier version also incorrectly listed the date of the statue's unveiling. It is Oct. 5.
More About Poe And The Campaign To Bring Him To Boston:
This article was originally published on April 03, 2014.