Boston Firefighter Kennedy Remembered As Dedicated, Fun-Loving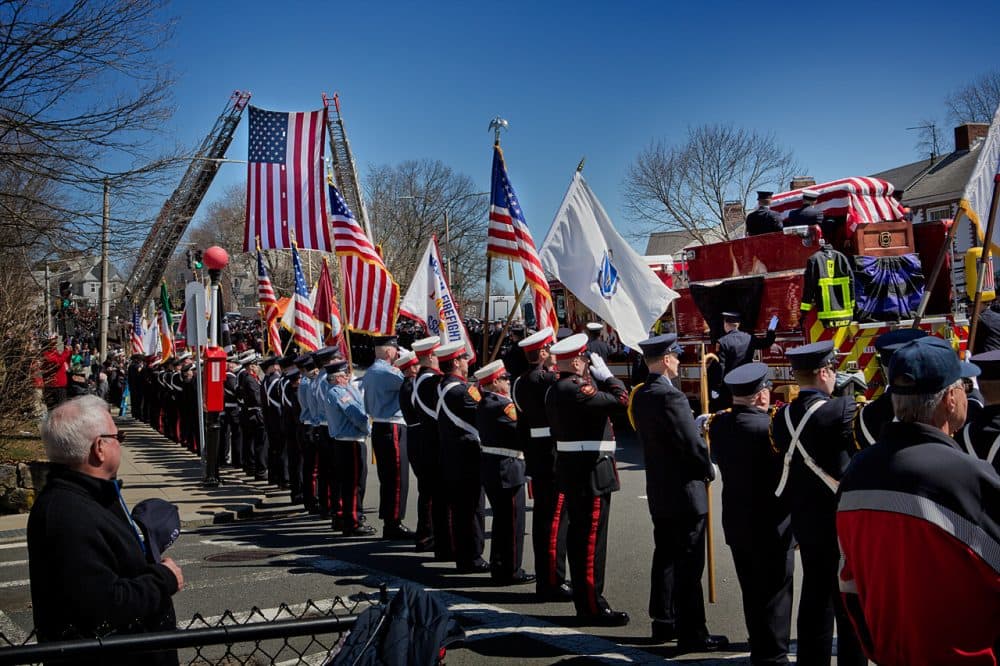 This article is more than 6 years old.
An American flag strung between Ladder 24 and Ladder 26 billowed over Centre Street in West Roxbury. The sidewalks and rooftops were filled with firefighters, all in crisp uniforms and straight lines. Nearby were community members, older couples and parents with toddlers dressed in firefighter costumes.
Thousands of people had gathered Thursday to honor fallen Boston Firefighter Michael Kennedy, who died tragically in last week's Back Bay blaze.
His cousin, Davin Patrick Kennedy, said he was a "larger than life character" with "strength and compassion." With laughter and tears, Kennedy was remembered as a fun-loving prankster as well as a dedicated mentor.
Kennedy, a 33-year-old who grew up in and around Boston, died alongside Lt. Edward Walsh, who also lost his life in the brownstone fire. Top Massachusetts officials, as well as firefighters from as far away as Los Angeles, attended Kennedy's funeral.
The crowd offered a long and somber salute as the funeral procession passed. The casket, draped in an American flag, rode atop Engine 33. Kennedy's uniform hung on the firetruck's back with his boots on the ledge below. Bagpipes and drums followed.
On one side of the procession stood the entire fifth grade class from The Wolfgang Mozart Elementary School, a public school in nearby Roslindale. The students are studying the American Revolution and unanimously voted to attend the funeral to pay their respects to a man who resembled the heroes of their history classes.
Inside the Holy Name Church, the Rev. John Unni read out passages friends and colleagues had written about Kennedy. The messages described Kennedy as "someone who lived for others," "a freewheeling spirit" and a man who "always had an untamable drive to do better."
Unni summarized some of the notes, saying that as he heard the same sentiments from different people, it was clear that Kennedy was "someone who lived life for others."
Though Kennedy had struggled through high school, he graduated and attended Johnson & Wales culinary school in Rhode Island. At the age of 20, he joined the Marines and later served in the Iraq War. His mother, Kathy Crosby-Bell, said Kennedy's military service had been transformative for her son, strengthening his will through discipline within a fraternal community.
Upon returning from his Marine duties, Kennedy sought that same sense of brotherhood and soon joined the Boston Fire Department. Rich Paris, the president of Boston Firefighters Local 718, said "Kennedy lived by simple values," and courage was chief among them.
A year ago, Kennedy was one of the first to arrive at the site of the Boston Marathon bombing. This year, he had been preparing to run the marathon alongside his girlfriend, Sarah Wessmann. Mayor Martin Walsh said Kennedy showed the same courage last week when "he did not hesitate to tackle one of the worst fires" in Boston's recent history.
Throughout the service, people spoke about how the same drive and energy drove Kennedy's charitable work. As Davin Kennedy recalled, "he was the go-to guy for every fundraiser that the firefighters ever held." Kennedy volunteered to help burn victims. He donated his bone marrow to help a child with leukemia. And "when Mike was discharged from the Marines, one of the first things he did was get himself a Little Brother," Davin Kennedy said through tears.
Michael Kennedy signed up to mentor a young boy through the Big Brothers Big Sisters of Massachusetts Bay. Alex Beauzile, 14, was his "little brother" for seven years.
"Michael loved the kid. Alex gave Michael a way to keep playing — someone to be goofy with and have fun with," Davin Kennedy said.
Alex sat in the church. At one point during Unni's remarks, Unni looked directly at Alex. He said that Alex seemed to have gained some of Kennedy's fun and competitive ways. Unni recalled that when he met Alex, the teenager asked, "Who's got the stronger grip?"
This love of a challenge was something Davin Kennedy recognized, saying that his cousin "never saw a challenge he wouldn't accept." They had taken a skydiving trip together. Kennedy was a CrossFit athletic trainer. He was also an avid motorcyclist.
The American Infidels, a motorcycle club, lined the sidewalk outside the church after the ceremony. Along with thousands of others, they stood at attention as the casket was placed back on top of Engine 33 for Kennedy's final ride to the Fireman's Lot in Jamaica Plain's Forest Hill Cemetery.