Israel's Deaf-Blind Ensemble Lives 'Not By Bread Alone'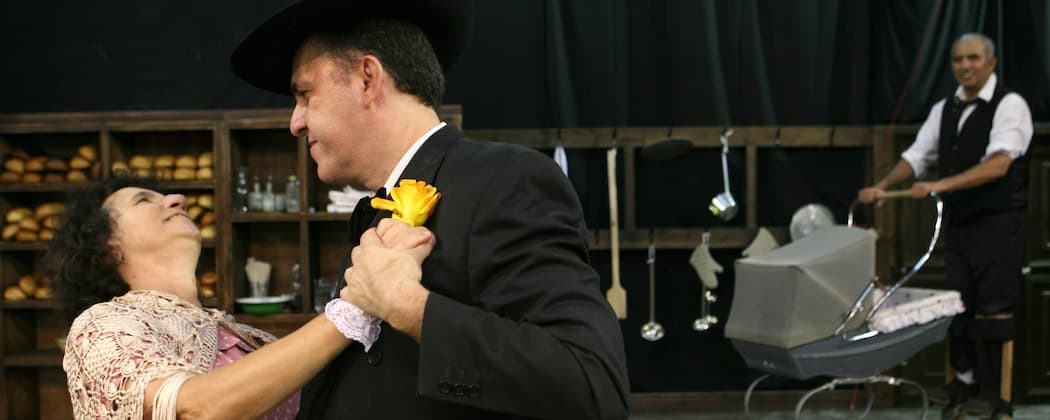 This article is more than 7 years old.
BOSTON — There is a segment, early in "Not By Bread Alone," that's one of the most transcendent moments of the theater season. To the accompaniment of Zvi Tal's Leonard Cohen-ish "Dancing Closely," 11 deaf-blind actors swing, walk on stilts, caress babies and otherwise cavort with each other, as if to say they have the same love of life, the same dreams, the same aspirations as everyone else.
There's a bit of it 1:29 into this video.
We're watching Israel's Nalaga'at Theater Deaf-Blind Acting Ensemble at the Paramount Theatre (through April 6) and you might conclude from this tableau that not only are they not handicapped or challenged, they're light years ahead of the rest of us "savoring the moment, inhaling its perfume … dancing very, very close to the one I love."
The problem is that this is so much the highlight of the ArtsEmerson-imported show that, even though the song is repeated at the end, nothing that comes after the "Dancing Closely" piece lives up to it theatrically. Some of the pieces, getting hair done by a world-renowned stylist, are good-humored but silly.
That's not to say that the rest of the 90 minutes, conceived and directed by Adina Tal, is a bust. It begins with most of them kneading bread, that will later be baked, while a lone typist, Itshak Hanina, is busy turning out a manuscript in braille. We are later introduced to their individual stories, some acted out, some narrated both verbally (with surtitles) and in sign language as aides bring the actors onstage and position them in place.
But the stories, even a wedding and wedding dance, never again touch the sublime theatricality of the earlier procession. Perhaps, then, the best way to look at the evening is as an experience, a chance to understand their world a little better. Interaction isn't part of the show, itself, but audience members are invited to sign with them beforehand and to join the wedding celebration and break bread with them afterward.
"For me, bread means happiness and health. For me, bread is the taste of nature," says one of the ensemble. It's a feel-good show, an experience that, for many, won't need more theatricality than it has.
More