We Need Art To Help Us Think Better, Like It Says In Our State Constitution
Why did Founding Father John Adams call for our state government to support Harvard University and the arts? The answer, taken from the Massachusetts Constitution, is in the speech below that I gave as part of a group talk about art and education, entitled "In-Sight Evening: Preparing for the New Harvard Art Museums, Part IV" at Harvard's Sackler Museum in Cambridge last night. The public forum was part of a series of events leading up to the scheduled reopening of the renovated and expanded institution this November.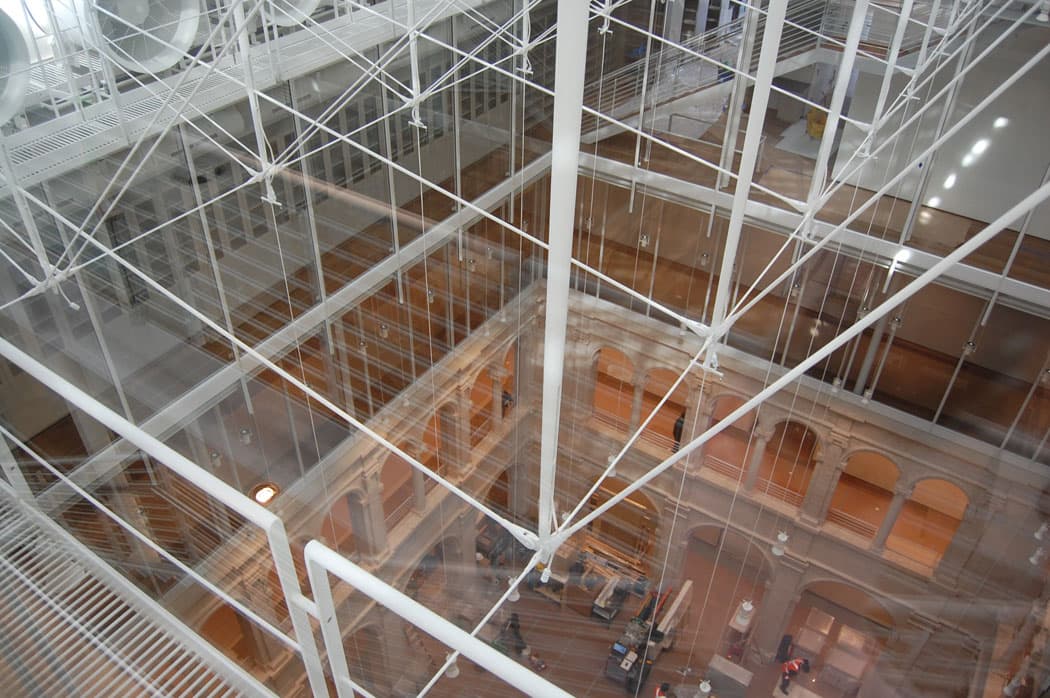 One of the things I think about when I'm honored with the chance to participate in a public talk like this is how can we use this thing change the world. More specifically, tonight, I ask all of you with me here—on the stage, in the audience—how can our discussion be another small step toward making Greater Boston a more rich, more fun, more fulfilling place for all of us who live here? How can we use art and education to make our community more wondrous and meaningful? How can Harvard and its art museums help make this the Greater Boston we dream of?
Now I know these are big ideas. But I think they underlie our smaller questions about the new programs and student projects that are being fostered as Harvard prepares to open an expanded and renovated art museum this November: How can the Harvard Art Museums collections be more accessible? How can these museums be more socially engaged? What can the Art Museums uniquely contribute as a university art museum? And what are the roles of students in all this?
OK, so what can Harvard and its Art Museums uniquely contribute? These institutions are machines for seeding ideas into our community. They do it though teaching and publications and exhibitions and talks like tonight.
And I think these mechanics were on the mind of John Adams—the Founding Father, the first U.S. vice president, the second U.S. president, and a Harvard alum—when he became the principal author of the Massachusetts Constitution.
For our purposes here tonight, let's focus our attention our Chapter V, which is titled: "The University at Cambridge, and Encouragement of Literature, Etc." In this section, Adams and friends make it the law of the land that it is the "duty of legislatures and magistrates, in all future periods of this Commonwealth" to "cherish" Harvard and promote the arts.
Why is this the duty of the Massachusetts government? (Here we get to the part about how Harvard and its art museums can be places for social engagement) Because education and the arts help spread "wisdom, and knowledge, as well as virtue." And that fostering these qualities is "necessary for the preservation of their rights and liberties."
In other words, Adams and friends are telling us that we need Harvard and the arts because they help us think better. And we need to think better to be successful in our roles in maintaining a healthy democracy.
Tonight we meet in a museum stocked with treasures from all over the world and from throughout time. This museum is part of one of the most wealthy, powerful and influential institutions on the planet. How do we use these resources, these gifts that have been passed down to us to take on the challenge issued to us in our state Constitution?
How can we visitors and students and staff leverage our smarts and our talents and our wherewithal, how can we combine them with the vast resources of this institution, to help us think in new ways, to give us the space to think in new ways, to include more of our neighbors, to find relief from the everyday drudgery, to invent better models of doing things? How can we use education and the arts to make Greater Boston a greater place for all of us who live here?
Related: First Look Inside Expanded Harvard Art Museums.
Greg Cook is co-founder of WBUR's ARTery. Follow him on Twitter @AestheticResear. Friend him on Facebook.
This article was originally published on April 10, 2014.