Take A Bow, Don Draper. It's The Beginning Of The End For 'Mad Men.'
Of all the TV friends we've lost in our Cable TV universe — Tony Soprano, Walter White — I might just miss Don Draper most of all. "The Sopranos" and "Breaking Bad" pretty much had to end the way they did. It would have been wrong to kill off Mr. Soprano and we knew that Mr. White's days were numbered from the get go.
But Don? Even if he isn't as compelling a figure as the other two his story is the story of our time, from the Eisenhower era onward. Unless Matthew Weiner kills him off — unlikely — we can almost imagine him today, in restless retirement, still fighting his demons, still lusting (if only in his heart) for the next beautiful woman. Even in his sloppy drunk days of last season we didn't really want to say goodbye to him and those other "Mad Men" (and women), did we?
AMC has asked critics not to spell out too much of what has transpired between last season and this one, and that's fine. As the final curtain of the seventh and final season begins its descent Sunday night, the particulars of his love/lust life or who's up and who's down at the advertising agency seem less important than the arc of both Don's individual story and the national one.
Will it end up being an American tragedy or something more triumphal, like the final redemptive scene from last season, when Don decided to come clean to his kids about his bordello background. His inability to come to terms with his past had already resulted in a brother's suicide and who knows how much psychic torment.
As Don has searched for his identity, the country searched its soul as well, with John Kennedy foreshadowing a youth revolution, Jackie Kennedy becoming an unlikely avatar for women, the civil rights movement exploding, marijuana challenging booze as the inebriant of choice.
Through it all, a meaningful life has always been just outside of Don's grasp. Even as there have been teasers about "The Man in the Gray Flannel Suit" or "The Crowd," "Atlas Shrugged" or "Meditations in an Emergency," something's been happening and Don can never quite figure out what it is. This year's psychedelic logos hint he may be even further away from any kind of nirvana. It's hard to imagine Don giving up his fedora for a headband.
Last season began with Dante's "Inferno":
"Midway in our life's journey I went astray from the straight road and woke to find myself alone in a dark wood"
This year begins with Freddy, a seemingly over the hill ad man looking into the camera, and saying:
"Are you ready? Because I want you to pay attention. This is the beginning of something."
It's the beginning of a pitch, but Weiner is obviously winking at us. "The Beginning" is also the title of the episode, though we know it's the beginning of the end, the first of seven episodes this spring, with the final seven of the series in the spring. There are more winks to come, including one-liners. After Don meets a beautiful real estate agent: "Those are some nice-looking properties." Ah, Don, Megan is not enough for you. The world is probably not enough for you.
His epiphany at the end of last season hasn't exactly transformed him into a joyful person, though he remains faithful for at least one episode this season. Nor are any of his former coworkers happy campers, male or female, except for one — I won't tell you whom — and even that is a bit of a wink from Weiner as if to say, "Wouldn't you just know it."
In general, the women are still fighting sexism, the African-Americans are still fighting racism and if a new day is dawning on those fronts, you wouldn't know it from the first episode. Don isn't the only one putting on a false face — the world of commerce is not conducive to political progressivism or spiritual happiness.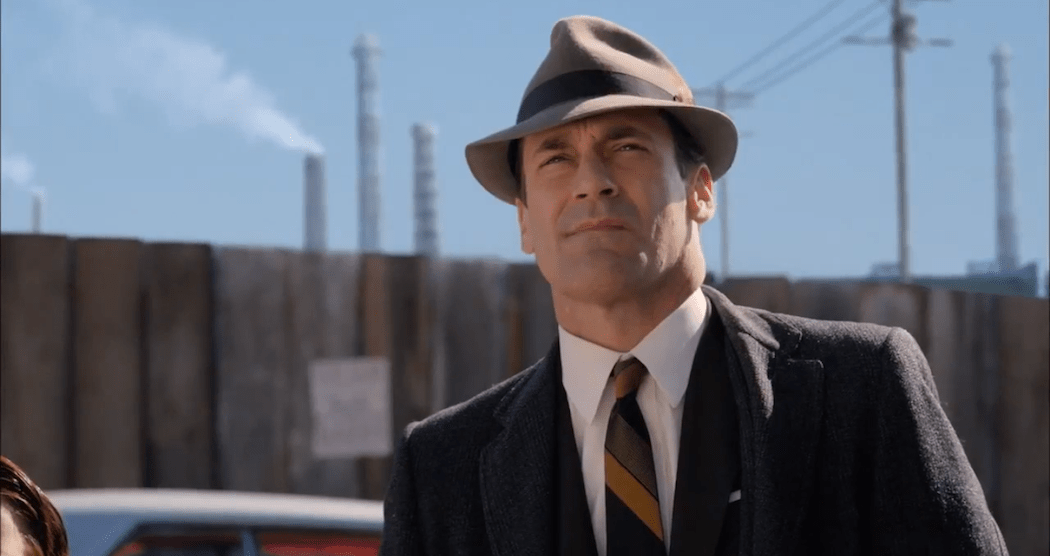 The unsung hero of "Mad Men" is Christopher Manley. Well, not unsung exactly as he is an Emmy winner for his exquisite "Mad Men" photography.
For years the standard of excellence in TV photography was, "Does it look like a movie?" But directors of photography like Manley and Michael Slovis of "Breaking Bad" have created their own sleek aesthetic for HDTV. Ditto Matthew J. Lloyd on the upcoming "Fargo." Phil Abraham actually shot the pilot episode of "Mad Men" but with both Manley and Abraham there are hints of '50s and '60s films in the palette — Hitchcock's pre-"Psycho" films, among them — but "Mad Men" seems made for the home thin screen. The bright reds, the claustrophobic interiors, would all be a bit much on a movie screen, but they're perfect for today's TVs.
It's hard to predict how the series will progress based on the first episode. In any event we're rooting for Don Draper. Exactly what we're rooting for is still a mystery. It's a mystery to Don, more than anyone else.
More:
Think Mary has any regrets about rejecting Jon Hamm's "total fabulosity"?: