Boston Abuzz This Marathon Weekend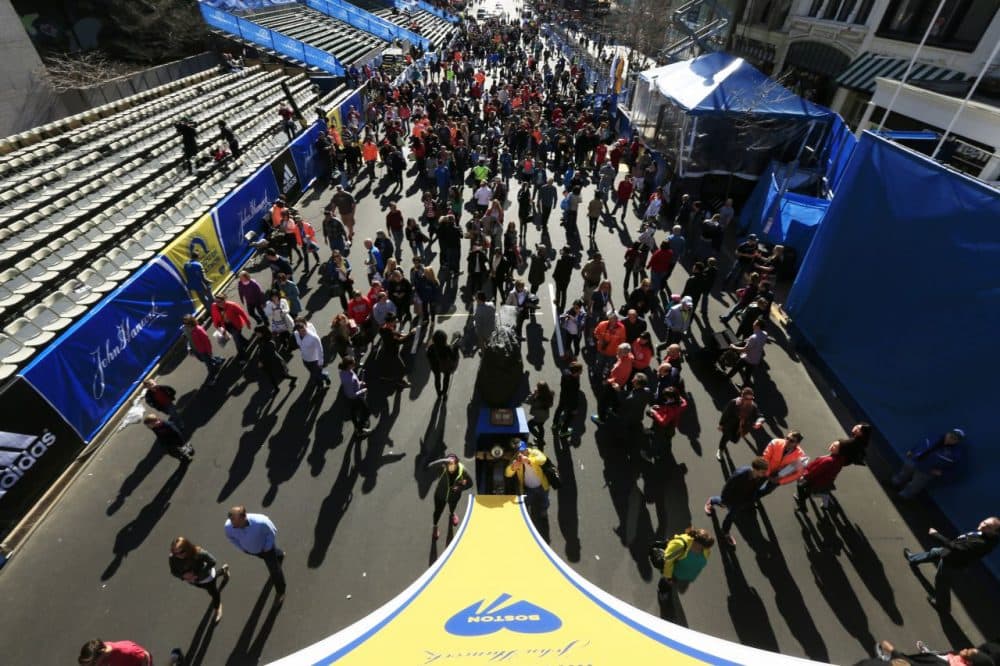 This article is more than 8 years old.
There's great energy in Boston this weekend, just as there is every weekend before the marathon.
On Saturday, thousands of people ran the annual Boston Athletic Association 5K road race. The course took us from Boston Common, onto Beacon Street and Commonwealth Avenue. We turned right on Hereford and left on Boylston under a huge American flag hanging from a fire truck, and we ran across the Boston Marathon finish line. A lot of runners stopped for pictures.
Ron Dagnen comes from Chicago every year to run the BAA 5K race, then he serves as a marathon volunteer in Hopkinton on race day. He visited the site of the marathon bombings Friday.
"It was kind of eerie, going up and down Boylston, being in front of the two places where it took place," he told me. "I'm a Vietnam veteran so I would think that nothing like that would affect me and yet that, taking a young person's life like that, that bothered me. But we're strong. We keep bouncing back."
"I'm thinking more about the people that were directly affected," said Karen Christensen, who was standing next to Ron. "That's where my thoughts are."
While we were running Saturday, people were hooting and hollering and giving each other high fives. I saw Robert Wheeler, a young man who had just finished last year's race when the bombs went off. Robert ran back and used his shirt to staunch the bleeding of a spectator named Ron Brassard, whose leg had been shredded by shrapnel. Ron survived. Robert is running again on Monday.
The U.S. Army Old Guard Fife and Drum Corps played the "Liberty Song" on Boston Common after the race. It was on April 19, 1775 that the shot heard round the world was fired on Lexington Green, igniting the Revolutionary War. On Saturday, people cheered as the Corps marched off the Common to the cadence of their drums.
I walked over to Boylston Street and looked down toward the Boston Marathon finish line a few blocks away. I remember standing in that spot on April 16, 2013 and looking down those same blocks. They were deserted. On Saturday, which was a beautiful spring down in Boston, Boylston was full of people, just like it will be again on Monday.
It's the 118th running of the Boston Marathon, another shot heard round the world.