At The Finish Line, Boston Reclaims The Marathon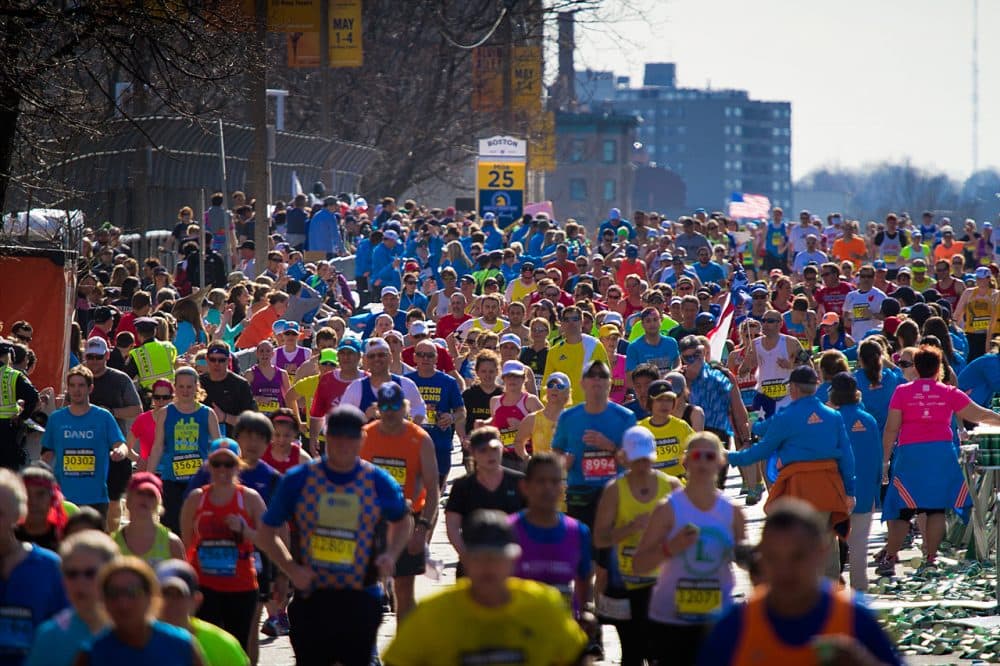 This article is more than 8 years old.
A sun-splashed city, proud if still wounded, reclaimed the Boston Marathon Monday.
Thousands of spectators gathered on Boylston Street, the site of last year's deadly bombings, to cheer on more than 35,000 runners — including Meb Keflezighi, the first American man to win the race since 1983, and Rita Jeptoo of Kenya, who set a course record in winning her third Boston Marathon.

"We're taking back our race today," race director Dave McGillivray said over a loudspeaker at the race's start Monday morning. "We're taking back the finish line."
The marathon capped days of remembrances.
Last week, Vice President Joe Biden attended an emotional tribute to those affected by the bombings. This weekend, there were tearful church services. And on Monday, "Boston Strong" signs, ribbons and T-shirts lined the 26.2-mile route from Hopkinton to Boston.
Near the finish line, pink blossoms mingled with blue and yellow wristbands on a small tree outside the Forum restaurant — the site of the second bombing.
Chuck Furey stood on the restaurant patio, behind dark sunglasses and a bushy mustache. A year ago, he arrived at Forum for a fundraiser just minutes before the bombs went off.
"It's emotional, very emotional," he said, of the return. "My whole family was here last year and all of us were blown back by the blast."
Furey said he hasn't talked much about the bombings since. And his wife still startles at loud noises.
But after a difficult walk down Boylston Street Monday, the Mansfield couple held hands and walked into Forum together — where they waited for their daughter, Gillian, to run by in her first marathon.
"It's surreal, it's really surreal," Furey said. "But it's good."
The aftershocks of the bombs were unmistakable Monday.
Bomb-sniffing dogs wandered up and down the street. There were police officers from Providence working alongside their Boston counterparts; the U.S. Department of Homeland Security was on hand.
But if the security was obvious, it was not overwhelming. The spectators were the story. And if there was some sorrow in the crowd, there was also quite a bit of exuberance.
For every "Boston Strong" placard, there were several signs that might have appeared any year. "Go Josh!" "Go Luke Go!"
Fans crowded the restaurants and bars, forking over $10 cover charges that went to the One Fund, which benefits victims of the bombings. Some wore T-shirts emblazoned with Red Sox slugger David Ortiz's famously profane tribute to the city in the wake of the bombings.

In a crowded Dunkin' Donuts, workers doled out Boston Marathon donuts — creme-filled or ring, with blue and yellow icing.
Mike Poitras, 53, woke his wife at 4:30 a.m. to paint on his blue mohawk. On one side of his scalp — a yellow and blue ribbon, on the other, the words "Boston Strong."
Poitras came early to stake out a position with his sons Nick, 23, and Andrew, 21, by the site of the first bombing. He said he considered it an act of defiance.
"I couldn't wait for today," Mike said.
The Poitrases, who live in Dracut, go to the marathon every year. But last year they did not. Mike and Andrew were working on a painting job — 30 miles away in Lawrence — when, they say, they heard the explosions.
Mike thought his son had dropped something heavy off the roof. Shortly thereafter, Andrew got a text saying "Pray for Boston."
Six weeks later, Andrew joined the Army Reserves. His brother is training to be an EMT.

The bombings injured 260 and killed three: Krystle Campbell, 29, of Arlington; Lingzi Lu, a graduate student from China; and Martin Richard, 8, of Dorchester.
A group of 102 runners ran in honor of Martin's memory. And on the sideline, John Corrigan wore the Richard team's yellow jersey.
"Not going to let other people win this war," he said. "That's what it is now, that's what it is. It's terrible that you have to have this many police out here for such an event."
At the other end of Boylston Street, memories of another, more recent tragedy mixed with the Marathon Monday tributes.
Last month, an eight-alarm fire in the Back Bay killed two firefighters stationed at a Boylston Street firehouse -- Lt. Edward Walsh and Firefighter Michael Kennedy.
A year before, Kennedy had raced down the street to tend to victims of the bombings.
On Monday, a banner hung on the side of the firehouse, with the Boston Fire Department logo, a black and red ribbon with Kennedy and Walsh's initials etched below and a reproduction of the bib Kennedy was set to wear when he ran this year's marathon.
Below, firefighters standing at the mouth of the firehouse did a brisk business in T-shirts and sweatshirts, the proceeds to benefit a memorial fund for their fallen comrades.
Nearby, a small group of Kennedy's relatives wore red "Dork Strong" T-shirts — a reference to the fun-loving firefighter's nickname.
Christine Webb, Kennedy's cousin, was among them. She said she came with mixed emotions. But she was there to support Kennedy's girlfriend, Sarah Wessman, who was running the marathon.
She was glad to be in the sun, she said. Glad to be with family. Glad to cheer for the runners in the 118th running of the Boston Marathon.