American Ryan Hall Seeks First Boston Marathon Victory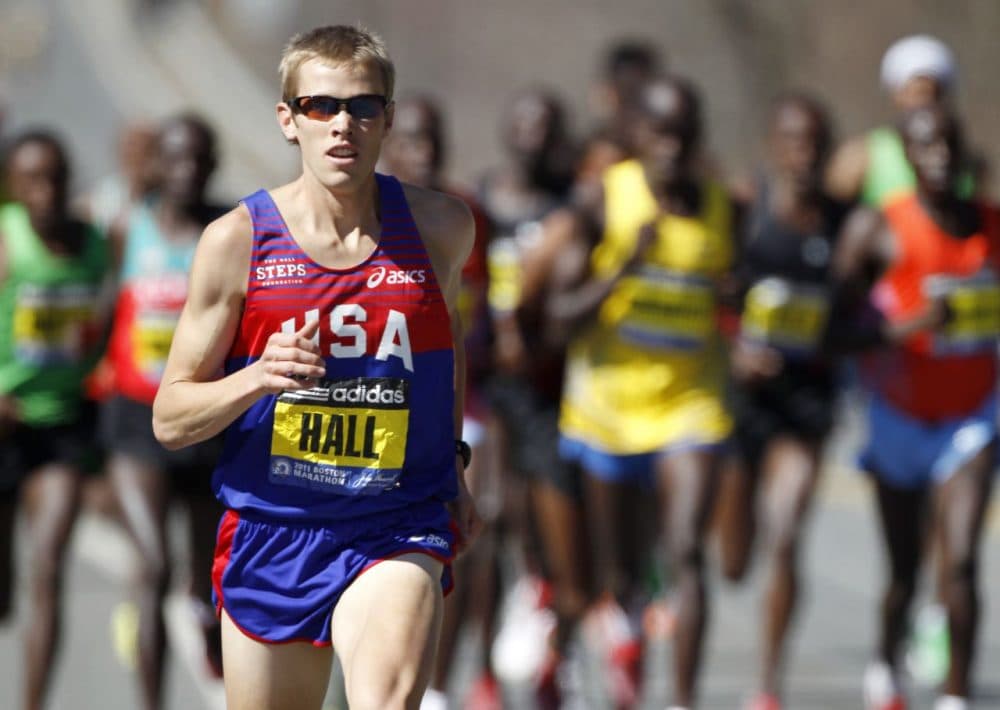 This article is more than 8 years old.
The first time I saw Ryan Hall run was in the 2003 NCAA Cross Country Championship. He was a student at Stanford and a guy named Dathan Ritzenhein, running for Colorado, out kicked him to win the title. More than a decade later, they might have tangled again in Monday's 118th Boston Marathon, but Ritzenhein will miss the race because he's injured.
Ryan Hall has had his share of injuries too. He had to drop out of the 2012 Olympic Marathon in London with a hamstring problem. Last year, he was scheduled to run both the Boston and New York marathons but withdrew from both because he was hurt again. Now he's healthy and will be running the Boston Marathon for the fourth time.
"Feeling great, ready to go," Hall said a few days before the race. He's coming off a month of training in Ethiopia, doing workouts at 9,000 feet, which he called the hardest training he's ever done in his life. "I've never seen so much growth in my training in such a short amount of time. Just being up there it's really easy to see why those guys are so dominant and why there so good. Training at 9,000 feet is totally unlike anything I've done before. I felt amazing coming out of there. I felt like things just really, really clicked when I was there."
Hall ran his first Boston Marathon in 2009 and finished third. A year later, he finished fourth in the race. In the 2011 Boston Marathon, Hall ran the fastest-ever marathon by an American, 2:04:58. Amazingly, his time was only good for fourth place because on that day Kenyans Geoffrey Mutai and Moses Mosop posted the two fastest marathon times ever run, 2:03:02 for Mutai and 2:03:06 for Mosop.
There's no way to predict what sort of time Hall will run in Monday's race, but he believes his experience on the course could make a difference.
"Boston's such a technical course," he said. "You've really got to know how to work it. Having trained on it so much, raced it three times before, every time I'm on it I learn something new."
At home in Flagstaff, Ariz., he has a treadmill that is set to mimic the Boston Marathon course and he recently ran 23 miles on it as hard as he could. "I'm definitely familiar with the course, and I think that will help me a lot out there."
Hall has always been a fan favorite in Boston because he runs with such exuberance. He says the atmosphere surrounding Monday's marathon, the first since the bombings last year, is going to be amazing.
"The crowd's always massive," he said. "It's always electric here. This year it's going to be 10 times bigger. I think this will be one of the most special races I've ever run in."
Ryan Hall has never really fulfilled the promise he showed in London in 2007 in his first marathon. He ran it in 2:08:24, the fastest-ever time for an American in his debut marathon. He's nagged by those those injuries and his experiments with coaching and training have not produced a win in a major marathon. But he remains a man of great faith, even if others have lost it in him.