Amid Presidential Hype, Hillary Clinton Speaks In Boston
03:58
Play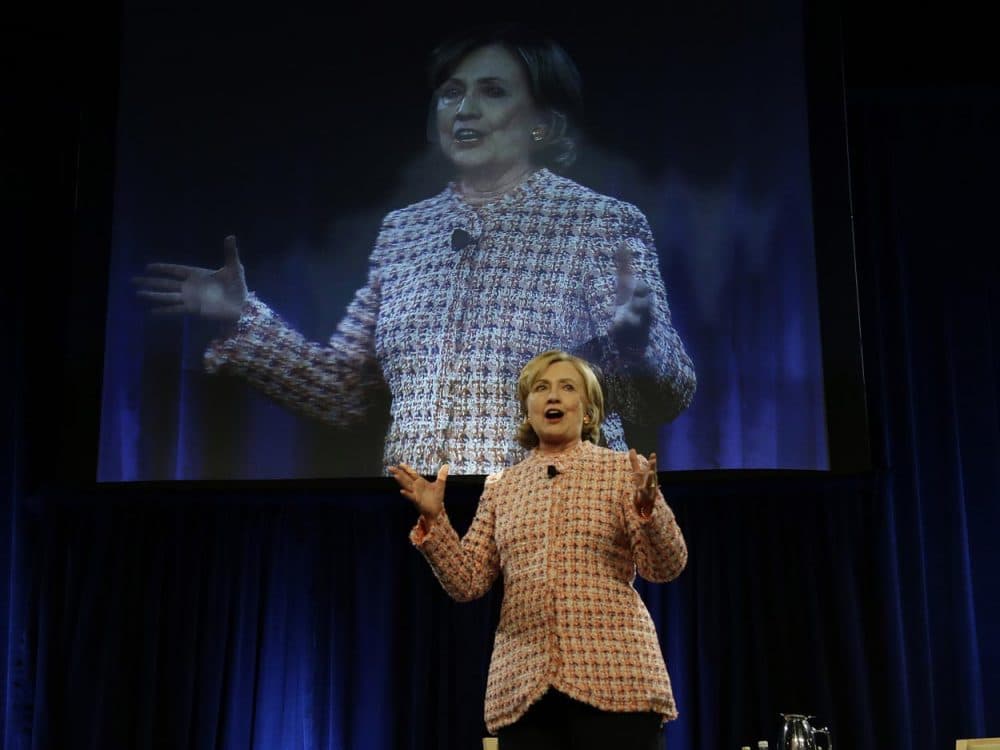 This article is more than 6 years old.
The buzz around Hillary Clinton's presidential prospects made its way to Boston Wednesday, where 3,500 women packed a cavernous hall at the World Trade Center on the South Boston waterfront to hear the former secretary of state speak.
"I am shaking the hand of the next president of the United States," Simmons College President Helen Drinan said in introducing Clinton. "I hope I am."
Clinton's 30-minute speech at the end of a day-long women's leadership conference hosted by Simmons touched on a number of topics. She acknowledged the survivors of the Boston Marathon attack. And like many prominent Democrats these days, she raised concerns about income inequality.
"It's always surprising to me how many young women think they have to be perfect. I rarely meet a young man who doesn't think he already is."

Hillary Clinton speaking at a women's leadership conference
But at the heart of the talk was a subject that has defined her public life.
"I believe that advancing the rights, opportunities and full participation of women and girls, here at home and around the world, is the great unfinished business of the 21st century."
She said full participation for women around the world is a moral imperative, but also an economic one. More women in the workforce, she said, means more growth.
Here at home, Clinton said the country needs to add more women to corporate boards, and to ensure equal pay for equal work. She also said our culture needs to address a confidence gap.
"And it's always surprising to me how many young women think they have to be perfect," Clinton said. "I rarely meet a young man who doesn't think he already is."
Clinton made no direct reference to any presidential ambitions, but it hardly seemed necessary.
"I thought she was pretty awesome, no question about it," said conference attendee Lisa Kusek of Chicopee, Mass., who is very enthusiastic about a possible Clinton run. "A lot people are really behind her and I hope she goes for it."
That kind of enthusiasm is invaluable in politics. And several volunteers with Ready for Hillary, a superPAC that hopes to pave the way for a Clinton campaign, were there to take advantage of it.
After the speech, they prowled the lobby gathering names and email addresses, and passing out quite a bit of swag.
Ready for Hillary has held a couple of fundraisers in Boston over the last two months. At a recent gathering at a downtown bar, the group asked more than 150 young professionals to donate $20.16 — a reference to the year of the next presidential campaign.
Barbara Lee, a Cambridge-based philanthropist, has given $25,000 to the group. She also serves as a co-chair of Ready for Hillary's finance council.
Lee's political operation is run by Adrienne Kimmell, who says the Bay State is fertile ground for another Clinton presidential campaign.
"If we look at, you know, 2008 election, Massachusetts overwhelmingly supported Hillary Clinton for president," Kimmell said. "And so perhaps the state would say the same thing again in 2016, if it's given that opportunity."
Whether Massachusetts gets that opportunity is entirely in the hands of Madam Secretary Clinton. But she could only have been encouraged by her reception in Boston.
Related: