Actors' Shakespeare Project Does It Just 'As You Like It' In Medford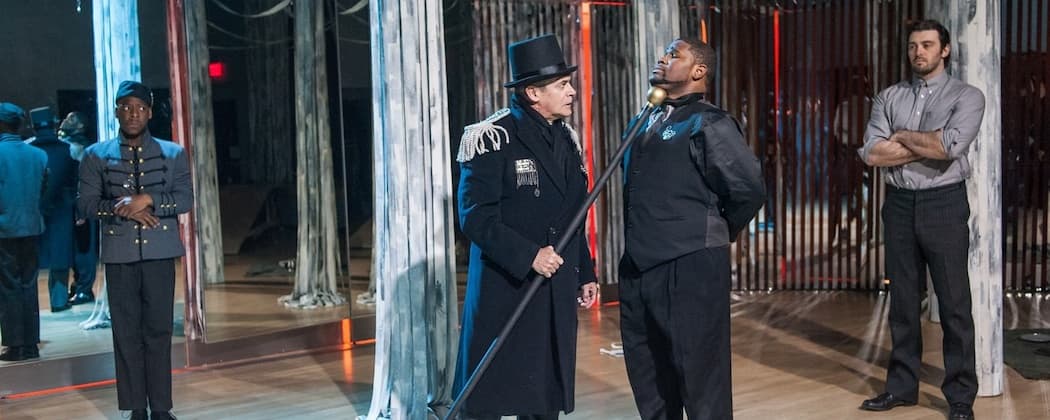 This article is more than 7 years old.
MEDFORD, Mass. – "All the world's a stage" is not only the most famous line in "As You Like It." It could also be the motto for Actors' Shakespeare Project, who's staging the latest local incarnation of the play.
All the Boston area's a stage for ASP as the troupe has made a virtue of finding new and interesting places to set Shakespeare — the latest being the striking Springstep building, the ambitious dance-arts complex that couldn't make a go of it in Medford Square. As we're dealing with Shakespeare let's not misuse the word "tragedy," but it is sad there may not be many more times that an arts organization uses the building.
There's nothing sad, certainly, about ASP's "As You Like It" (through May 18), a joyful burst of the Bard that's the best thing the company's done in its 10th anniversary season. This is a wonderfully solid production of the gender-bending comedy — imaginative use of the space by director Robert Walsh, a playful attitude toward the text, fine acting, smart design choices.
Its one drawback is significant. It lacks the sense of transcendence that all great "As You Like It(s)" have. The Forest of Arden is not a place of transformation for the characters as much as a playpen, a Shakespearean SNL revue.
That's hardly a fatal flaw, particularly with the company in such fine form. (I had much the same reaction to Bristol Old Vic's superb "Midsummer Night's Dream" at ArtsEmerson.) Often there are good performances and bad in ASP productions. This features good performances and great, namely Paula Plum as Touchstone (the one real transformation in the play), Joel Colodner as the two dueling dukes, and Mara Sidmore as Celia. Jesse Hinson as Orlando, somehow channeling both Ralph Fiennes and Steve Martin, is also very good, and Katie Elinoff is a delightful Phebe.
Walsh is a real triple threat. Not only is he an excellent actor ("Henry VIII") and director, but he's also the best fight choreographer around. The fisticuffs here are as thrilling as you're going to find in live theater.
There's brain along with the brawn. Turning Touchstone and Jaques (Jennie Israel) into women breathes new life into those characters and a sly contemporaneousness into the production. Plum, once she sheds her Groucho-like persona at the court, steals almost every scene she's in as the clown. Israel delivers a lovely rendition of "The Seven Ages." Her melancholy seems to be a fear of flying more than a cynical attitude toward death while Plum's bawdiness speaks more of liberation and new-found joie de vivre than other Touchstones.
Brooke Hardman doesn't do as much with Rosalind. Just to brush up our Shakespeare, Rosalind and Celia take to the forest — as does Orlando, separately — when their lives are threatened at court, Rosalind's by the bad duke. Orlando fell for Rosalind at court and pins love poems up on the trees of Arden. Rosalind pretends to be a man, Ganymede, and teaches Orlando how to woo Rosalind. The rest is herstory.
Or should be. Hardman does a nice job as Ganymede, but she never really takes off the way that Sidmore does, with her bicycling, eye-rolling, thoroughly modern Celia. It's not the first time that a Rosalind has been upstaged by a Celia — in fact, it's more the rule in the productions I've seen unless you have Rebecca Hall or Gwynneth Paltrow as Rosalind.
Grace Laubacher's vivacious set — glittery silver trees and curtain slats (fronting mirrors that suggest another way of looking at things) — provides an imaginative backdrop for the action, but the lack of differentiation between court and forest also inhibits the sense of transformation. It's a problem that one-set Shakespeare often runs into.
Despite the cavils, it's a very entertaining "As You Like It" that might even attract Shakesepeare-phobes. Maybe whoever buys the Springstep building will let ASP, and us, back into the funhouse.