In Children With Cancer, Navy SEALs Find 'Like-Minded Warriors'
Play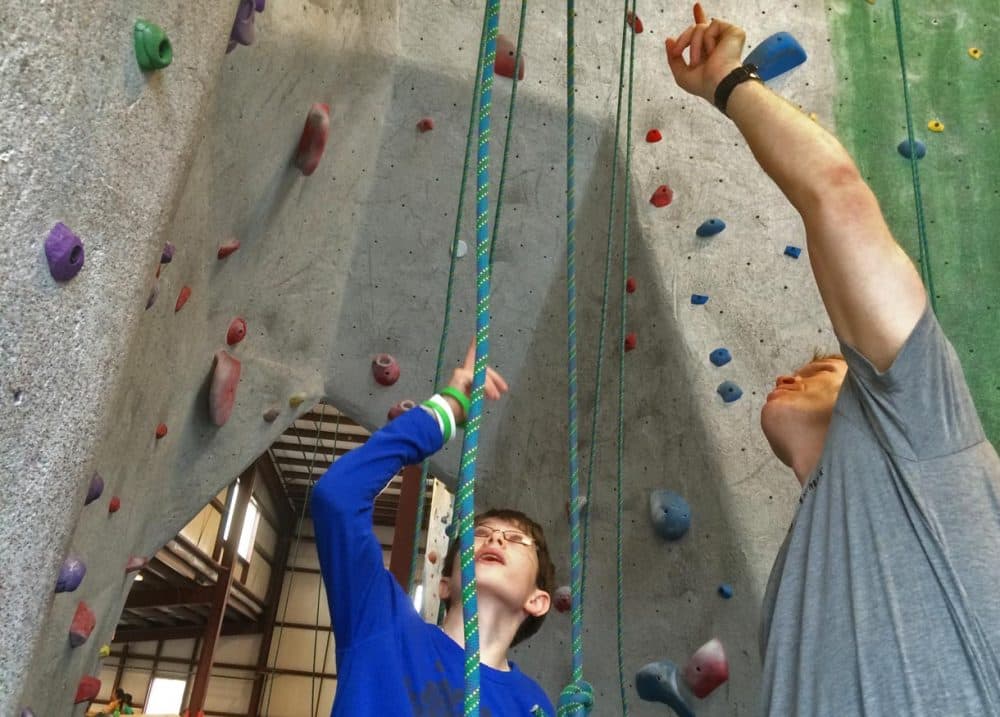 This article is more than 8 years old.
Young patients at the Dana-Farber Cancer Institute are offered all kinds of outings meant to boost their morale. And now the elite research hospital is teaming up with military elite — Navy SEALs — to help provide children with motivation to endure their treatments.
'Like-Minded Warriors'
Ten-year-old Dmitri Itzkovitz is spending the day with two former Navy SEALs who are teaching him how to scale a climbing wall. He's especially impressed with Dan Cnossen, a Paralympic cross-country skier and biathlete.

"My main sport is skiing," Cnossen says, "but I run on the side."
"Wow!" Dmitri exclaims, looking at Cnossen's prosthetic legs. "I want to see you run."
Cnossen lost his legs one night when he stepped on an improvised explosive device in Afghanistan. Since then, he's taught himself to run on blades and to ski.
This pairing of SEALs and children with cancer is the idea of former Navy SEAL Adam LaReau. He founded One Summit, which organizes the climbing events.
Ten years ago, LaReau was deployed in Iraq when he received devastating news from home.
"We conducted an operation one night, and got back and was sleeping after a couple of days of not sleeping, and one of my teammates woke me up," LaReau recalls. "There was a Red Cross message that came out and just said my mother passed away."
LaReau's mother had died of breast cancer. Between deployments, LaReau began to volunteer at fundraisers for breast cancer research.
"I met a lot of women just like my mother that were just amazingly tough, strong, mentally and physically, and just inspired others," LaReau says. "It was humbling to work with them and humbling to be alongside them."
LaReau had also seen many SEAL comrades killed, and he was impressed with how resilient their children were. He attributed their strength to the strength of their fathers. When he began pursuing a master's degree at Harvard's Kennedy School of Government last fall, LaReau started to think maybe SEALs could also help children with cancer become more resilient.
"They're very like-minded warriors, these kids that are battling cancer and these SEALs that have gone through some of the toughest training in the world and have these skills ingrained in them," LaReau says.
And so LaReau approached Dana-Farber with his idea and reached out to Maria Trozzi, an assistant professor of developmental pediatrics at the Boston University School of Medicine. She runs a program there called Good Grief, which teaches adults to help children cope with loss. They decided to focus on children from 9 to 13 years old.
"Unlike a 2-year-old, these children have a much better sense about their world before they got sick, and they have a sense of how their world is compromised," Trozzi says.
Mental Toughness Trumps Physical Strength
At this climbing wall in Watertown, Dmitri is asking questions of Dan Cnossen and his other former SEAL partner, former U.S. Senate candidate Gabriel Gomez, of Cohasset.
"Have you ever gotten into a fight?" Dmitri asks Gomez, who laughs.
"I have a question," Dmitri insists. "Is it scary when you try to injure other people? Shoot other people?"

"Scary?" Cnossen asks after a long pause, as if he is trying to figure out how he is going to answer this question.
"I always have a fear of hurting someone else," Dmitri says.
"That's not a bad fear," Gomez tells him. "That's a good fear."
"Does it make you feel bad when you shoot?" Dmitri asks.
"Well, there are some bad people out there," Gomez says.
"I think most people feel honored to protect their country and to be in the military," Cnossen says.
"I just don't feel good if I accidentally trip someone and then they fall down," Dmitri says.
"That's different," Cnossen tells him.
Cnossen believes Dmitri and the other children can learn from his own struggles adapting to life after losing his legs.
"I think doing physical activity challenges of this nature can really help them," Cnossen says. "I know in my recovery it's been important to challenge myself physically."
"And I have the two best people here because they're so encouraging," Dmitri says. "I love both of you."
Some of the SEALs have come a long way for this event, including Cnossen, who came from Colorado. Some of the children, too, have made a long journey. Jessica Tatasciore drove her 12-year-old son Loukas from Pennsylvania.
"He had Burkitt's lymphoma," Tatasciore explains. "It's a non-operable, extremely aggressive cancer. He had five tumors in his belly."
Loukas's climbing partner is former SEAL Pat Dossett, who is now pursuing an MBA at the University of Pennsylvania's Wharton School. Dossett has been explaining to Loukas that in the SEALs, mental toughness trumps physical strength.
"In our class, we started with 215 guys and we finished with 17 original guys," Dossett recalls. "But the interesting thing is that the biggest, fastest, strongest guys that show up for training are usually the first ones that decide it's not for them, because they have always been naturally gifted and they have never been tested outside of their comfort zone. So they have all the physical assets that they need but they don't necessarily have the mental fortitude that they need."
Several of the SEALs say they weren't sure what to expect of this encounter. Most had never met children with cancer. But Dossett points out that for the SEALs, too, the meeting is life-affirming.
"It's very rare that we get an opportunity to get all the guys together and get so many good guys together in one place," Dossett says. "Generally when we're doing that it's at a funeral. And so to come together for something like this where we're actually celebrating something, and to have such a positive event, to be around so many positive people for a positive cause, is pretty powerful."
'Never Give Up'
As the day wears on, Dossett encourages Loukas to climb increasingly difficult walls.
"I think you could do this," Dossett tells Loukas as they contemplate one path up the wall. "I think you have the strength to do it. You want to give it a shot?"
"Sure," Loukas says.
"I'll tie you in," Dossett replies.
As Loukas's mother watches him with Dossett, she has a sudden realization.
"I haven't seen him this happy for so long," she says.
Dave, an active-duty SEAL from San Diego who asked us not to use his last name, thinks maybe the children are happy because they are being challenged.
"A lot of times, when kids have these types of diseases, a lot of people reach out to them and give them things, and it's like a handout," Dave says. "Getting a pocketful of Red Sox tickets is one thing, and that's a great thing, but the flip side of it is trying to make them put one foot in front of the other. I think that's why this one's a little bit different."
By the end of the day, the kids are helping each other.
"Put your foot on the blue one," 11-year-old Ben Hardcastle says to a boy on the wall. "See the blue one? Now push up."
LaReau has received some powerful feedback from parents.
"Having this opportunity to spend the day with Navy SEALs had a wonderful impact on his self esteem," one parent wrote in an email. "He has a new perspective on life, and a friend who has also gone through a lot. He now has new motto in life: 'Never Give Up.'"
Dana-Farber is planning another event in September.
This segment aired on April 30, 2014.